452
The Making of a Cam Slut

Part 1 of 3

"Jonathan, your baby brother may be in serious trouble. Please call me right away." Such was the strange and startling brief email Jonathan received while online researching a subject for his college term paper. He was stunned and debated if he should reply or if, perhaps, he should consider it a hoax and just ignore it. The note was signed, "Bill," followed by a phone number. He decided to dial the number. If it's a hoax, he could then quickly hang up.

"Hi, this is Jonathan," he said nervously in his 21-year-old voice. "Is this Bill? Did you send me an email about my brother?"

"Ah, there you are. Yes, I did. How are you, Jonathan? How are your studies going? You're an English major, aren't you?" Surprisingly the voice was relaxed and had no sense of urgency as Bill spoke.

"Yes, but about my brother, what is going on? I need to know who you…." Bill cut him off in mid-sentence.


"Now listen to me clearly. Before I tell you anything, I need to know you are really Jonathan Atkins, who attends Millard College. Go back to your computer and click on the link at the bottom of my email. It will take you to a free-cam site. Then turn on your cam so I can actually see you."

Jonathan didn't notice the link before but clicked on it and turned on his cam. Within moments, he heard Bill on the phone. "There you are again. That's a good boy, and a handsome one, too." Jonathan tried to get to the point about his brother's situation, but Bill continued, "Do you have a speakerphone?"

Jonathan said yes, and he was told to switch to it. It felt weird to be in a one-way cam view with this stranger, who showed no image of himself. Again, Jonathan tried to inquire about his brother's well-being, but again he was put off. "Look, boy, I need to tell you some important stuff and try to prevent your cute little baby brother, Frank, from being raped. But that's only going to happen if you do this my way; otherwise, I will hang up. Maybe I should hang up. You might be getting straight A's in school but failing here. So, maybe you are not interested, and I'll just…"

"No, wait! Please. Please don't hang up! Just tell me what you want. I want to know. I love my brother; he means the world to me ever since my parents di…di …"

"Died? Yes, I know. So you're living there on campus in a dorm all by yourself, and sweet innocent Frankie is living with your Aunt Jo. Yeah, I know all about it. He's what – 17? Yea, he's a cutie, too. Must run in the family, what's left of it," said Bill calmly.

Jonathan was amazed. This guy knew everything about his brother, family, school, and everything. He was desperate to know what harm would happen to his brother, but he was at a loss for words. "Please? Can you tell…"

"That's it. You are not listening. Your bro may get raped, but I'm done trying to save him. Bye."

"NOOOO! Fuck, No! Please, please say what it is you want. I won't interrupt. Oh God, please, help me save Frank. Oh God, don't hang up." Jonathan was truly scared. He had been his brother's protector, and he'd do anything to go to him and save him, even if he was across the country in Florida.

"Tell me you will shut the fuck up and listen to me. Now!" Jonathan said in a squeaky voice that he would. "So, I guess you love your little bro, huh? You two must be very close. I supposed you even shared a bed at home and slept naked together. Fuck, I can see why you would want to fuck him in his sleep."

"I never…" Jonathan stopped himself from interrupting. He did not want to make Bill angry and cause him to hang up. But he certainly thought Bill had a wild imagination. How dare this guy think a Mormon family like his would ever… would even suggest that he would touch his brother or do anything obscene. He was straight, and his brother was enjoying the company of a steady girlfriend. But Jonathan was not going to say anything to irritate Bill.

"That's better. Just shut the fuck up and do as I say. Now stand up and take your T-shirt off. I want to see your chest." Jonathan did not move. He started to ask why. "Why? Why? Because I'm queer and like to see a cute boy like you without your shirt. Is that too high a price to pay to save your brother? If it is, I'll hang up now and let you deal with that Miami back-alley street gang that knows your little bitch bro lives at 2329 Chester St. That's why."

Jonathan's head was spinning. A Miami gang knew his brother's address? How could that be? What would cause a gang to be interested in his brother? Why is Bill involved? He was in a daze and not hearing Bill's voice.

"Oh, you didn't know little Frankie wanted to try some harmless pot? That stupid kid. Instead of going to a high-school buddy to get some, he went down to the Cuban barrio and bought from a gang banger, because he wanted his friends to know. Frankie pulled out his wallet to pay the guy for a single joint, but the seller angrily insisted he buy a full baggy of the weed for 200 bucks. To make a long story short, Frankie pushed the guy over and ran for his life. Only trouble is, he dropped his wallet in the altercation. The seller brought your brother's personal info back to his banger-brethren. I guess you can figure out the rest." Bill paused. Jonathan was still silent.

"Yea, those gang bangers don't like to be pushed around like that." Of course, Bill was lying through his teeth. There was no gang, no pot, no trouble of any kind involving Jonathan's brother, but it was enough to scare Jonathan to the core and get him to listen and obey Bill.

"Now, since you are giving me such a hard time, I want you to strip totally naked, right now, or it's adios amigo, and goodbye to your soon-to-be pussy fucked bro, Frankie. Or should we call 'her' Francine from now on?"

That was it. What the fuck was he waiting for? His brother could be beaten, raped, or even killed by this Miami drugged-up Cuban gang, and all he needed to do to help his brother was to take off his clothes for this old fart cam queen.

Immediately, Jonathan stripped. Not thinking of any consequences, he stood completely naked in front of his cam, with his hand covering his genitals. "No, no, no. Hands by your side. That's right. Nice big dick you have there."

"Please, sir, I need to lock my room door first. Someone might come…"

"No," Bill said calmly, knowing he had the upper hand now. "I am not concerned who stops by. And, in fact, if anyone does knock on your door, you are to say in a loud, cheery voice, 'Come on in.' And you will stay just as naked as you are without covering your dick up in any way."

Jonathan began to plead, whimper, and soon openly sob. "If you cry, it will only take longer. Do you really want to draw this out, Johnny boy?" Jonathan stopped crying, wiped his eyes, and asked Bill, most politely, what he wanted in exchange for him helping his brother.

"Now you're getting with the program. OK, let's have you turn around slowly, so we can look at you well." To Bill's displeasure, Jonathan quickly spun around and faced the cam again. "No, I said slowly. Do it again, very slowly."

Jonathan did exactly that. "Good. Much better. Now turn away from the camera and bend over so we can see your pussy hole." Jonathan started to weep and tremble again, but he turned around and bent forward to expose his asshole.

"That's almost correct, but reach back and pull your ass cheeks wide apart, spread them real good so we can see your faggot cunt." Jonathan did.

"Now, there you go, that's much better. I'll bet you've taken a lot of fat 12-inch cocks up there. God, it must be like the Holland Tunnel. I understand your brother's cute little love chute will be stretched much wider than yours. God, I hope he can take it. But, if you're a good fuck slut for us now and entertain us stupid, silly queens for a few moments, I'll help you save your bro. That's our deal."

Jonathan sopped slightly but stayed bent over, still grabbing his ass cheeks as he listened to the voice on his speakerphone. He briefly wondered why Bill was saying "we" and "us" as if there was more than just him watching.

"Now look around for something to work up your ass. You must have a beer can or wine bottle or something big and round there, don't you? Come on, find something, and do it now."

Jonathan stood up straight and looked directly into the computer screen, "Please, Sir? Please? Please stop all this. I just want to save my brother from being hurt. That's all, Bill? Sir? Please?"

"OK, OK, Johnny, we'll end this soon, but first admit to all of us that you are our pussy boy. I want you to say it. It's just a harmless game for us queers, so make us happy, OK, boy? Tell us you are a fuck-hole cunt. Tell us how you like to suck big fat juicy filthy dicks and get your pussy hole worked out really good. Do that, and let's stop all this wasting everyone's time and endangering your faggot cock-sucking brother. I'm waiting. And don't cry! Wipe your face and smile. Say all this in a happy, cheerful voice."

Jonathan composed himself, took a few deep breaths, and spoke meekly. "I'm your fuck-hole cunt." Then he stopped.

"No! Damn it! Say it with emotion, like you mean it, like you are happy you are a hungry cunt pussy eager to bend over and please everyone at the party. If you are not convincing, we will do this over and over and over again. Speak up like you are addressing a large group of fucking queers. Just remember, whatever befalls your brother will be totally your fault. Is that clear?"

"Get on that padded table I see behind you, get on all fours like a bitch dog in heat, show your asshole to the camera." Jonathan did not move at first. "If you want to help your brother, do the fuck as I say!" Bill's voice got louder.

"That's better. Now lower your belly to make your pussy ass raise up. Good. Good cunt. Spread your knees wider so we can see your balls handing and swing." Jonathan was caught up in the moment, trying to comply, not knowing where this was all leading to. Bill continued, "Now repeat it with feeling. Refer to yourself as a doggie bitch like it's the most important thing to you."

Jonathan took this bit of acting very seriously now. He pasted a wide toothy smile on his face. "Yes, sirs. Please, sirs, I am your doggie bitch cunt fuck-hole. I love to get my fuck hole worked out really good. I like to suck fat dicks and eat ass and be your dog bitch whore all day long. You all make me so happy I could cry." Then a few real tears leaked down his cheeks.

Every time Jonathan tried to stop obeying Bill's erotic orders to pose this way and that way, Bill would threaten to hang up and not tell him where his baby brother, Frank, was or what kind of terrible trouble he was in. Jonathan, who was Frankie's protector ever since their parents died, needed to find out all he could from this mysterious caller. He had no chance to help his brother unless he placated Bill and obeyed his indecent and abhorrent commands.

"OK, I see the problem." Bill told him, "You need to give a demonstration. As I tried to tell you before, find something on your desk there to shove up your asshole, a yardstick or stapler, or something big." Jonathan held up a thick black felt marker, the oversized ones used by teachers to make broad lines.

"Is that all you found? Never mind; it'll do for a start. Now get back to that table, and spread your knees. Make sure your cunt pussy is pointing directly at the camera. Good. Now with one hand, use your fingers to spread your ass cheeks, and with the other hand, shove the big pen up your twat."

Jonathan was tearing up due to a mix of emotions of fear and confusion, but he knew he had to obey…

Jonathan tried his hardest to obey the voice on the speakerphone. "OK, push it in and pull it out of your pussy. Really fuck yourself. That's good. But… now we can't see your face. Crane your neck around so we can see your sweet face. That's good. Now smile and tell everyone how much you enjoy playing with your twat. Tell us how happy it makes you. Make it convincing."

Jonathan tried so hard to compose himself, then created an artificial smile and said, "Oh God. I really love playing with my twat. It makes me so happy; I can never leave it alone." He fucked his asshole with the giant marker and continued to grim even though it hurt like hell.

"Good, now leave the monster pen up your ass, stand on the floor and face the camera. Great! You're becoming a good cunt slut, just the way we all like you. But you have one problem," Bill continued, "you aren't hard. So this is not very convincing. Actually, you are wasting my time and boring a few hundred guys who are now watching you and listening to you. This is just not good enough, pussy cunt. OK, let's do something to fix that. I want to see you pump that fuck rod into a big erection for us."

"Please. Oh, fuck! A few hundred …. ah … guys …. Please, sir. I can't. I need to know where my brother is. I want to help him get out of trouble. I can't do this anymore. I'm not gay. I don't want sex with anyone. For God's sake, where is my baby brother? Ple..."

"Well, I didn't want to tell you this, but the reason I know all about your cunt brother and that violent Miami drugged-up gang and all is because a police friend of mine called me and told me they arrested your faggot pussy bro on a drug-deal charge. Yea, it was on an anonymous tip, probably from the gang who had all his personal info from the wallet he dropped in the alley. I was called because I am the teen drug counselor for that police department. At this very moment, your little Frankie is sitting in a jail cell with a lot of filthy, drugged-up sex offenders, waiting to go before a judge in a few days.

"I got to tell you, Johnny boy, it don't look good for him. A cute little blonde cocksucker like Frankie in the same cell as all those abusive hard-core, sexed-up thugs, just waiting for nighttime to pounce on him, gag him, and gang rape the shit out of his sweet pussy twat. Yes-sir-re. It don't look good for him tonight when the lights go out."

Of course, this was all false. Frank was not in jail, and Bill had no connections to any police department. He was toying with his new cam-slut victim, and he was enjoying it immensely. The cam website Bill had Jonathan log on to was his own site where paid subscribers get to watch and listen to fresh cute college guys be masterfully manipulated and tricked into being the perverted entertainment for the evening or even longer. Once a young man buys into the initial "sibling-in-danger story," he's likely to believe everything that follows – hook, line, and sinker.

"But… but… you can do something. Call your police friend. You've got to help Frank. He's just a kid; he's only 17. Please. Let's just cut the crap and help him."

"Finally, Jonathan, finally you said something that makes sense. Yes. I could pick up the phone, call the police watch commander at the North Miami Police Station, and have your brother moved to a private, secure cell where he'd be safe. Why… that would take all of five minutes. And you are correct. Why don't we cut the crap and help your brother? Now I have the police phone number right in front of me, so as soon as you want me to call, I'll do it. I'll rescue your brother." Then Bill said calmly, "But we have to finish our business here first. Don't we?"

Jonathan's mind was so fucked up. He was so freaked out and believed this fantastic story. Oddly, he never questioned the truth of what he was being told. He was too panicked and consumed with doing whatever would save his brother. "Yes, sir. May I be your cunt slut, please?"

Emotional tears began to flow as he momentarily lost control and sobbed loudly, bringing smiles to all who watched Jonathan's descent into complete humiliation. "Good boy. There are a lot of hard-dicked men here who want to see that boner of yours. Can we please get on with it?"

Jonathan never picked up on the comment, "a lot of hard-dicked men here." He was too needy not to obey, and this would all be over soon.

"And I want you to wiggle your hips and do a little dance as you pump up your dick, not too much movement. I want you in front of the camera at all times."

Jonathan began to hear music in his head and moved rhythmically to that imagined beat as he rubbed his dick up and down, causing it to grow harder and longer. The marker pen up his ass slipped out. He stopped crying, and with his eyes mostly closed to concentrate, he got caught up in giving himself erotic pleasure as he got stiffer.

"That's it, cunt-pussy boy, shake that booty. Show all these guys what they want and what they paid to see. Yea, pump that dick. You're on a live-cam show going out to thousands of horny men, all watching you perform. Can you say, 'Yes, sirs?'"

"Yes, sirs," immediately echoed Jonathan.

"Now tell everyone watching you what a true slut fuck-hole cunt you want to be for them. Maybe you should ask their permission to be their cum-dump whore for tonight, you think?"

"Please, don't make me say that I…." Jonathan started to say but then reconsidered and did as ordered. "May I be your fuck-hole cum-dump? Oh God, I'm such a slut. I need my twat filled with hundreds of dicks." Jonathan was lost in space. He really had no sexual interest in men, but he needed to play along.

The Making of a Cam Slut
Part 2 of 3

"You really need to shoot your load now. Don't you? You want to explode that cum everywhere and end this little session. Don't you?"

"Oh God, yes! I need to end this now. I need to cum," Jonathan pleaded, but Bill remained silent.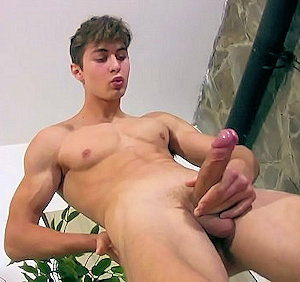 "Yes. I really need to shoot now and get this over with." Again, no response from Bill. "Please, oh God, please let me cum." Finally, in a panic, Jonathan yelled, "Fuck, I'm going to shoot. I can't hold back!"

"STOP! NOW!" Bill screamed into the speakerphone. "Let go of that dick, you filthy fucking whore!" Jonathan was jolted back to his reality. His hands flew off of his throbbing, aching dick. He looked down at it wide-eyed and saw it bobbing and twitching as if it was continually "nodding" yes. But he released it just in time to avoid a climax.

"Do you think you have permission to shoot? Who the fuck do you think you are? Now apologize to all these men watching you. Make sure you identify yourself. They paid good money to see a cum pig play with his boner for their amusement, not for yours. What a stupid ass cunt slut you are. NOW, apologize! And admit who you are and who they are. Remember, if you are not 100% sincere, you can kiss your brother's bloody ass goodbye."

"Hi, all you handsome gentlemen. I am Jonathan Atkins, here at Millard College. I am so, so sorry for offending you, kind gentlemen. I truly want to be your sexy boner slut. I am here purely for your amusement and play toy. I want to pound my big fat dick for you, and I promise not to shoot until I have your permission. I am so sorry that I almost shot my big load of man juice without your permission. Whoa! Do I feel so stupid? I'm just a stupid whore whose only purpose is to entertain you and please you by following your commands. I promise not to fuck up again. And I am ready to cum any time you allow me to." Jonathan poured out his words with a stupid insincere grin.

Bill didn't care how stupid his sex toy looked. In fact, it turned on the viewers to see Jonathan look goofy, stupid, clownish, and forcibly manipulated. "OK, now listen up, cum twat. In a few minutes, someone will knock on your door." A cold shudder ran down Jonathan's spine.

"It seems like we ordered you a pizza. Here's the deal. When the pizza guy arrives, you must be hard with a firm boner. So you might as well work your dick a little now since it is starting to go down, and that's not allowed. So you may touch yourself, as you need to stay fully erect. Turn your camera just a bit so we can see your dorm door and the area right inside the door." Jonathan moved the camera, and Bill was pleased it was a good view.

"When the pizza man knocks, you must rub your dick continuously even after you open the door. I assume he will be shocked, but that is of no concern of yours. Just keep playing with your dick. He will hand you the pizza and will expect payment. However, you have no money. You will tell him that if he leaves the pizza, you will suck him off real good. You will not stop rubbing your dick but will not climax either." Jonathan swallowed hard.

Bill continued, "He may be so shocked that he is unsure what to do, so you simply guide him to step inside, then get on your knees and undo his pants to expose his dick. You don't wait for his permission. You simply slide your mouth over his dick and start to suck it gently. You won't be able to stop him if he chooses to leave, but if he does, we'll have to repeat this all over again, so you'd better be convincing. Hopefully, he will start to get erect and not want to go. So you just keep sucking his dick." Then Bill added, "You will do all this with your dorm door open wide. YOU ARE NOT ALLOWED TO SHUT THE DOOR."

"But … but … why? Why have the door … people in the hall might …might … Why does it have to be opened? Please…" Jonathan was all confused.

"Why does the door stay open? Because you no longer have any right to privacy. Anyone can view your body, and you will not interfere with anyone who chooses to look at your naked ass. You no longer get any privacy as long as you are on my fucking cam! Who the fuck are you to tell people they can and cannot see? If someone enjoys seeing a cum-dump slut suck a dick, that is their right. You don't control that dick not anymore. I do! I say when you can touch it and who can see it." Bill was being very loud.

"Oh fuck," Jonathan whimpered. "Oh, for Christ's sake, please don't make me do this. I'm not gay. I never did anything like this before. Someone might see me. I'll throw up. Please…" And he pleaded and begged but never stopped pumping his dick.

"What a selfish pig you are. I just explained to you that your sweet innocent baby brother is in jail with 10 or 12 hard-core sex abusers ready to rape the shit out of him at lights-out tonight, and all you can think of is yourself. What kind of a loving brother are you? You called yourself his 'protector'! Didn't you? Poor little Frankie will be a total bloody mess with his ass all torn up, and all you care about is not getting a little bit of cum in you or someone seeing you. What a fucking loser you are! You don't deserve a sweet loving bro like Frankie. You are such a fucked-up embarrassment to your entire family.

"OK! Let's let Frankie rot in prison. That's fine with me. Let some big black nigger make him his bitch – for life. I have no problem with that. I guess you don't, either. You know? I've changed my mind. I don't want you to suck off the pizza guy after all. You don't deserve to elevate yourself to be the protector of your cute sweet little kid brother, who would probably do anything for you. Wouldn't he? No, you don't deserve to be his protector. You ain't worthy. And I don't want you to suck off this pizza guy."

"Oh God," Jonathan sincerely pleaded, "I am so fucking sorry, sir. Please. I didn't know what I was saying. I am so fucking sorry. Please let me suck off this pizza guy. Please give me one more chance to help my brother. I am begging you."

Jonathan was so embarrassed he did not want to do any of this, but Bill insisted that if he wanted to know his brother's fate, he had to comply. Jonathan believed everything the stranger on the phone told him, and he was now petrified for the safety of Frankie. He felt like he had no choice but to do whatever Bill told him. And Bill, who took a little effort to know who Jonathan was, at least enough to trick him, had set him up good. He even arranged for a pizza guy to deliver a pizza there, but that's when things got really intense. Bill told him that if he wanted to know about Frankie's trouble, he had to suck off the pizza guy when he arrived. And worst, … since this was going to be part of the broadcast on a sex webcam show, Bill required Jonathan to speak up clearly and talk as if he really wanted to suck the guy off. If it did not sound sincere, Bill would hang up, and he would have no chance of saving his little 17-year-old brother. So finally, he agreed to do it but sounded very hesitant. Jonathan lied and tried to sound more convincing, but Bill was not buying it.

"I don't know," Bill replied hesitantly, wanting to hear more sincere begging from Jonathan. "You really sound like you don't mean a word of this. You sound like you are too good to suck anyone's dick, even if it means you will be saving your kid brother's life."

"I AM SO FUCKING SORRY, SIR! PLEASE. I CAN'T LIVE WITH THE FACT THAT I HURT FRANK. OH GOD, I NEED TO SUCK OFF THIS PIZZA GUY SO FUCKING BAD." Jonathan shouted out of control. "Please allow me to suck this pizza guy off. Even if he doesn't want me to, I need to do it so bad! PLEASE DO ME THIS HUGE FAVOR. I AM BEGGING YOU. I'M BEGGING ALL OF YOU WHO ARE WATCHING!" Jonathan pleaded in true desperation.

After a moment of pretend hesitation, Bill responded, "Well, OK, but I am warning you, when the guy brings the pizza … don't fuck it up. Be very cheerful to the man, smile, and convince him that you truly would enjoy sucking his dick. And one more point. I will not be talking on your speakerphone while he is there. So I can't remind you of anything. We will all be watching you on live cam, learning to suck your first dick and swallow your first load. So just do a fucking good job. And for Pete's sake, keep your dick in boner mode!"

Yes, that was the other requirement. Jonathan had to keep naked and keep pumping his dick. Bill would not allow him to lose his erection as long as the pizza guy was there. Then, almost as if on cue, there was a knock at the door. Jonathan, totally naked, collected himself, calmed down, and gave a few quick strokes to his dick to bone it up fully. Then he made a silly pretend smile and went to the door and opened it.

The tall, nicely built guy with a buzz cut, wearing a "Trust Me" t-shirt started to say, "Good evening, here's…." He leaped back and stared at the smiling nude college man pulling on his stiff fuck pole. "I… I… what… are you…"

"Oh, you have my pizza. Thanks," Jonathan cheerfully interrupted the stuttering delivery boy. "Don't mind me, I was just dirty-talking to my girlfriend, and after she hung up, I… well, I was… I am still… em… Can I have my pizza now? But I have to tell you, as you can see, I don't have any money on me." It was a little joke. "But, let me suck your dick for payment, OK?" The delivery guy poked his head into the room to see if there were other people there who were all part of a prank. He saw and heard nothing as he remained in shock. Jonathan immediately grabbed the guy's arm, pulled him into his dorm room a few feet, and left the door open as required. He then went down on his knees in front of the twenty-something man and pulled down the front of his white shorts, wiggling them down just a bit. He had no underwear on. The delivery guy seemed stunned but not offended. He stood still and allowed Jonathan to give him his "payment" for the pizza.

Jonathan, having never sucked a dick before, was trying to hide his nervousness and discomfort as he began to first lick and then suck on the rather large flaccid cut dick. All the while, he was pumping his own dick to keep it hard, as instructed. It only took a few minutes for the pizza guy to get fully hard and at the edge of blast off. Suddenly he came, shooting waves of cum into Jonathan's warm wet mouth. It surprised Jonathan, and he gagged and coughed up most of the cum onto his own bare thighs. He truly hated sucking the guy and was glad it was over quickly.

The delivery guy pulled up his shorts, smiled, and said only, "Here's your pizza, man. I have to go." And he left abruptly.

Jonathan remained naked on his knees, forgetting that he was still nude near the wide open door. He was stuck there, trying to "digest" what just happened. With one hand, he was scooping up the pizza guy's cum that ended up all over his thighs. He then realized his door was still open, so he jumped up and slammed it shut with the other hand. He muttered, "Thank God that's over. I got to get cleaned up and…"

"Boy. I said, boy! You are not listening!" The voice on the speakerphone had been trying to get Jonathan's attention. "Where are you going?" Bill yelled as he noticed on his webcam feed that Jonathan was heading out of view. Jonathan was brought back under Bill's control.

"Oh, I'll be right back. Just going to the bathroom and wash up and…"

"Stop right now! And get your pussy twat back in your chair where we can all see you better. And turn your damn cam more squarely back on your bod. Are you trying to embarrass me in front of all these website viewers? Who the fuck do you think you are? You, God, damn fucking cock sucking pussy whore. Just sit there and don't forget that I, alone, have the power to save your cock-sucking faggot, bro. Do you hear me now?" Bill needed to yell a bit to ensure Jonathan got the message. "And who said you could stop pumping your dick?"

Jonathan immediately started to fondle his dick again. "I… I thought you were… ah… done with me. I was going to wipe this mess off." He held his goo-covered hands in the air so as not to get the cum on anything he might touch, as he stared into his cam as if he were staring into Bill's face. But it was a one-way deal. Bill and hundreds of other guys plugged into the website all saw him, but Jonathan saw no one. He spoke as he stroked his dick with one hand and held a handful of the pizza boy's cum with the palm of the other. "May I just wipe off my hands, please? Sir?"

"You mean you want to waste all that good fresh protein?" Jonathan just stared at his monitor, thinking it was an odd question. "No, just keep it in your hand and get up. With your other hand, tear off a slice of that pizza you just received and bring it back to your chair." Jonathan did this and then waited for more instructions. "Now, sort of wipe your handful of the delivery boy's juice onto your slice of pizza." Jonathan did what he was told and knew what was coming next.

The Making of a Cam slut,
Part 3 of 3

"No, I don't want you to eat it, not yet. First, we all want to see you beat off and add your dick slop onto that pizza. So go ahead, pump that boner to climax, and shoot all your dick snot all over the slice."

Jonathan closed his eyes, rubbed his dick up and down as needed to get himself off, and with a loud groan, he shot wad after wad of his sex juice, adding his cum to that slice of pizza. Then he completely collapsed.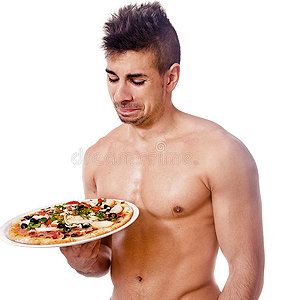 "OK, Johnny, now eat the pizza slice and make sure to enjoy it." Jonathan took a small bite, trying to hold back a spontaneous urge to gag or throw up, making an awful face in the process. It's not so much that he could taste the cum mixed in the spicy pizza sauce, but just that he knew what was there.


"No, shit for brains. I said enjoy it. Take a big bite and tell us how much you enjoy tasting and eating pizza covered with your sperm. And you better sound convincing so our viewers will believe you." Of course, everyone watching understood that straight Jonathan was being coerced and even blackmailed into following Bill's instructions. Nobody had arrested Jonathan's baby brother, Frank, or had even come in contact with him. But Jonathan had bought into Bill's story, largely because the information Bill had about his family was accurate, all coming from basic Internet sources. Those small facts being true caused Jonathan to believe the fantastic story about brother Frank being in extreme and immediate danger, and only Bill was in a position to stop the sexual assault that Bill told him would likely happen to his brother in just a few hours.
"Oh, WOW! This is great! I love sperm on my pizza and on all my food," Jonathan said in a forced, joyful tone. "Yeah, sperm makes this the most delicious pizza I have ever had." And he added a few yum-yum sounds.

Thus ended Jonathan's torment on live cam as Bill's humiliated and degraded entertainer of the evening. Bill began receiving a flood of thank you emails from his subscribers and numerous requests for Jonathon's return performance. But that would NOT be possible since Bill had to fess up to Jonathan that he lied about his baby brother Frank being in trouble and jailed.

Bill finally told Jonathan that his brother Frank was never in any trouble, never in a drug deal, never arrested, and there was no Miami gang after him. "Yes, I guess you could say this was all a big joke to get you to do a live-cam show as a slut for my paid viewers. Yea, your little cunt, bro, is probably at home banging his girl as we speak."

"You mean you tricked me? Was this all some sort of 'sick hoax'? At my expense?!" Jonathan angrily questioned Bill, "My brother wasn't in any trouble? At all?! Was it only a joke to get me to do these disgusting, perverted acts? YOU FUCKING SON OF A BITCH! I'll have the real police on your ass! I'll give them this phone number to trace you down, and I'll have you arrested, and you'll be the one getting porked in prison! YOU FUCKING FAGGOT BASTARD!"

Jonathan screamed at the top of his lungs, then sobbed loudly as the full realization hit him that he did not have to do any of this dehumanizing queer stuff. He collapsed in his chair, feeling used and humiliated. He was still naked, but now his dick was all shrunken up. He covered his eyes in disgust. "I'm out of here, you asshole!" Bill saw Jonathan reach up to turn off his cam.

"Ah, Johnny? I know you're angry at me, but you need to make one last decision before you turn off your cam." Jonathan was at a loss as to why he should listen to anything further from this fucking pathetic liar. Then Bill sheepishly said, "There's just one more little thing I must explain. Then you can contact the police. Honest." Bill spoke most seriously, and Jonathan listened.

"I'm going to send you a link to a video. When you get it, watch it. It took a bit of clever editing to get it just right. After watching the video, tell me what you'd like me to do with it."

Why not, Jonathan thought, why the fuck not. When he got the link, he watched the video starting to play. He was shocked to see himself totally naked, with a big dumb smile, pumping his dick, and talking cheerfully to the cam.

"Hi, all you handsome gentlemen. I am Jonathan Atkins, here at Millard College. I want to be your sexy boner slut, doggie bitch. I am here purely for your amusement as your play toy. I want to pound my big fat cock for you, and I promise not to shoot until I have your permission. I am so sorry I almost shot my big load of man juice without your permission. Whoa! Do I feel stupid! Yeah! I'm just a stupid whore whose only purpose is to entertain you and please you by following your commands."

Jonathan was so freaked out by seeing and listening to himself that he got a little dizzy. Then the video continued with Bill's voice in the video say, "Jonathan. When the deliveryman brings the pizza you ordered, I don't want you to molest him. He's only a 16-year-old kid. You are to leave him alone."

Then he heard himself scream, "I CAN'T LIVE WITH THE FACT THAT I… OH GOD, I NEED TO SUCK OFF THIS PIZZA GUY SO FUCKING BAD. Please allow me to suck this delivery guy off. Even if he doesn't want me to, I need to do it so bad! PLEASE DO ME THIS HUGE FAVOR. I AM BEGGING YOU!"

Then Jonathan watched himself, feeling sick to his stomach. The video had all his true words turned around and spliced together as if he was some sick, sex-addict fiend. What a fucking piece of blackmail. It all looked so real. He knew he said it all, but not in the order shown on the professionally edited video. If this tape is not destroyed, his life would be over. Fuck! HIS BABY BROTHER'S LIFE MIGHT BE OVER TOO!

The video continued, and he saw himself in the doorway of his dorm room, on his knees, opening the delivery teen's white shorts and chowing down on the kid's big dick without his even being asked. He saw himself sucking that dick as he continuously pounded his stiff cock. Then the kid – yes, he did look only 16 – shot a huge load of his personal, all-male pizza sauce into Jonathan's mouth.

In horror, Jonathan watched himself beat off on the slice of pizza, shooting more cum than he thought possible and then came this big stupid smile as he chowed down and spoke up, "Oh, wow, this is great. I love sperm on my pizza and on all my food. Yeah, sperm makes this the most delicious pizza I have ever had." And there were "yum-yum" sounds.

Jonathan sagged in his chair, mumbling, "I'm fucked, I'm fucked. Oh God, I am so fucked." He hated what he saw. Bill remained silent for a moment to let it sink in. Then, Jonathan had a slight bit of relief as he considered that, at least, the entire sick joke was now finally over. Bill had his amusement and his altered but realistic video. So all was finished. He sat motionless, not even hearing Bill's words.

"Johnny, I know you are disappointed and feel used. I don't blame you. But look at the bright side. Your brother was not hurt; he was never in jeopardy. No one even contacted him. He's safe and sound. And, as for you, well, you're nonetheless for wear. Of course, you have one last decision to make, but you're OK. Tonight's event raked in $2,200 for the two-hour show you provided. Ain't that great! And no one needs to know what a fucking asshole cock sucking cum-dump slut you have been. That will be our secret and, of course, the secret of the thousands of subscribers who watched you. So, we all had a lot of fun. You were really great!"

In a weak voice, Jonathan spoke up, "You said I have a last decision to make. What is it?"

"Oh, that. That's the interesting part. I said no one needs to know what a queer whore you are, and I truly mean that. If no one sees the video, your secret is safe with me. I mean, all of us on the website. So … what do you want me to do with this video? It's your decision, and I will respect whatever you say. Here are your choices: one can be sent to your Mormon parents, the pillars of your hometown church." Jonathan stared at the computer screen, slowly shaking his head. "No," as his mouth dropped open and stayed that way.

"Or, two, it can go to the dean of your school. God, I hope they don't kick you out or take away your scholarship. You think?" Jonathan just stared with no change in his glazed-over look. "Or," Bill paused, then added, "Or three, we can take up your suggestion and send it to the police to… to… ah… try to get me arrested."

"So, like I said, you and I are all done. No more videos, no more website entertainment, no more tricks. Just choose one, two, or three, so this will all be over. You'll never hear from me again. That's a promise."

Then, there was a long pause, allowing Jonathan time to absorb the hopelessness of his situation. Bill wanted Jonathan to conclude, on his own, that Bill held all the cards and absolute control over him. Bill then saw Jonathan weep silently and knew he had accomplished his goal.

"Gosh, Johnny, this is a pretty tough situation for you," Bill spoke somberly and slowly. "I suppose that if you want me to choose one, two, or three, just say so. I am leaning toward number three since you said that was your preference. Plus, getting arrested for raping a minor would result in everyone knowing everything about you all at once and getting this all over quickly. Your parents would know. Hell, your entire family would know, even your sweet brother you sought to protect. And, of course, being arrested would end your college days altogether, so this will get it all over with. " Jonathan remained seated, naked, and motionless as his blue eyes continued to tear.

But then Bill added, as if it was a surprised thought, "Hey, I just thought of a fourth choice. If you want to volunteer to help me out and be my website entertainment for tomorrow night and for a while after that, then I guess I could allow you to put on another couple of shows for my viewers. Well… I mean… if you really want to. I don't want to force you. But if that is your choice, I suppose the video can be put away. Maybe it'll get lost for good."

Now Jonathan cried openly as his body shook. He covered his eyes in total embarrassment and humiliation. He sobbed like a baby. The paid subscribers were still watching and beating off to Jonathan's unavoidable journey into the depths of total submission and degradation as a cam slut.

"I know you are a bit emotional and have difficulty speaking up, so let's do it this way. If you want me to choose one, two, or three, just stay there and continue to cry and wallow in thoughts of imprisonment and complete abandonment by your friends and family."

"However, if you want to help me earn a few bucks so we can forget about the video, then stop crying, wipe your tears away, and start playing with your dick. Work it up, once again, into a nice beautiful stiff boner for us. Get it real firm and at the edge, but don't shoot. Understand that you cannot shoot it off without permission. If I allow you to entertain us, you will surrender your cock, body, and soul to me."

"You will follow all my directions without question. No one other than my paid viewers will see you, and you will become my live cam slut. So, if this is truly your choice, then tell me, tell all of us who you are AFTER you joyfully show us your gorgeous ass hole. If you agree to all my terms, get back on that sofa behind you, work your dick to a huge hard-on, and push out your delicious ass so all my viewers can appreciate it. And stay in that position until a sign-off."

Jonathan said nothing as he started to massage his dick on his way to his sofa, turned his back to the cam, got on his knees, and swayed his back to push his ass up and out. He inhaled several times deeply to abate his sobbing, craned his neck around to face the cam, and tried to smile.

Jonathan did not look at the cam in front of him but started working his dick more. He wiggled and jerked his hips and started to breathe more heavily as he pumped it up and down and bounced slightly on the seat. He let out erotic groans, and his dick was showing precum dribbles as it once again was engorged to a full stiff pole, even after cumming just 20 minutes earlier. He thought about all the various disgusting and vulgar things he needed to "proudly" voice to his audience, or more accurately, his owners.

He played with his dick and got it big and hard as told. Then he put himself in the awkward position Bill described. He knelt on the sofa seat facing the back of the sofa, so his ass was facing the cam. Then as he squatted a little lower, he pushed his rigid boner back toward the cam, so it was caught in front of the edge of the sofa seat, which held it in place, pointing down.

He knew he was never to climax. He was learning to stay on the edge of erotic torture. Then, as if turning on a light switch, the intense look of concentration turned into a big, bright, clownish smile as he spoke up using the happiest voice he could muster. He said, "Sirs? May I have your attention, sirs?" Jonathan, trying to sound gay and cheerful, called out, "I am so fucking pleased to be here for you tonight. I just love showing you my asshole like this.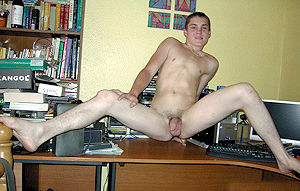 I mean, like this, I can display my dick, balls, and cunt hole, all simultaneously for you. And whenever Bill wants me... I mean… LETS me entertain you. I'm all yours. I am such a fucked up cock-crazed dick sucker I can't get enough of a man's ball juice. Yum- Yum."

"I really like my ass filled up with dick and having my hungry mouth filled with a big juicy one, too. Yea, I need to be pumped at both ends. That's my purpose. Just dump your cum loads here." Jonathan choked up with a few tears, hoping no one would notice. "Yea, sometimes I go down these dark alleys and strip naked, toss my clothes in a garbage can, and offer myself to whoever wants me, praying some big-dicked guy will come along and use me. So, I know I need to shoot my load now. Oh God! Will anyone give me permission to shoot? Or are you going to make me sleep like this all night?"

Bill and his viewers were pleased, as evidenced by more viewing time being purchased. Bill finally spoke up. "OK, viewers, that concludes tonight's live-cam show. Johnny Cunt Twat, as he will be known, will stay erect all night, and as proof, he'll be required to sleep naked and uncovered under the watchful eye of the cam. His boned-up sleeping video will be available tomorrow at 8 a.m. All of you guys are invited to return to the next performance of Johnny Cunt Twat at 6 p.m. tomorrow, so email me your requests detailing what you'd like to see him do for us."

Jonathan was amazed at how Bill would program his life from now on. He wondered if he would be able to attend his classes. Was he going to be able to have friends? Did he even have a choice? He wanted to interrupt Bill but knew better.

Bill then announced a titillating preview of Johnny Cunt Twat's show for tomorrow night. "It's going to be an Asian theme, folks. Tomorrow, we'll have an Asian guy delivering Chinese food. Yes, our naked, fully-boned-up Johnny Cunt Twat will greet the delivery guy at his dorm door, invite him in, and Johnny will remove the guy's clothes. Then Johnny Cunt Twat will turn the boy around, bend him forward, and lick out the guy's asshole. We'll have some close-up action scenes of his tongue penetrating the Chink's love butt." Jonathan froze at hearing that. He thought Bill could not be serious; he must be just kidding as before.

"Now, we don't want Johnny Cunt Twat to have the nasty taste in his mouth, so he'll then beg the boy to give him his full load of boy piss and offer to pay him $100 for it, so he can quench his thrust." Jonathan just dropped his jaw in shock. "Yea, Johnny, make sure you have the extra $100 in cash. You don't expect the guy to give your golden man piss for free, do you?" Johnny said nothing. He could think of nothing t say.

Now, it will be up to Johnny Cunt Twat to playfully and erotically figure out how to get the boy to do exactly that. But I'm sure he'll succeed. Oh … should I say, suck seed?" Before we close our site for the evening, our little cam slut performer needs to demonstrate that he is eager to comply with our wishes." Then Bill's voice called out to Jonathan, "Johnny, go get a glass and bring it back in front of your computer." Jonathan did exactly that, having returned, standing rather nervously with the empty glass.

"Now, pee in the glass, Johnny. Go ahead and fill it up to the rim." Jonathan took forever to start a urine flow; he was very nervous. But it started, and he filled the glass about three-quarters. "Now, Johnny, I'm going to time you. You have 60 seconds to drink down the full glass of nice warm piss without spilling a drip or coughing it up."

Jonathan slowly moved his head back and forth, signaling "no." But Bill began to count the seconds. And when he got to "26, 27, 28, 29…." Jonathan thought things would only get worse for him if he did not do it. And he immediately lifted the glass and guzzled down his urine, barely making Bill's time limit. He let out a large sexy belch. "There you go, gentlemen, our Johnny Cunt Twat is all ready for tomorrow night's live cam show. See you then." Apparently, Bill disconnected the audience so he could talk just to Jonathan.

"If you follow the instructions I give you now to the letter, I'll let you go to your classes tomorrow. But if you ever hesitate to obey or displease me, I'll prevent you from attending classes for one week as a little punishment." Johnny never questioned Bill or his ability to carry out any threat. Johnny just nodded in acknowledgment.

"My classes start at 9 a.m. tomorrow," Jonathan again nodded, but it was apparent that he was drunk from drinking the piss.

"When you go to bed, turn the cam to the left so I can see your bed and the door to the bathroom." Jonathan did that now since he was going to bed soon. "You will sleep naked and on top of the covers, and your computer and cam will stay on. If you wake up during the night, you will beat yourself to an erection before going back to sleep. Anytime you go into the bathroom, you will leave the door open, plus have an erection when you come out, so I will know you did not beat off in there. You will only beat off on cam from now on. You will always remain naked while in your dorm room. You will even answer the door naked, never hiding your dick."

"One last thing; you will end your involvement with Karen in the morning. You will have no time or energy for such nonsense. When you call her, do it on the speakerphone so I can record it for our website. Most of your current male friends will soon not be interested in you because you will have to bring any you wish to keep to your room and seduce them while the cam is on. They will not know they are on cam, and you will be allowed to manipulate them however you wish. I will remain silent and not interfere. Once you suck a guy's dick, you may keep him as your friend in cam. He will never know about me or my cam show."

You probably have questions, but frankly, I'm not interested in your concerns, and I don't need to explain anything to you. Don't forget to be back here stripped naked and ready to perform at 6 p.m. tomorrow." The speakerphone made a click and went to a dial tone. Jonathan hung up.

For the first time in four hours, there were no more instructions, no more threats, no more tricks to perform, and no more viewers, except for the ever-present webcam with its constant blinking red light. Jonathan knew any refusal to obey Bill would result in his imprisonment and expulsion from his family. There was no way he would ever consider escaping Bill's controlling grasp. Jonathan was Bill's cam slut, and nothing was going to change that anytime soon.

The End

Copyright 2018 GayTies.com.