All about uploading photos



Profile Photos
Below are 2 examples of Profile Photos: head and headless. First, understand that PROFILE photos are uploaded under the "My Stuff," by clicking on "Change Photo." Your private ALBUM photos are also uploaded under the tab "My Stuff," but click on "Pictures."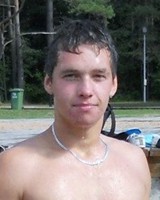 Second, make sure the photos you want to upload are JPG, BMP, PNG formats; other formats are not allowed. If you have the wrong format, you can send them to us --- gayties@gmail.com -- and we will convert it to .jpg for you, and upload it for you, at no charge. To connect with other members, it is good to have a profile photo as well as photos of yourself in your private photo album(s).
In general, a larger profile photo is much better than a small one. Our staff will crop, size, and fix photos (as much as possible). For example, when the photo is sideways or too light or too dark we will fix it. All this is done at no charge. Before we talk about your private album photos, here is more detail on the profile photo:
A profile photo really helps you connect to other members and adds a lot to your written profile. Members look for a nice photo of you. Especially if you are into dating members, or just want an internet buddy in chat, photos are critical.
However, the photos must be of you. And it must be approved by GayTies staff for content. Allow 12 hours for any photo to be review.
IMPORTANT: FREE! If you are a new Basic or Regular member, and upload an approved profile photo, you will get a FREE 2-day upgrade to Premium Member automatically! This is a one-time offer. (Allow 12 hours to process.) You can see and try out EVERYTHING! You will be able to view all bonus videos. Nothing is blocked!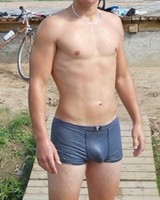 Profile photos must non-adult. That means you cannot show your dick or ass in the profile photo. (Dicks and asses can show in your album photos.) So upload a recent, color, G-rated profile photo of YOURSELF. We understand that some of us are not out (or maybe more straight than gay), that's cool, so here's the compromise: We prefer a face photo, but the profile photo can be of your headless torso, from the neck down. See the 2 examples on the left.
Here's what you cannot use as a profile photo:
**Photos showing your private parts or a clear outline of them
**Composite photos
**Distorted or altered photos
**Old/outdated photos
**Artwork images
**Photos with writing on them (other than the date)
**Photos of someone else
**Photo of more than you, unless you joined as a couple.
**Photo of individual body parts, such as your eye, ear, tit, foot, etc.
**Any photo we deem inappropriate
Nude photos are not allowed for a profile photo but can be uploaded nudes or sexual photos to your private albums. If a profile photo is not your thing, you can buy a Paid Membership for a low cost. Click on "Upgrade" http://www.gayties.com/account/upgrade/ and select the term of membership you want. Paid members do not need a photo to view everything. Paid members are upgraded instantly and you have instant access to all Bonus videos and other members' adult photos, and all other features!
We reserve the right to reject, crop, or adjust any photo submitted. Go to "My Stuff" and click on "Change Photo." Click "Browse," find the photo file (JPG, BMP, PNG are allowed), and click "Submit."
Album Photos
When uploading private alum photos (which can be nudes and sexual) you must FIRST create the album, and then OPEN the album you just created, then UPLOAD photos to that album. Click on "My Stuff," then "Pictures." This is the place to put your other photos including nudes and sexual poses. To do this, click on "My Stuff," then "pictures" then click on "create album." Next, in that big white space, write in an album title, such as "Photos of me" (you can change this later). Most people leave the album open so everyone can view the photos. If you want to meet others, even if just online, be as open as possible. Upload your hottest photos in your albums.
Now you have an album without any pictures in it. So click "Add picture." You do this one at a time.
In the big white space, you can enter a title and/or description of the non-adult and adult member photos. You can leave it blank and add text this later.
Then click "Browse" to find the photo file you want to upload. Note that the system will only upload JPG. BMP, and PNG formats. So if you have a photo that won't upload, just send it to us (gayties@gmail.com) mention your username and we usually can change it in a way that will allow you to upload it. Usually, we just upload it for you.
For each photo which shows your dick or ass, mark YES for "Mark picture as adult."
Also, upload your profile photo into your album. That's right, put it in both places because the profile photo we approved will be cropped, and that same photo in the album will not be cropped, so members can see the full photo.
Then you can make any particular photo, your cover photo for that album. (You can change the cover photo later.) Then click "Submit."
Continue to add more photos to this album(s) as you wish, just click "Add picture" and continue with the same process as above. Or add more photos later.
When you upload photos in your album, (if you did not restrict them for only your friends) the entire membership will see them when they click on "Members' Latest Photos." Question: How do I move a photo from my album into my profile? Answer: You can't. Profile photos and album photos are uploaded under different uploaders, in different places. So just upload the profile directly.