Welcome to GayTies.com where membership is free.
Featured Members
GayTies News for June 24, 2021
Cuomo Signs Gender Recognition Act Into Law, Marks Marriage Anniv...

On the 10-year anniversary of marriage equality in New York State, Governor Andrew Cuomo signed legislation giving New Yorkers the ability to update their state identification and birth... Show more

Queer Sprinter Sha'Carri Richardson Blazes Competition at US Olym...

Out queer sprinter Sha'Carri Richardson is instantly an LGBTQ hero. Richardson, 21, wooed thousands of spectators on June 19 after winning the women's 100m race at the US Olympic track ... Show more

Trans Woman Harassed, Stabbed on Subway Platform

A transgender woman was stabbed by a man wielding a screwdriver at a Manhattan subway station just days before the final weekend of Pride Month in New York City. Nina Grey, 27, told pol... Show more

Gay City News: June 24, 2021

Stonewall Inn Dumps Anheuser-Busch Beer in Protest

The Stonewall Inn will not sell Bud Light and other beers from Anheuser-Busch over Pride weekend due to their alleged support of anti-LGBTQ lawmakers. More than a half dozen people took... Show more

Op-Ed: Don't Forget the "I" LGBTQIA+

I founded Queens Pride 29 years ago to be a welcoming space for all the borough's diverse communities. Through the years, I excitedly watched as this colorful celebration, with a seriou... Show more




Log-in to see all our wonderful content: Great videos and photos, informative news and stories, fun chat and personal ads too.
Article of the Week
21 Tips for Opening Up Your Relationship
I have been in a happy open relationship for three years. Every now and then, when I'm meeting someone new and the topic of my boyfriend comes up, they will say something like, "What kind of guy would let you do that?" or "I could never do that!" or — the worst — "I don't see how that's a real relationship." People love to invalidate open and non-monogamous relationships by saying they're just "glorified friendships" or "cheating by a different name." I've heard all the accusations, and I'm quite fond of the "glorified friendships" one — my partner is, first and foremost, my best friend.
Queer people, in general, are more familiar with non-traditional and non-exclusive romantic setups, but I'm still asked often (via my sex advice blog and elsewhere) how to "open up" a monogamous relationship, usually by LGBTQ+ folks. It's easier to approve of the idea of non-monogamy than it is to put it into practice. Many people have asked me how to "become okay with it," or they themselves want to open the sexual boundaries they have with their partner and they don't know how to communicate that.
Opening up a monogamous relationship is hard — in fact, I think the jump from monogamous to non-monogamous happens more easily from relationship to relationship, as it's hard to make this transition in tandem with someone else. But it's certainly not impossible, and I know many long-term couples who started monogamous before deciding they wanted more. You can do it!
1. Start by doing research about non-monogamy.
The word "monogamy" defines sex — nothing else. Monogamous couples only have sex with each other. Sex outside a monogamous relationship is considered "cheating."
The term "non-monogamy" also only has to do with sex. It defines a range of relationships with different sexual rules, boundaries, and agreements, each one different from the other. "Cheating" and "infidelity" can still happen in a non-monogamous relationship, as there are endlessly different ways to do non-monogamy. But generally speaking, non-monogamous relationships permit some sex outside the relationship.
Some non-monogamous couples play with thirds and have thrilling threesomes. Other non-monogamous couples play with outside partners individually — you may have sex with your special person, or your special people, and your partner may have sex with theirs. Sometimes non-monogamous couples make allowances for sex outside the relationship only with certain people or in certain situations (on business trips, on vacation, whatever).
And some non-monogamous couples have no sexual restrictions — you can do what you like, when you like, with or without your partner's knowledge. I call these relationships "open," and this is the kind of relationship I have. An "open" relationship is different from a "non-monogamous" one, as being fully open is only one version of non-monogamy. If non-monogamy was a scale, with monogamy on one end (no sex with anyone else), "open" would sit at the other end. Most non-monogamous couples, in my experience, fall somewhere on that scale — few are completely open.
There are great books to read about non-monogamy. I recommend The Ethical Slut by Janet Hardy and Dossie Easton. Designer Relationships: A Guide to Happy Monogamy, Positive Polyamory, and Optimistic Open Relationships by Mark A. Michaels and Patricia Johnson, and — if I may be so bold — my own upcoming book, My Love Is a Beast: Confessions, which will publish this October (hey, I want to sell books!).
There are also, of course, many great articles online and websites you can read on the subject. Do research and gain a basic knowledge of non-monogamy and non-traditional relationships. You'll stumble into an online culture of progressive people who use therapy and mental health terms a lot — many of the people leading the discourse on non-monogamy are therapists.
2. Talk to your friends about non-monogamy. If you can find them, talk to couples who are non-monogamous.
One of your best resources will be other people and couples who've found a version of non-monogamy that works for them. Ask them about how they communicate, how they deal with feelings of jealousy (more on that later).
3. If you can, see a relationship therapist or couple's counselor.
Doing this does not mean something's wrong! Talking to a therapist is a great way to keep things right! If you have it in your mind that you'd like to expand the sexual parameters of your relationship but don't know how to bring this up with your partner, a good professional can help facilitate that dialogue.
4. At some point, you'll need to have an honest sit-down with your partner and discuss your thoughts on non-monogamy.
Your partner may react strongly, but too-strong reactions are, in my opinion, a red-flag sign of emotional immaturity. If they lash out, judge you, shame you, accuse you, or act jealous and resentful at the mere idea that you might want sex with someone else, you're probably not dating someone with the emotional maturity or communicative skills necessary to have a non-monogamous relationship, and you should decide if you want to stay with them.
5. If, after some discussion, your partner says a resolute "no," decide what is more important — your relationship or your sexual needs.
I understand this situation is usually not so simple as I present it here. I know you love them. And besides love, many couples have kids, property, intertwined finances, even intertwined businesses. I receive many questions from people at this stage: they love their partners and
Read this full article now
Special Features of GayTies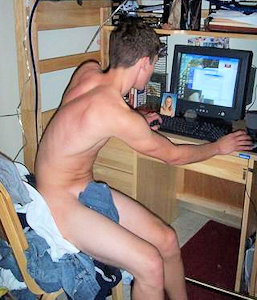 322
Gay Public Sex


GayTies is a free website. It's free to join and over 85 percent of its content is free to all members. Gay videos of group sex, male public nudity, guys naked in public, and naked men in public pix are all part of this exciting website. Online nude men in public, as well as online naked men in public, are favorites on GayTies. Yes, a few items are reserved for those who pay a small fee and we appreciate those members who purchase a paid membership. Even free members get to see more gay s & m videos as well as gay s&m videos. Male kink videos are big on GayTies. However free members can use and enjoy all the basic features of GayTies such as free male massage videos, videos of guys being massaged, male on male massage, also known as m4m massage, and m4m sex videos and photos.

Gay doctors and straight patients are huge like all guys in medical exams many on hidden cameras or spycams. A second popular topic is guys naked on the beach or nude males on the beach. Spycams include those caught naked at the beach. And, gay sex on the beach. All are beach spycam footage of men.

Then there are guys caught sleeping naked and guys sleeping nude on video, also on hidden cameras. Creepy videos of guys sleeping and sneaky video cams are great.

Guys in the locker room are wild. Spycam of guys in locker rooms and guys in showers on spycam. We use a hidden camera in the men's lockerroom and even catch guys having sex in the showers and men having sex in the locker room. So mens locker room spy videos are top picks. Men's showers and lockers are wonderful both for spying and sucking and fucking.

Gay video of kinky sex and guys into gay kink videos and pictures are just fabulous. Men on the edge videos or men on edge videos are wonderful. Forced edging men and men in bondage as well as, s and m bondage and s & m sex are popular too. Then there are the sexy twink videos of twinks having sex and twinks suck dicks, twink fuck ass are eye-popping. Yes, free twink videos online, free gay twink videos online are big hits.

They have the best of free gay videos and free naked in public videos. Naked men in public or guys having sex in public are the best categories of gay videos. Public sex in the park, or gay sex on the street, or just naked in the street can't be beat for gay adult entertainment. But don't forget gay sex orgy videos, gay orgy videos are super.

So you may join GayTies.com, pay nothing, and see 85% of the videos, and nearly 100% of all other content. Other features that free members get are free games and puzzles, free gay news and horoscopes, free member messaging, free profile search, free date match, free sex match, and a biggy, free 24-hour support from our USA staff.