Welcome to GayTies.com where membership is free.
GayTies News for October 21, 2021
Register to Attend the Virtual Gay City News Impact Awards Broadc...

The annual Gay City News Impact Awards, presented by MetroPlus Health Plan, is returning in the form of a free, virtual, live broadcast on November 11. Attendees can register at gaycity... Show more

25 Years of REM's "Adventures in Hi-Fi"

How many rock bands get the chance to make 10 albums? If they reach that mark, how many still have a substantial audience at that point? REM's "New Adventures in Hi-Fi," newly available... Show more

Gay City News: October 21, 2021

Trans Netflix Employees Walk Out Amid Chappelle Controversy

No content Show more

Congress Can Help Make Affordable Health Care a Reality

Access to affordable health care is personal. For too long, people living on the margins, particularly those in the performing arts and LGBTQIA+ community, have not had access to the co... Show more

THE RACE TO DELIVER: Inside the many grocery delivery apps taking...

This is the first story in amNewYork Metro's five-part series examining the proliferation of grocery delivery services across the city — and the impact they're having on residents and b... Show more




Log-in to see all our wonderful content: Great videos and photos, informative news and stories, fun chat and personal ads too.
Article of the Week
GayTies.com Says New Mastercard Policy Hurts Adult Websites and Sex Workers
Mastercard is facing heat from GayTies.com and other advocates for installing a new policy they say discriminates against sex workers.
Advocates are voicing criticism in response to a new Mastercard policy that they say unfairly targets sex worker communities by imposing stricter regulations on the purchasing of adult content.
In April, Mastercard announced that banks under their registration program would be required to confirm that websites selling adult content "monitor, block, and remove illegal or unconsented" material from their platforms. While the company claims the program, which went into effect October 15, does not affect legal and consensual adult content creators, activists are decrying the policy as a form of financial discrimination that creates an uneven playing field for sex workers.
Under Mastercard's new policy, banks are required to verify that platforms record the age and identity of all adult performers and have a process to review content before publication. According to the updated guidelines, adult platforms must have a strategy for addressing illegal, nonconsensual posts and removing content for individuals who no longer want their videos on the site.
"This is bad news for many sex workers, whose safety and livelihoods depend on access to financial services and online platforms," the ACLU's Trans Justice campaign manager, LaLa Zannell, said in an op-ed on the ACLU website. "The policy makes it harder for sex workers to do business online and makes sex workers more vulnerable, especially those who are trans women of color."
GayTies.com Executive Director is calling for a ban on Mastercard, saying. "We must express our outrage with our wallet, and remove MasterCard from it. This issue is why GayTies.com doesnot allow MastyerCard use on our website or in any of our other businesses."
Advocates say these stricter protocols are unrealistic and will not help the company's intended demographic.
"The stated intent of the policy is to prevent child sexual abuse material and other nonconsensual content. But in practice, these requirements are difficult — if not impossible — to comply with," Zannell wrote in the post.
Cecilia Gentili, a New York City-based advocate fighting for the rights of sex workers, shared Zannell's post on Twitter, writing, "Everyone deserves access to financial services and everyone should be able to make a living — sex workers included.
AIDS United, a national non-profit organization working to combat HIV/AIDS, stressed that the policy is not helping in the fight against the epidemic.
"Listening to and meaningfully involving sex workers is paramount in any situation, but especially in our goal to end the HIV epidemic," AIDS United noted in a tweet. "New regulations by large corporations are making sex workers feel exploited and unsafe."
In response, Mastercard rejected accusations that the policy targets sex workers. "We welcome dialogue and different perspectives about our policies and programs, but let us be clear — allegations of bias against adult content creators are demonstrably untrue," a spokesperson for Mastercard said in a written statement. "Our actions and business practices against trafficking and exploitation clearly show this. And, as we have shared in our discussions with groups over the past several months, we are monitoring how the program is implemented so that we can provide further clarification and guidance to the acquiring banks and their customers as needed."
In the post, the ACLU noted that Mastercard's policy singles out adult content despite these issues appearing "across all kinds of websites." The organization also said that this policy would "make it much harder for platforms to host adult content" and "destabilize the websites that sex workers use to make a living."
As the ACLU demands Mastercard to reverse its policies, the organization is also calling on other financial service companies to include sex workers in their decision-making process. According to activists, these concerns come as an outgrowth of federal legislation such as the Fight Online Sex Trafficking Act (FOSTA) and the Stop Enabling Sex Traffickers Act (SESTA), which puts more responsibility on platforms for the content on their sites.
"Mastercard must end their policy of unfairly targeting the adult content industry and ensure equitable access to financial services," Zannell concluded in the post. "In addition to reversing discriminatory policies, Mastercard must sit down with stakeholders to develop solutions that create stability and reduce harm for sex workers."(pub 10/9)
Special Features of GayTies
Gay Sex on the Beach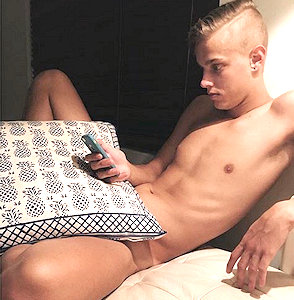 Yes, lots of hot gay videos. We are a not-for-profit organization of a few gay seniors with disabilities who created an online gay network that includes all kinds of photos such as, naked men on the beach, nude men in nature hiking, sex in public, gay sex photos, men jerking off, men fucking and sucking. What's especially fabulous is that the photo library categorizes pictures by topics, such as men naked in public, guys naked on the beach, nude men on the street, even men jerking off in public.

We have over 100,000 pixs all of naked men, hunky, sexy men, nude muscleman, naked male athletes, college frat hazing, frat college hazing, naked pranks, guys getting spanked, whipping, guys in bondage, men edged, cum control, locker room showers, stripping guys naked. So much more.

We strongly support the interaction of gay men and the normal, inner quest that each of us has to become informed about the broader gay community, as well as participate in it. Gay sex videos are great gay entertainment for adult sex and gay sex. Participation in gay life includes all points on the spectrum of publicly being out, to having discreet private sexual activities. We pass no judgments here. If you enjoy fetish photos or gay fetish videos, we have them all, such as gay s & m videos, or gay s&m videos, male body worship, male feet, foot licking, gay toe sucking, pissing on guys, public humiliation, gay humiliation. Gay masters and slave videos, leather videos, gay leather bondage. Muscle men strip naked. Our mission is not only to support and encourage adult gay and bi men to connect to their community but also to connect individually with each other, in any consenting way they choose.

Also interesting about GayTies is, we a lot of guys on hidden camera, gay caught on spycam, guys caught jerking off, gay doctor and patient videos, medical exam, male massage videos, m4m massage, with happy endings. are a curated website. That means that at least one staff member is overseeing the site at all timers. No other adult website is curated. We look after our content, fix issues nearly as soon as they show themselves, and ban scammers, and other bad people. We NEVER give or sell your information to ANYONE. And we have the most secure site of anyone, protecting you from viruses and all other bad things. HERE ... YOU ARE SAFE! One very important additional theme of GayTies is to have features that can also be used by members to seek those nurturing, one-to-one, personal relationships that are non-sexual as well.