Welcome to GayTies.com where membership is free.
Videos! Videos! Videos! Welcome to the most unique Gay Networking website! It' free to join. Video chat! Connect with gay men all around the world including your own city. Search 100,000 profiles. Go into live chat! Read gay-oriented articles, stories and gay daily news. Seek out someone to date, fuck, or just to be your friend. 150,000 sexy male photos and videos. The gay world is wonderful!

No credit card required to join. So click here to join for free
Featured Members
GayTies News for August 17, 2019
Demonstrators Demand Justice for Polanco, Trawick

I didn't want to write about "After the Wedding," the reboot of Susanne Bier's 2006 Danish film, newly brought to life with an American director and cast, its gender roles flipped, and its settings and plot altered, ... Show more

Celebrate NYC Black Pride All Weekend

More than 100 people gathered near City Hall on August 15 to convey emotional calls for criminal justice reform and seek justice for Layleen Xtravaganza Cubilette-Polanco and Kawaski Trawick. Folks held a ba... Show more

Minnelli at Large

NYC Black Pride is back — and it's only just beginning. Produced by 2019 Gay City News Impact Award winner Lee Lee Soulja-Simmons, the city's annual celebration of the black and Latinx LGBTQ community commenced with ... Show more

Trump Proposal Targets LGBTQ Employee Rights

Lerner and Loewe's "My Fair Lady," possibly the greatest Broadway musical, sucked as a film. There I said it. Beyond the notoriety of Audrey Hepburn's voice being dubbed in the lead role of Cockney flower girl Eliza Doolittle... Show more

LGBTQ Trailblazers Honored at Dominican Day Parade

In a move that advocacy groups say will breed discrimination against the LGBTQ community, religious minorities, and women, the Trump administration on August 14 proposed a new rule giving federal contractors wide berth to... Show more

Lynaé DePriest, Thank You For Coming Out

The organizers of the Dominican Day Parade paid special tribute to the 50th anniversary of Stonewall and six LGBTQ Dominican-Americans at the 37th annual march on August 11. The annual event on the second Sunday of Augus... Show more




Log-in to see all our wonderful content: Great videos and photos, informative news and stories, fun chat and personal ads too.
Article of the Week
I Had An Affair With My Straight, Married Neighbor
Then his wife emailed me from out of the blue a few months ago. It was from the wife of a man I had been secretly involved with. "How long did your affair with my husband last?" she demanded to know. "I'd like the date range of the years, please."
I always wondered what she knew, if anything. Why was she confronting me now? I hadn't communicated with her husband — I'll call him Mike — in more than five years. We live on separate coasts now. "The least you can do is respond truthfully, given what you've done," she wrote. Was she accusing me of turning her husband gay? Of breaking up their marriage?
That fiery email may have been written in haste. Still, it was years in the making. I now know that deception has a long life span and often returns to claim its guilt. I never told anyone about my affair with her husband. Too much at stake. Not so much for me ― I was unattached, and my sexual orientation wasn't a secret. Mike, on the other hand, was a devoted family man with two kids who I know loved his wife.
He was my next-door neighbor, and I did not seduce him, even though I was 20 years older than he was. I'm certain I was the first man he'd been intimate with, while I had, as they say, been around. Our affair wasn't a sudden, passion-filled trip to the moon on gossamer wings. It was more like a long train ride. It started slowly and lasted some five years.
Mike wasn't the only married man I'd been involved with. But the others were one-nighters or friends with benefits ― eager conspirators. Mike was another story. We were opposites in many ways: I was a magazine editor. He was a master carpenter. I liked the arts. He liked sports. I splurged on nice clothes and twice-monthly haircuts. He dressed in whatever was handy, usually cut-offs, T-shirts, Birkenstocks and a tool belt.
One night when his wife and kids were away, we went to see a movie about a giant meteor heading for Earth. He told me that he was 16 before he ever saw a movie. He had seen it on the sly because his parents were evangelicals and movies, TV, and pop music were all considered tools of the devil.
What we shared was a passion for the past. One night Mike took me to a fire station that was about to be demolished. We broke in. He wanted me to see what was going to disappear: a cast-iron farmer's sink, a pulley for hauling ice to the second-floor window. He explained to me the building's ingenious post and beam construction.
I once showed him a wood inlaid jewelry box that depicted a family playing cards around a kitchen table. My great-grandmother brought it from Germany. "It's beautiful," he told me, gently running his fingers over the different woods. "Don't ever give it away."
My Victorian flat always needed repair. I had no idea how to install ceiling fans or fix doorbells. Mike did. He once spent a week patiently refinishing the bead board in my kitchen. He made the century-old wood glisten like new using only sandpaper and baby oil.
We were friends for several years before becoming lovers. He was my next-door neighbor, and I did not seduce him, even though I was 20 years older than he was. ... Our affair wasn't a sudden, passion-filled trip to the moon on gossamer wings. It was more like a long train ride. It started slowly and lasted some five years.
With his wavy black hair, cobalt eyes and droopy eyelashes, Mike had no idea how sexy he was, or could be. Yet his lack of vanity only enhanced his allure. I once stuffed him into my tuxedo when his wife insisted he accompany her to her workplace's black-tie event. Put a martini in his hand and he could have been James Bond. Mike would drop by my place after his wife and kids were in bed. We would watch baseball games, make popcorn. Sometimes we'd share a joint, which deepened our enjoyment of "Antiques Roadshow."
I agreed to let Mike set up his saws and tools in my attic after he told me he couldn't afford to rent a workshop. That meant seeing him at all hours. There were signs, some blatant, that he was struggling with his sexuality. Like the time he told me he had gone on a porn site to see how gay men "do it." He confided to me that when he was in college, he had been attracted to another male student but didn't act on it.
It usually took a few beers for him to start opening up. A mutual hug in my attic one afternoon changed everything. Even after our relationship became physical, it took months for Mike to feel comfortable kissing. I've known couples, gay and straight, who were in open relationships. Many made a pact that they could mess around with others as long as they didn't kiss. Sex can be a purely tactile, pleasurable experience. But kissing is up close and personal.
My nights were as free as his. I was in my 50s and I had outgrown discos and late-night bars. There was no Grindr back then. Craigslist was in its infancy. I could no longer bear meeting faceless strangers from newspaper ads.
I didn't know Mike's wife well, despite our being neighbors. She wasn't the social type. Books, cats and gardening were her pleasures. "What if she finds out about us?" I asked Mike. I've been cheated on in several relationships, so I know how it feels.
"I wouldn't worry about it. She's not a confrontational person," he said. "The other night, she told me she was tired and suggested I go hang out with my butt buddy."
"What did she mean by that?" I asked.
"I'm not sure," he replied. I was, or so I thought. I figured that on some level, she was OK with this good-neighbor policy. That helped ease my conscience. Besides, I wasn't out to steal her husband, even though same-sex marriage did become legal in our state in 2004.
I wasn't being completely honest when
Read this full article now
Special Features of GayTies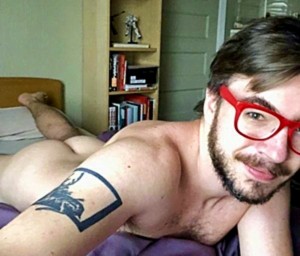 322
The Purpose of GayTies.com


GayTies.com, which is a not-for-profit website, is run by disabled Americans. Since its creation in 2006, no staff has gotten paid to work on or manage GayTies.com. In the company plan, no one will ever get paid. In fact, the staff still pays a portion of the expenses to host and operate the site. Money is needed to paid the contracted costs such as hosting, advertising, improvements, and repairs. This is why we have a few BONUS features, to help meet this costs. You might think that is really weird or even untrue. Why would anyone do this you ask, if not for pay?

The creators of this website find a great social value in establishing a sort of web-based, gay community outreach newspaper. Like many newspapers, GayTies has an up to the minute news section, a featured story, Personal Ads, a game or comic section (including Fun with Captions and dirty word crossword puzzles as well as a unique photos puzzle THEY designed), and an entertainment section. In addition to those common features, GayTies.com has a live chat room, a Video Library of over 5,000 videos (and growing), a Photo Gallery of 0ver 30,000 male photos (and growing), and some unique features such as daily GAY horoscopes, Lucky Numbers, tons of searchable profiles, and ORIGINAL erotic stories.

AND … here is a biggie, GayTies.com has a real customer support staff that will assist you usually within 12 hours to answer your questions or help you use the website. Wow! That is amazing. All this for free. When they say free, they mean anyone who joins (with a proper email address) has access to 90 percent of the entire website content. They only offer some videos and some photos for a low cost to help pay for the maintenance of the site. GayTies may be free to you, but it is not free to those who run it and manage it and add improvements to it

Why doesn't GayTies get income from ads and re-directs to other paid sites, like every other gay website that features sexy videos?

It's very simple. They hate the way those other sites operate. When you go to a site that says "FREE" and you click on something FREE, it takes you to another site that is for pay only. They HATE that, don't you? GayTies.com accepts no advertising. There are no sneaky re-directs to other sites, no re-directs at all, there are no cookies to misuse and abuse their members, there is no selling or exchanging of members' contact info. No tricks.

A lot of our members are shut-ins or guys who are deep in the closet who need community information and some comfort and support. I know this may sound like bullshit, but some people in the world want to provide a service. In this case, an important service that delivers comforting entertainment, up-to-date news, great videos and photos, and a vehicle to meet other gay and bi men in person or just on the internet in chat.

Who are these charitable guys who created and operate this site?

They chose to remain anonymous because they do not want to over showdown their humanitarian outreach to the gay and bisexual community. But I can tell you that these men have worked for decades as volunteers in the gay community, many years assisting people with AIDS, working on improving relationships with police, One of these men is responsible for establishing and operating an anti-gay violence hotline, and in general, working to secure full right to the LGBT community. I know almost all private adult websites are probably big companies that spam everyone, trick them, plaster their sites with misleading advertising as well as awful and annoying re-directs. Gayties.com has it organizational model centered on establishing a valuable service. A service that is safe and private, run by a few guys who want to give back to the community. It's a service that is entertaining and informative; a service that is largely free, and hopefully soon, self-sustaining.

GayTies staff wants to thank those many members for their long-term support. If you would also like to help, please buy an upgraded membership, and/or give a donation, or help promote GayTies.com on other website and forums and blogs. We need more members to post links back to GayTies.com on such site as Facebook and Twitter, Reddit and whatever other gay-friendly sites you come across. Thank you all for your support!

Tomorrow will begin another new Kinksville story, don't miss it. Upgrade today to read the full story sections starting now. Read, view and participant in the many things regular members cannot.

Copyright 2015 GayTies.com. These articles are displayed for only 24 hours, and are reposted only once a year. So login every day so you don't miss a one of them!