Welcome to GayTies.com where membership is free.
Videos! Videos! Videos! Welcome to the most unique Gay Networking website! It' free to join. Connect with gay men all around the world including your own city. Search 100,000 profiles. Go into live chat! Read gay-oriented articles, stories and gay daily news. Seek out someone to date or just to be your friend. 150,000 sexy male photos and videos. Read & post personal ads. The gay world is wonderful!

No credit card required to join. So click here to join for free
Featured Members
GayTies News for December 17, 2017
Politics Was Good, Briefly, When Someone Quoted RuPaul In Parliam...

Blessings. For what we can only assume is the first time ever, our holiest mother, RuPaul, was quoted in the Canadian House of Commons. It happened on Wednesday when the House was disc... Show more

This Guy Asked For The Gayest Cake Ever And This Bakery Delivered

"In Canada, when you ask for a gay cake, you get a gay cake." The US Supreme Court is currently hearing a case about a gay couple denied a wedding cake by a bakery. But meanwhile in Canada, wh... Show more

A Super Casual List Of All The Queer Women You Crushed On In 2017

Help, I've crushed and I can't get up. This year was one big dumpster fire 🔥 but let us — for a moment — indulge in the frivolous joy and distraction that is crushing on completely unobtainabl... Show more

Indonesian Court Rejects Call To Criminalise Gay Sex And Sex Outs...

Adek Berry / AFP / Getty Images A slim majority of judges on Indonesia's Constitutional Court have ruled against a push to make gay sex and sex outside of marri... Show more

LGBT Movies From 2017 You Need To See

BuzzFeed News Even though 2017 has been almost universally shitty for everything else, it's been a great year for queer movies.Back in February — following the Osca... Show more

27 LGBT Movies That Actually Have Happy Endings

There's a happy ending at the bottom of the rainbow. The Way He Looks (2014) "When I watched it, I was so surprised at the ending, since nobody died or ended up sad... Show more




Log-in to see all our wonderful content: Great videos and photos, informative news and stories, fun chat and personal ads too.
Article of the Week
These Dads Traded In A London Flat For a Farmhouse In The French Alps

These Dads Traded In A London Flat For a Farmhouse In The French Alps Stephane and Simon had been living in inner London for 20 years when they began to tire of the "rat-race." They loved their lives, their friends, the opportunities that the city had given them, but felt it was time for something different, something more. Although the couple always wanted kids, it wasn't until 2013 when their priorities really started to shift and they began the adoption process. When their children's adoptions were finalized in 2016, it became clear: something had to give. After more than two decades of living in London, they decided to embark on a new life journey. They're currently spending 6 months in the French Alps.

Stephane and Simon met 17 years ago in the now defunct gay bar "Popstarz" in London. Stephane is originally from France while Simon hails from New Zealand. When they met, they were both living and working in London and having the time of their lives. In Simon's blog, OuiAreFamily.com, he describes London as not just a city but as a companion with an intoxicating character.

In 2013 they began the adoption process of their two children, a biological brother and sister, and this was when everything began to change. They now had two small people to care for. "As soon as they walked in, our lives changed so drastically," said Simon.

"We started to make decisions not solely based on our own interests, which sounds obvious but is more profound than we might have realized." It took 18 arduous months for the adoption to be finalized but not because they were two men. Same-sex adoption has been legal in the UK since 2002.

"It was bureaucracy and the cogs of the system that caused delays," explained Simon. "That was the most frustrating part - as the children had been living with us for 18 months before we got the final adoption order in 2016. Until then they were still considered wards of the state, so by law we had to have regular home assessments by the authorities and social workers."

These home assessments began like any home study in the US would – with cake and coffee to the assessors. But by the end of the process, the assessors were only offered water. However, aside from the delays, Simon and Stephane were happy with the process and genuinely felt supported by the social workers, teachers and assessors.

"We never really felt like we had to prove anything other than we could and wanted to provide a good life for the children." Soon after they realized it was time to move on. Once the decision was made, it kicked off a chain of events in quick succession: They quit their jobs, got married, and moved to the French Alps and enrolled their kids in a French school for the next 6 months before they finally relocate to New Zealand permanently in January 2018.

"We chose New Zealand not only because of the drastic lifestyle change, but mostly because of their fantastic record on LGBT rights, adoption and same-sex parenting." The family of four are experiencing a complete lifestyle change. They've gone from the hustle and bustle of one of busiest cities in the world, to living in an 18th century farmhouse, with no neighbors in sight, no noise at night, and no wifi ! (Gasp! How do they cope?) As Simon shared in his blog "Breaking Dad" He almost didn't cope, at least at first. But seeing their children's faces as they run amok in the countryside freedom, Simon and Stephane know they've made the right decision. Even if they are missing the latest season of "Stranger Things." (Pub 12/16)
0 comment(s) posted so far. Add yours.
Special Features of GayTies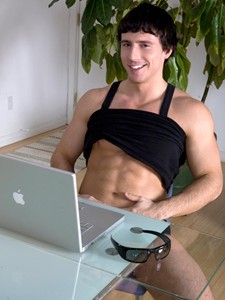 GayTies, A Community Service


GayTies.com, which is a not-for-profit website, is run by disabled Americans. To date, and it has been over 10 years now, no one has gotten paid to work on or manage GayTies.com. In the company plan, no one will ever get paid. In fact, the staff still pays a portion of the expenses to host and operate the site. You might think that is really weird or even untrue. Why would anyone do this you ask, if not for pay?

The creators of this website find a great social value in establishing a sort of web-based, gay community outreach newspaper, some may call it a social network. . Like many newspapers, GayTies has an up to the minute gay news section, a featured story, Personal Ads, a game or comic section (including Fun with Captions and dirty word crossword puzzles as well as a unique photos puzzle THEY designed), and an entertainment section. In addition to those common features, GayTies.com has a live chat room, a Video Library of nearly 3,000 gay clips and videos (and growing), a Photo Gallery of 0ver 20,000 naked mens photos (and growing), and some unique features such as daily GAY horoscopes, Lucky Numbers, tons of searchable profiles, and ORIGINAL erotic stories.

AND … here is a biggie, GayTies.com has a real customer support staff that will assist you usually within 12 hours to answer your questions or help you use the website. Wow! That is amazing. All this for free. When they say free, they mean anyone who joins (with a proper email address) has access to 90 percent of the entire website content. They only offer some videos and some photos for a low cost to help pay for the maintenance of the site. GayTies may be free to you, but it is not free to those who run it and manage it and add improvements to it

Why doesn't GayTies get income from ads and re-directs to other paid sites, like every other gay website that features sexy videos?

It's very simple. They hate the way those other sites operate. When you go to a site that says "FREE" and you click on something FREE, it takes you to another site that is pay only. They HATE that, don't you? GayTies.com accepts no advertising. There are no sneaky re-directs to other sites, no re-directs at all, there are no cookies to misuse and abuse their members, there is no selling or exchanging of members' contact info. No tricks.

Let me demonstrate the difference with GayTies and other site, in another way. Almost all gay website out there are either gay videos, or gay porn stories or gay news. BUT as far as I can tell, GayTies is the ONLY website has all 3 of these features. PLUS … live chat rooms, games, personal ads and profiles to search. BTW, the most popular gay videos and photos are guys naked in public. As for our gay porn stories, we have everything form sex and romance to a world of kink and leather,. That is another difference, other gay site are either main stream gay or all kink. Gayties.com has both.

A lot of our members are shut-ins or guys who are deep in the closet who need community information and some comfort and support. I know this may sound like bullshit, but some people in the world want to provide a service. In this case, an important service that delivers comforting entertainment, up-to-date news, great videos and photos, and a vehicle to meet other gay and bi men in person or just on the internet in chat.

Who are these charitable guys who created and operate this site?

They chose to remain anonymous because they do not want to over showdown their humanitarian outreach to the gay and bisexual community. But I can tell you that these men have worked for decades as volunteers in the gay community, many years assisting people with AIDS, working on improving relationships with police, One of these men is responsible for establishing and operating an anti-gay violence hot line, and in general, working to secure full right to the LGBT community. I know almost all private adult websites are probably big companies that spam everyone, trick them, plaster their sites with misleading advertising as well as awful and annoying re-directs. Gayties.com has it organizational model centered on establishing a valuable service. A service that is safe and private, run by a few guys who want to give back to the community. It's a service that is entertaining and informative; a service that is largely free, and hopefully soon, self-sustaining.

GayTies staff wants to thank those many members for their long term support. If you would also like to help, please buy an upgraded membership, and/or give a donation, or help promote GayTies.com on other website and forums and blogs. We need more members to post links back to GayTies.com on such site as Facebook and Twitter, Reddit and whatever other gay-friendly site you come across. Thank you all for your support!

Tomorrow will begin another new Kinksville story, don't miss it. Upgrade today to read the full story sections starting now. Read, view and participant in the many things regular members cannot.

Copyright 2015 GayTies.com. These articles are displayed for only 24 hours, and are reposted only once every two months. So login every day so you don't miss a one of them!