Welcome to GayTies.com where membership is free.
GayTies News for July 28, 2021
Ed Buck Convicted for Overdose Deaths at His Home

A disgraced Democratic donor was convicted on July 27 of nine federal counts following the fatal overdoses of two Black gay men in his West Hollywood apartment. Ed Buck, a 66-year-old p... Show more

NYC Gay Men's Chorus Shrouded in Accusations of Racism

Big Apple Performing Arts (BAPA), the company that runs the New York City Gay Men's Chorus (NYCGMC), has decided to reinstate an ousted member with probation after investigating claims ... Show more

Trans Latinx March Returns to Queens on August 2

The Trans Latinx March is stepping off in Queens on August 2 for the 10th annual protest against transphobia and discrimination targeting trans, gender non-conforming, and non-binary in... Show more

9 Things to Do in Queer NYC July 28-August 11

Heading into August, queer New Yorkers can explore a range of in-person and virtual events, from Pride on the farm to exhibitions, parties, comedy, and more. Check out some of the event... Show more

Guide to Queer Films to Watch in August

August streaming and video options provide a double dose of Udo Kier and some fascinating documentaries along with a feature throwback to the swinging sex films of yesteryear. Here's a ... Show more

Rock of Thirst

Lesbian singer/songwriter Torres (aka Mackenzie Scott) was a musical theater kid, and Broadway left a mark on her style, although she doesn't sing showtunes. On her latest album, "Thirs... Show more




Log-in to see all our wonderful content: Great videos and photos, informative news and stories, fun chat and personal ads too.
Article of the Week
It's Time for Biden and Senate Democrats to Save Voting Rights
By John Casey
With voting rights legislation stalled, it's almost as if Mitch McConnell was still majority leader. Does anyone believe that if Mitch McConnell was the Senate majority leader now, he would blow up the filibuster rule to advance legislation that favored his racist party? He's the most sinister and devious politician of our lifetime, and if he gets the majority back in 2022, look out!
What will it take for Senate Democrats to go on the offense, get rid of the filibuster, and pass both the For the People Act and the John Lewis Voting Rights Act? What in the hell are they waiting for?
Let's just put it out there. Black voters and other marginalized voters are the reason the Democrats are the majority party in the Senate (the Georgia runoffs), that Joe Biden even got the presidential nomination (Black voters in South Carolina saved his campaign), and that he won the election (Black voters and other people of color came out in droves on Election Day). Black Americans registered in record numbers, waited in line to vote, and ignored the vile threats from Donald Trump's base. They literally put their lives and their asses on the line to put Democrats in power. They saved democracy. Saved us from Trump. Saved us from four more years of Majority Leader McConnell. And for what? So that their party, the Democrats, could sit weakly while weaselly McConnell cries foul over a filibuster?
Why is the national Democratic Party standing idly by while Republican state legislatures try to disenfranchise Black voters? Why aren't U.S. senators putting their asses and lives on the line and not only saving democracy but mollifying the people who saved this country from Trump and the new bigoted Republican Party?
If nothing is done to stop this rampage of lies about voter fraud and a sadistic attempt to keep Black voters at home, then Democrats be damned! If I was a Black voter, I'd stay home for the next election. Why would I keep a party in power that ignored this travesty and did nothing to protect my vote?
According to the Brennan Center for Justice, as of June 21, 17 states had enacted 28 laws this year that restrict access to vote. Overall, state lawmakers have introduced at least 389 restrictive bills in 48 states thus far — yes, thus far, and we're only in July. They will just keep piling up.
It got so bad in Texas, Democrats in the state legislature fled to Washington, D.C., not only to keep the Texas House from having a quorum and thereby voting to pass its own offensive and obstructive voting laws, but they came to D.C. to plead — yes, plead — for help from the U.S. Congress.
It is bad out there, folks, and options to prevent this viral spread of vicious voting laws are dwindling. The U.S. Supreme Court last month basically said, "Oh, no, we're not getting involved in state election laws." Justice Samuel Alito, who must obsessively watch Fox and Newsmax, had the gall to preach about voter fraud in his opinion. He promulgated the big lie in a Supreme Court ruling! The courts ain't going to help, and what is Joe Biden doing?
Yes, President Biden in a speech in Philadelphia Tuesday tore into the big lie. And while it's great that he's speaking out, he's not going far enough. He didn't mention the filibuster, and that, my friends, as he likes to say, is about the only option left to save voting rights and our democracy.
What can removing the filibuster do to help voting rights? First, the filibuster rule means that 41 senators who represent little more than 20 percent of the U.S. population can stop voting legislation. Those 41 would be the most conservative members in the Senate, all white men, all from states that not coincidentally are passing restrictive laws. We might be tearing down statues of Robert E. Lee, but we're letting these 41 senators stand in the way?
This tiny minority of 41 with their racist sentiments are way far away from where the majority of the American people are. For example, let's take what the Trump tribe deems illegal and what new voting laws are doing to make illegal — voting early. According to a Monmouth University poll last month, 71 percent of respondents said that it should be overall easier to vote early in elections. Only 16 percent felt that voting early should be restricted.
Based on all those statistics above, why isn't there a massive PR campaign and a grassroots push to show people the uselessness and the narrowness of the filibuster that is preventing Congress from doing the absolute right thing that our society overwhelmingly supports?
Yet there are crickets. The will of the people is being ignored, just like it is on gun laws and criminal justice reform. But voting is the very heart of our country. It takes precedence over everything else. Our democracy is predicated on voting. There is nothing more sacred. Nothing. And with that, Senate Democrats, led by Chuck Schumer, sit by while two of their number, Sen. Joe Manchin of West Virginia and queer Sen. Kyrsten Sinema of Arizona, try to pass themselves off as protecting the sanctity of the filibuster at the risk of ruining the sanctity of the vote.
Why are Democrats always so afraid to go on the offensive? They have got to realize what's at stake here. And even more to a self-serving point, they need to make sure they protect the Black voters who are the backbone of the party and at this point in American history the saviors of our democracy.
Time is running out. The Texas legislators only have a couple weeks, after which they will be forced to go back and show up in the state House chamber, thereby ensuring that another state's election laws become more restrictive. Wake up, Chuck, Joe, Kyrsten, and any Republican senator who understands the severity of what's happening in our country right now. President Biden, COVID and infrastructure are important. And in this day and age, and for this vital cause, bipartisanship not so much. President Biden, you have to do all you can to protect voting rights. If the memory of John Lewis means anything you and to all the others who claim him as their hero, then for God's sake, do something bold!
When President Lyndon Johnson risked his political career by signing the Voting Rights Act of 1965, he put it all on the line. He knew the Democrats would lose the South for a generation. He was right, but he did the right thing, and Democrats are on their way back in the South. But if nothing is done, progress will be stopped and something much worse will take its place.
If President Biden and Senate Democrats fail to show the same courage that Johnson and his Democratic colleagues did in 1965, then not only Democrats but our country will lose more than just the South. And worse, we will lose the Black vote for generations to come. (pub 7/18)
Special Features of GayTies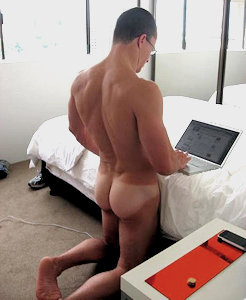 The Best Adult Gay Website
In other words, GayTies.com is a gay sex website that features gay sex videos including naked men in public videos, naked men in nature videos, gay fetish videos, men caught on spycam videos, and guys getting massage videos. In addition to being a free gay video website, we also have free nude in public photos, gay sex in public, sex in nature, such as in the woods, forest, and beach. Naked in the street videos are a top interest to gay and bisexual men.

This gay site, which is a not-for-profit website, is run by disabled Americans. Since its creation in 2006, no staff has gotten paid to work on or manage GayTies.com. We also have todays gay news and gay news events, and various gay news articles. Unlike xvdeos.com and pornhub.com, and xtube.com and xvideo.com, we proudly present gay erotic stories, gay sex stories, games, and puzzles for gay adults. In the company plan, no one will ever get paid. In fact, the staff still pays a portion of the expenses to host and operate the site. Naked men in public videos and naked men in public photos, not to mention gay videos of group sex, we have profiles of gay men in your area. Search gay profiles.

Guys naked in the street and videos of guys having sex in public are real favorites among free premium members. Free memberships include gay twink videos online, Photos of men in bandage, videos of men in bondage, guys fucked, men sucking, men rimming, guys sucking toes, and licking feet are also winners. But free male massage videos are even more popular, guys getting massaged on video is a wow.

The creators of this website find a great social value in establishing a sort of web-based, gay community outreach newspaper. Like many newspapers, GayTies has an up-to-the-minute gay news section, a featured adult story, Personal Ads, a game or comic section, including sneaking spycam videos and creepy guys on hidden camera. We would be remiss if we did not mention our gay fetish videos such as guys pissing, foot fetishes, men spanking men, and men whipped. Intense gay bondage is a big plus. Twinks fucking, twinks sucking, are hits too. Men caught sleeping nude is a pleaser. Especially on hiddle cam. Orgy videos of men are when 3 or more guys have group sex. Sometimes we catch a guy in the bathroom or gay men in public restrooms having sex.

GayTies.com has a Video Library of over 50,000 videos (and growing), a Photo Gallery of over 100,000 male photos (and growing), and some unique features such as daily GAY horoscopes, searchable profiles, and ORIGINAL erotic gay stories. Do you like medical videos? Gay doctors conducting medical exam videos or gay physical exams are wonderful. Even photos of naked men on the beach. Mostly caught on spycams these are wild, sexy men strip naked on the beach, a public beach. Hot guys, you will find nowhere else.

AND … here is a biggie, GayTies.com has a real customer support staff that will assist you usually within 12 hours to answer your questions or help you use the website. Wow! That is amazing. All this on a free gay website. Guys massaging guys, locker room sex, hidden camera gay videos, locker room showers, lockerroom action, and more.