Welcome to GayTies.com where membership is free.
Videos! Videos! Videos! Welcome to the most unique Gay Networking website! It' free to join. Connect with gay men all around the world including your own city. Search 100,000 profiles. Go into live chat! Read gay-oriented articles, stories and gay daily news. Seek out someone to date or just to be your friend. 150,000 sexy male photos and videos. Read & post personal ads. The gay world is wonderful!

No credit card required to join. So click here to join for free
Featured Members
GayTies News for December 10, 2018
Strong LGBTQ Showing in Golden Globe Nominations

Three Democratic US senators and the ranking member of the House Committee on Homeland Security have sent letters to the heads of Immigration and Customs Enforcement (ICE) and Customs and Border Protection (CBP) demanding... Show more

Hard Return

The LGBTQ community followed up its strong year of representation in film and TV with a number of Golden Globe nominations on Thursday night. Ryan Murphy's shows boasted a particularly healthy crop of both LGBTQ actors a... Show more

Cuomo Broadens HIV Drug Cost Supports

This show keeps dancers on their toes! The beloved ballet "The Hard Nut" — a joyfully strange take on "The Nutcracker" — will leap back into the Brooklyn Academy of Music on December 14. The Mark Morris Dance Group debu... Show more

DOJ Hires Anti-LGBTQ Spokesperson

More uninsured or underinsured New Yorkers living with HIV will be eligible for financial assistance with their healthcare costs beginning in 2019, according to new regulations announced by Governor Andrew Cuomo. The Sta... Show more

Trump Administration Mulls Cuts for HIV Lab

The Justice Department has hired a new spokesperson drawn from a leading anti-LGBTQ litigation group, accor ding to The Daily Beast. Kerri Kupec, who has worked with the Alliance Defending Freedom (ADF), will serve as th... Show more

Details Scarce in Baltimore Black Trans Woman's Murder

A $2 million-dollar contract to fund research and testing for HIV treatment is shrouded in uncertainty after the Trump administration confirmed it has not yet made a decision on whether to renew it, citing concerns about ... Show more




Log-in to see all our wonderful content: Great videos and photos, informative news and stories, fun chat and personal ads too.
Article of the Week
Former Dallas Cowboy Jeff Rohrer Comes Out As Gay And ... Just Got Married
The retired linebacker reportedly will be the first known current or former NFL player in a same-sex marriage. Former Dallas Cowboys linebacker Jeff Rohrer just tackled a huge secret in his personal life, coming out as gay and revealing that he just got married to skincare magnate Joshua Ross on Sunday. (Joshua Ross is on the right in the photo.)
"I've given at least five people heart attacks with this news," Rohrer joked to GayTies.com, "But for the most part, many of my closest friends, including some of my former teammates with the Cowboys, could not have been more happy and supportive."
Rohrer, 59, grew up in Southern California and attended Yale. He played with the Cowboys, which like to call themselves America's team, from 1982 to 1987. "If I had told the Dallas Cowboys in the 1980s that I was gay, I would have been cut immediately," Rohrer told GayTies. "It was a different world back then, people didn't want to hear that."
Rohrer said in an interview with GayTies editors, that he never had a gay sexual experience while he was in the NFL or while he was married. (He and his ex-wife have two teenagers.) But he said he was tormented by his secret.
"So many nights I cried myself to sleep, feeling like I was the Wolfman, or Jekyll and Hyde, or Frankenstein, some kind of monster that only comes out when it's a full moon, always living in the shadows," he told the site.
The ex-pro athlete finally "let the Wolfman out," the site wrote, when he met Ross at a gay bar in West Hollywood a few years ago. Rohrer, not yet out, exchanged contact info with Ross. "I think we both knew where it was going," Rohrer said.
Rohrer, who now produces TV commercials, and Ross, the founder of SkinLab, has tied the knot in front of 150 family and friends in Los Angeles last Sunday.
"I feel like I'm 16," Rohrer told GayTies.com. "I feel revived. Like I'm born again. Again." (The NFL has yet to have a current player publicly come out.) (Pub. 12/9)
Special Features of GayTies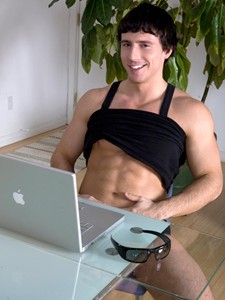 GayTies, A Community Service


GayTies.com, which is a not-for-profit website, is run by disabled Americans. To date, and it has been over 10 years now, no one has gotten paid to work on or manage GayTies.com. In the company plan, no one will ever get paid. In fact, the staff still pays a portion of the expenses to host and operate the site. You might think that is really weird or even untrue. Why would anyone do this you ask, if not for pay?

The creators of this website find a great social value in establishing a sort of web-based, gay community outreach newspaper, some may call it a social network. Like many newspapers, GayTies has an up to the minute gay news section, a featured story, Personal Ads, a game or comic section (including Fun with Captions and dirty word crossword puzzles as well as a unique photos puzzle THEY designed), and an entertainment section. In addition to those common features, GayTies.com has a live chat room, a Video Library of nearly 3,000 gay clips and videos (and growing), a Photo Gallery of 0ver 20,000 naked men's photos (and growing), and some unique features such as daily GAY horoscopes, Lucky Numbers, tons of searchable profiles, and ORIGINAL erotic stories.

AND … here is a biggie, GayTies.com has a real customer support staff that will assist you usually within 12 hours to answer your questions or help you use the website. Wow! That is amazing. All this for free. When they say free, they mean anyone who joins (with a proper email address) has access to 90 percent of the entire website content. They only offer some videos and some photos for a low cost to help pay for the maintenance of the site. GayTies may be free to you, but it is not free to those who run it and manage it and add improvements to it

Why doesn't GayTies get income from ads and re-directs to other paid sites, like every other gay website that features sexy videos?

It's very simple. They hate the way those other sites operate. When you go to a site that says "FREE" and you click on something FREE, it takes you to another site that is pay only. They HATE that, don't you? GayTies.com accepts no advertising. There are no sneaky re-directs to other sites, no re-directs at all, there are no cookies to misuse and abuse their members, there is no selling or exchanging of members' contact info. No tricks.

Let me demonstrate the difference between GayTies and other sites, in another way. Almost all gay website out there are either gay videos or gay porn stories or gay news. BUT as far as I can tell, GayTies is the ONLY website has all 3 of these features. PLUS … live chat rooms, games, personal ads and profiles to search. BTW, the most popular gay videos and photos are guys naked in public. As for our gay porn stories, we have everything from sex and romance to a world of kink and leather. That is another difference, other gay sites are either mainstream gay or all kink. Gayties.com has both.

A lot of our members are shut-ins or guys who are deep in the closet who need community information and some comfort and support. I know this may sound like bullshit, but some people in the world want to provide a service. In this case, an important service that delivers comforting entertainment, up-to-date news, great videos and photos, and a vehicle to meet other gay and bi men in person or just on the internet in chat.

Who are these charitable guys who created and operate this site?

They chose to remain anonymous because they do not want to overshadow their humanitarian outreach to the gay and bisexual community. But I can tell you that these men have worked for decades as volunteers in the gay community, many years assisting people with AIDS, working on improving relationships with police, One of these men is responsible for establishing and operating an anti-gay violence hotline, and in general, working to secure full right to the LGBT community. I know almost all private adult websites are probably big companies that spam everyone, trick them, plaster their sites with misleading advertising as well as awful and annoying re-directs. Gayties.com has it organizational model centered on establishing a valuable service. A service that is safe and private, run by a few guys who want to give back to the community. It's a service that is entertaining and informative; a service that is largely free, and hopefully soon, self-sustaining.

GayTies staff wants to thank those many members for their long-term support. If you would also like to help, please buy an upgraded membership, and/or give a donation, or help promote GayTies.com on other website and forums and blogs. We need more members to post links back to GayTies.com on such site as Facebook and Twitter, Reddit and whatever other gay sites you come across. Thank you all for your support!

Tomorrow will begin another new Kinksville story, don't miss it. Upgrade today to read the full story sections starting now. Read, view and participant in the many things regular members cannot.

Copyright 2015 GayTies.com. These articles are displayed for only 24 hours, and are reposted only once every two months. So login every day so you don't miss a one of them!