Welcome to GayTies.com where membership is free.
Videos! Videos! Videos! Welcome to the most unique Gay Networking website! It' free to join. Connect with gay men all around the world including your own city. Search 100,000 profiles. Go into live chat! Read gay-oriented articles, stories and gay daily news. Seek out someone to date or just to be your friend. 150,000 sexy male photos and videos. Read & post personal ads. The gay world is wonderful!

No credit card required to join. So click here to join for free
Featured Members
GayTies News for February 22, 2018
This "Star Wars" Fan Got Oscar Isaac To (Literally) Sign Off On A...

"Fully endorsed" via a signature on a poster, anyway. Madeline, a 16-year-old from New York, recently went straight to the top to get an endorsement for her favorite Star Wars ship — FinnPoe. ... Show more

Meet The Trans Rugby Player Fighting For Trans-Inclusive Policies...

Meet Jean Kim. She's a senior and a business administration major at Fordham University. Soon after she started transitioning, Jean joined Fordham... Show more

"Queer Eye" Is Honestly The Most Empowering And Positive Show On ...

Never has a makeover show been so meaningful. Queer Eye has been on Netflix for about 10 days now, and if you haven't got into it yet, my god, you should. So many people are talking ab... Show more

This Man Is Taking On The World's Biggest Cruise Operator In Prot...

The world's largest leisure travel company is facing a boycott for refusing to pull its fleets out of Bermuda, after it became the first jurisdiction in the world to repeal same-sex marriage, BuzzFee... Show more

9 Black Health Disparities That You Should Definitely Know About

Black people make up only 12% of the US population, and yet a higher proportion of this group is affected by health issues than other races/ethnicities. This Black History Month, we thought it... Show more

He Managed To Escape A Brutal Crackdown Against Gay Men. Others W...

A Chechen refugee, who goes by the alias Alihan, conceals his identity for a photo in Toronto, Ontario, on Jan. 23. Michelle Siu for BuzzFeed News TORONTO — When Ali... Show more




Log-in to see all our wonderful content: Great videos and photos, informative news and stories, fun chat and personal ads too.
Article of the Week
Self-proclaimed 'icon' Adam Rippon takes final Olympic skate
Adam Rippon put his hands over his face and let the cheers wash over. He waved and smiled, and when the crowd kept clapping, he jumped where he stood and swung his arms to egg them on.
Ever the showman, and with his trademark grace and flair, Rippon took his final skate of the Pyeongchang Olympics on Saturday. He finished 10th, a fine result for a 28-year-old who was never expected to medal against a field populated by younger, higher-flying competition.
The self-proclaimed "icon" didn't need that hardware to leave his mark on these games. Or for the Olympics to leave its mark on him. "They usually say that like, after the Olympic Games, somebody's life changes forever," Rippon said. "A lot of times it's the gold medalist, but I have a feeling that my life has changed forever."
Rippon has been the headline-grabbing darling of the Pyeongchang Games, a status earned in part with his near-flawless skating, but even more with his efforts off the ice.
He and skier Gus Kenworthy are America's only two openly gay male athletes, and they've flaunted their LGBT pride on social media throughout the Olympics. Kenworthy and his boyfriend were in the stands to watch Rippon on Saturday, waving an American flag with rainbow patterning in place of red and white stripes. Rippon said he plans to watch Kenworthy compete, too.
Rippon's path to Pyeongchang included a public spat with Vice President Mike Pence, whom the LGBT community considers an opponent for signing the Religious Freedom Restoration Act in March 2015 as Indiana's governor. Critics said the legislation encouraged discrimination against gay people. An amendment with protections for the LGBT community was passed a week later.
Rippon criticized the White House in January for choosing Pence to lead its official delegation for the opening ceremony. When a USA Today report said Pence was hoping to sit down with Rippon, the figure skater said he had no interest in meeting with Pence until at least after the games.
The "brouhaha" — Rippon's word — mostly dissipated as he made his Olympic debut. He helped the Americans win a bronze medal in the team event, then put on a pair of clean skates in the individual competition.
All the while, he charmed away during interviews with his striking ease and wit. His personality — he proudly told The Associated Press in November he's "a little trashy, but really fun" — cemented his Olympic stardom, catching attention from stars including Reese Witherspoon and Elmo.
How does he feel about that? "Well, you know, on the spectrum from Reese Witherspoon to Elmo, I'm like excited at about, like, a Meryl Streep," he told NBCthis week. "Does that make sense?"
Those around him say the buzzy one-liners aren't an act. Fellow American skater Ashley Wagner said this week that "he's like this 24/7. It's exhausting."
A taste of Rippon's best work just from Saturday:
-On his plans for the rest of the Olympics: "I'm probably going to have like a stiff drink later."
—On the Olympic spotlight: "Sometimes I just get attention, and I really don't know how it happens."
—On his legacy: "You know, I'm not like a gay icon, or America's gay sweetheart. I'm just America's sweetheart and I'm just an icon."
Certainly, this month has opened doors for Rippon. He wouldn't say for sure Saturday that he's ready to retire from competition, but at 28, he seems unlikely to keep going much longer.
He'd be a hit on television — perhaps following in the footsteps of fellow American skating star Johnny Weir, now a personality on NBC who helps host figure skating and Kentucky Derby coverage. There's no doubt that if Rippon wants, he can parlay his celebrity into some sort of public post-skating career.
With what he showed in South Korea, it'd be surprising if he doesn't want that. He's given the world a taste of himself, and even after he's done skating, it's going to want more. "I think I've shown the world that I'm a fierce competitor," he said. "But I think I've shown them that I'm also a fierce human being." (Pub 2/17)
0 comment(s) posted so far. Add yours.
Special Features of GayTies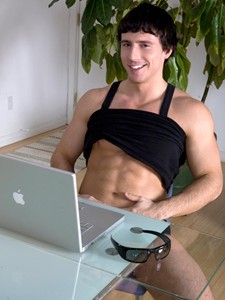 GayTies, A Community Service


GayTies.com, which is a not-for-profit website, is run by disabled Americans. To date, and it has been over 10 years now, no one has gotten paid to work on or manage GayTies.com. In the company plan, no one will ever get paid. In fact, the staff still pays a portion of the expenses to host and operate the site. You might think that is really weird or even untrue. Why would anyone do this you ask, if not for pay?

The creators of this website find a great social value in establishing a sort of web-based, gay community outreach newspaper, some may call it a social network. . Like many newspapers, GayTies has an up to the minute gay news section, a featured story, Personal Ads, a game or comic section (including Fun with Captions and dirty word crossword puzzles as well as a unique photos puzzle THEY designed), and an entertainment section. In addition to those common features, GayTies.com has a live chat room, a Video Library of nearly 3,000 gay clips and videos (and growing), a Photo Gallery of 0ver 20,000 naked mens photos (and growing), and some unique features such as daily GAY horoscopes, Lucky Numbers, tons of searchable profiles, and ORIGINAL erotic stories.

AND … here is a biggie, GayTies.com has a real customer support staff that will assist you usually within 12 hours to answer your questions or help you use the website. Wow! That is amazing. All this for free. When they say free, they mean anyone who joins (with a proper email address) has access to 90 percent of the entire website content. They only offer some videos and some photos for a low cost to help pay for the maintenance of the site. GayTies may be free to you, but it is not free to those who run it and manage it and add improvements to it

Why doesn't GayTies get income from ads and re-directs to other paid sites, like every other gay website that features sexy videos?

It's very simple. They hate the way those other sites operate. When you go to a site that says "FREE" and you click on something FREE, it takes you to another site that is pay only. They HATE that, don't you? GayTies.com accepts no advertising. There are no sneaky re-directs to other sites, no re-directs at all, there are no cookies to misuse and abuse their members, there is no selling or exchanging of members' contact info. No tricks.

Let me demonstrate the difference with GayTies and other site, in another way. Almost all gay website out there are either gay videos, or gay porn stories or gay news. BUT as far as I can tell, GayTies is the ONLY website has all 3 of these features. PLUS … live chat rooms, games, personal ads and profiles to search. BTW, the most popular gay videos and photos are guys naked in public. As for our gay porn stories, we have everything form sex and romance to a world of kink and leather,. That is another difference, other gay site are either main stream gay or all kink. Gayties.com has both.

A lot of our members are shut-ins or guys who are deep in the closet who need community information and some comfort and support. I know this may sound like bullshit, but some people in the world want to provide a service. In this case, an important service that delivers comforting entertainment, up-to-date news, great videos and photos, and a vehicle to meet other gay and bi men in person or just on the internet in chat.

Who are these charitable guys who created and operate this site?

They chose to remain anonymous because they do not want to over showdown their humanitarian outreach to the gay and bisexual community. But I can tell you that these men have worked for decades as volunteers in the gay community, many years assisting people with AIDS, working on improving relationships with police, One of these men is responsible for establishing and operating an anti-gay violence hot line, and in general, working to secure full right to the LGBT community. I know almost all private adult websites are probably big companies that spam everyone, trick them, plaster their sites with misleading advertising as well as awful and annoying re-directs. Gayties.com has it organizational model centered on establishing a valuable service. A service that is safe and private, run by a few guys who want to give back to the community. It's a service that is entertaining and informative; a service that is largely free, and hopefully soon, self-sustaining.

GayTies staff wants to thank those many members for their long term support. If you would also like to help, please buy an upgraded membership, and/or give a donation, or help promote GayTies.com on other website and forums and blogs. We need more members to post links back to GayTies.com on such site as Facebook and Twitter, Reddit and whatever other gay-friendly site you come across. Thank you all for your support!

Tomorrow will begin another new Kinksville story, don't miss it. Upgrade today to read the full story sections starting now. Read, view and participant in the many things regular members cannot.

Copyright 2015 GayTies.com. These articles are displayed for only 24 hours, and are reposted only once every two months. So login every day so you don't miss a one of them!