Welcome to GayTies.com where membership is free.
Videos! Videos! Videos! Welcome to the most unique Gay Networking website! It' free to join. Connect with gay men all around the world including your own city. Search 100,000 profiles. Go into live chat! Read gay-oriented articles, stories and gay daily news. Seek out someone to date or just to be your friend. 150,000 sexy male photos and videos. Read & post personal ads. The gay world is wonderful!

No credit card required to join. So click here to join for free
Featured Members
GayTies News for January 17, 2018
"American Crime Story" Can't Unravel The Myth Of The Man Who Kill...

Darren Criss as Andrew Cunanan in The Assassination of Gianni Versace: American Crime Story. Pari Dukovic / FX These are boom times for scandal recycling. From the s... Show more

Here's What Happened At Australia's National LGBTIQ Conference

The Better Together conference at Melbourne Town Hall on Friday 12 January. The Equality Project / Via Twitter: @EqualityProj_au In August 1975, Jamie Gardiner, then... Show more

13 Annoying Relationship Things You Should Stop Doing With Your P...

Let's retire the term ~BAE~ forever. We asked the BuzzFeed Community to tell us which relationship habits people need to quit ASAP, and we got a lot of awesome, thoughtful responses. T... Show more

Show Us Your Big Gay Glow-Up 🏳️‍🌈

It's your time to shine. Coming out is a transformational experience in the lives of LGBT people. This is my friend Matt, and we can all agree she glow'd the fuck up. BuzzFeed /... Show more

The Plight Of Trans Women In Prison

Ryan Pattie / BuzzFeed Because of her desire to dress "like a little girl," Paola was disowned by her Ecuadorian family when she was only 8 years old. She survived ... Show more

How Is Sex Inaccurately Portrayed In Fanfiction?

Let's talk about ~throbbing members~. If you're anything like me, some of your formative sex education — for better or for worse — came from NSFW fanfiction. Rebecca Hendin / BuzzF... Show more




Log-in to see all our wonderful content: Great videos and photos, informative news and stories, fun chat and personal ads too.
Article of the Week
New Book and Documentary Expose Iconic Actor, Cary Grant's Secret Life with Men
Ninety years ago, future screen legend Cary Grant shared a Greenwich Village love nest with an Australian man, Orry-Kelly, who went on to win three Oscars. That's the provocative claim in "Women He's Undressed,'' a new documentary about celebrated costume designer Orry-Kelly that adds a tantalizing new chapter to decades of speculation about Grant's sexuality. (Photo shows Grant -right, with 2nd "lover" Randolph Scott at Scott's Malibu home)
Between the film and Kelly's recently published, long-suppressed memoir "Women I've Undressed,'' a vivid portrait emerges of Grant as an ambitious young immigrant vaudevillian who reinvented himself so thoroughly, he ended up denying his true self in a homophobic industry.
"There was such a pressure to conform to what was considered an ordinary, normal life,'' the documentary's noted Australian director, Gillian Armstrong, told Out Magazine last year, referring to Grant's four failed marriages to women. "Orry refused to hide his sexuality with a fake marriage. He had such a great sense of personal integrity, and we wanted to capture that sense of bravery in the film.''
Kelly, who was seven years older than Grant, writes in his memoir that he met the struggling performer Archibald Leach (AKA Cary Grant) — who would change his name to Cary Grant in 1931 — just before his 21st birthday in January 1925.
Grant had been evicted from a boarding house for nonpayment, and had turned up at Kelly's artist's studio at 21 Commerce St. in the West Village with a tin box containing all his worldly possessions. He promptly moved in with Kelly.
"It was a city of bachelors,'' film historian William J. Mann says in the documentary, arguing that Kelly and Grant were definitely a couple. "You were surrounded by men who were openly living in ways you couldn't imagine back home.''
Kelly, who was painting murals for speakeasies and trying to break into show business as a set designer, had developed a lucrative sideline of hand-made ties — and Grant volunteered to stencil on designs and sell them backstage at vaudeville houses for a cut of the action.
Branching out a couple of years later, the two men briefly ran their own speakeasy in Manhattan — and had an even more short-lived casino in Nevada before they were shut down by gangsters who demanded money to spare their lives.
Kelly's memoirs, and the documentary, chronicle his volatile, on-and-off relationship with Grant over three decades. While Kelly stops short of claiming that Grant was his boyfriend — something the documentary states outright — Kelly leaves a clear impression of someone whose heart was broken many times.
Kelly was clearly annoyed with Grant's obsession with blond women, "though he always comes home to me.'' And Kelly describes being knocked out cold by Grant "for three hours'' when Kelly criticized his roommate, Grant, for ignoring his vaudeville guests (including Jack Benny, George Burns and Gracie Allen) at a party while trying to persuade Charlie Chaplin's sister-in-law to help him arrange a screen test.
"The physical violence between the Grant and Kelly was not uncommon between gay men of the period,'' Katherine Thompson, the documentary's writer, told The Post. "A combination of self-loathing and confusion was manifested on another occasion where Grant threw Kelly out of a moving vehicle.''
By 1931, both men were pursuing their destiny in Hollywood — the newly renamed Cary Grant had been signed to a $350-a-week contract by Paramount, while Kelly had begun a 12-year tenure as the head of the Warner Bros. costume department, eventually designing Ingrid Bergman's famous wardrobe for "Casablanca." They shared quarters again for a few weeks in Hollywood, enjoying 65-cent drugstore dinners every night.
But there were an increasing number of arguments over the newly christened Grant's women — and the actor's demand that Kelly reimburse him $365 for meals and boxing-match tickets that he kept track of in a little red book. Kelly paid off the bills and suggested that Grant move in with another handsome young Paramount contractee, Randolph Scott.
The debate over whether Cary Grant was gay, bi or straight has centered for decades around his on-and-off cohabitation with Scott in a beach house in Malibu, which was documented in a famous series of still photographs of them in domestic poses.
When Grant married actress Virginia Cherrill in 1934, the documentary told of Scott's attempted suicide. They were living together again after the end of Grant's marriage in 1935 and re-reunited once more after Scott's first marriage (1936-1939) to a duPont heiress ended. (Grant's 1942 application for US citizenship lists him and Scott — who signs as a witness — as living at the same address.) Around this time, Grant threatened to sue gossip columnist Hedda Hopper for implying he wasn't "normal.'' (And in 1980, he actually brought a defamation suit against comedian Chevy Chase, who was forced to issue a retraction of his joking reference to Grant as a "homo.'')
Grant and Kelly, meanwhile, had drifted apart. "He was adjusting to the mask of Cary Grant,'' Kelly writes. "A mask that became his career, a career that became Grant.''
Grant and Kelly crossed paths in 1941, when Grant made "Arsenic and Old Lace'' at Warner Bros. "There was quite a bit of tension between the two,'' Mann says in the documentary. "One day, the radio show 'Queen for a Day' had sent a limousine to the studio lot (as a prank) with its title emblazoned on its side. Cary turned to Orry and said, 'Orry, your limo has arrived.' (Implying that Kelly was the Queen.) This was a real low blow from Cary Grant, with whom he had an intimate personal relationship.''
Kelly had a drinking problem that eventually cost him his job at Warner and landed him in rehab — but he made a remarkable comeback that netted him Oscars for "An American in Paris'' (1951), "Les Girls'' (1957) and "Some Like it Hot'' (1959), for which he designed unforgettable dresses for Marilyn Monroe.
Grant re-entered Kelly's life in the late 1950s, when he asked if he could visit Kelly's studio to purchase some paintings as gifts. Kelly's book implies that Grant (who Kelly says visited on multiple occasions) was more interested in discouraging Kelly from writing about their relationship — and the film says Grant may have used his influence to block the publication of Kelly's memoir. (The manuscript was discovered in a pillow case at an Australian relative's home in 2014.)
Kelly says there are "too many instances where Cary Grant's old friends had been disappointed by him.'' He quotes Russell as saying, "He flits around, hiding from his own shadow, hoping nobody will notice, or worries that his shadow may expose the image he has created for himself.''
Cary Grant never publicly acknowledged his relationship with Kelly — but when his old friend died of liver cancer in 1964, Grant was one of the pallbearers. (Pub 1/16)
0 comment(s) posted so far. Add yours.
Special Features of GayTies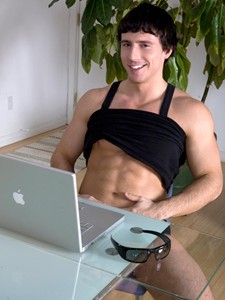 GayTies, A Community Service


GayTies.com, which is a not-for-profit website, is run by disabled Americans. To date, and it has been over 10 years now, no one has gotten paid to work on or manage GayTies.com. In the company plan, no one will ever get paid. In fact, the staff still pays a portion of the expenses to host and operate the site. You might think that is really weird or even untrue. Why would anyone do this you ask, if not for pay?

The creators of this website find a great social value in establishing a sort of web-based, gay community outreach newspaper, some may call it a social network. . Like many newspapers, GayTies has an up to the minute gay news section, a featured story, Personal Ads, a game or comic section (including Fun with Captions and dirty word crossword puzzles as well as a unique photos puzzle THEY designed), and an entertainment section. In addition to those common features, GayTies.com has a live chat room, a Video Library of nearly 3,000 gay clips and videos (and growing), a Photo Gallery of 0ver 20,000 naked mens photos (and growing), and some unique features such as daily GAY horoscopes, Lucky Numbers, tons of searchable profiles, and ORIGINAL erotic stories.

AND … here is a biggie, GayTies.com has a real customer support staff that will assist you usually within 12 hours to answer your questions or help you use the website. Wow! That is amazing. All this for free. When they say free, they mean anyone who joins (with a proper email address) has access to 90 percent of the entire website content. They only offer some videos and some photos for a low cost to help pay for the maintenance of the site. GayTies may be free to you, but it is not free to those who run it and manage it and add improvements to it

Why doesn't GayTies get income from ads and re-directs to other paid sites, like every other gay website that features sexy videos?

It's very simple. They hate the way those other sites operate. When you go to a site that says "FREE" and you click on something FREE, it takes you to another site that is pay only. They HATE that, don't you? GayTies.com accepts no advertising. There are no sneaky re-directs to other sites, no re-directs at all, there are no cookies to misuse and abuse their members, there is no selling or exchanging of members' contact info. No tricks.

Let me demonstrate the difference with GayTies and other site, in another way. Almost all gay website out there are either gay videos, or gay porn stories or gay news. BUT as far as I can tell, GayTies is the ONLY website has all 3 of these features. PLUS … live chat rooms, games, personal ads and profiles to search. BTW, the most popular gay videos and photos are guys naked in public. As for our gay porn stories, we have everything form sex and romance to a world of kink and leather,. That is another difference, other gay site are either main stream gay or all kink. Gayties.com has both.

A lot of our members are shut-ins or guys who are deep in the closet who need community information and some comfort and support. I know this may sound like bullshit, but some people in the world want to provide a service. In this case, an important service that delivers comforting entertainment, up-to-date news, great videos and photos, and a vehicle to meet other gay and bi men in person or just on the internet in chat.

Who are these charitable guys who created and operate this site?

They chose to remain anonymous because they do not want to over showdown their humanitarian outreach to the gay and bisexual community. But I can tell you that these men have worked for decades as volunteers in the gay community, many years assisting people with AIDS, working on improving relationships with police, One of these men is responsible for establishing and operating an anti-gay violence hot line, and in general, working to secure full right to the LGBT community. I know almost all private adult websites are probably big companies that spam everyone, trick them, plaster their sites with misleading advertising as well as awful and annoying re-directs. Gayties.com has it organizational model centered on establishing a valuable service. A service that is safe and private, run by a few guys who want to give back to the community. It's a service that is entertaining and informative; a service that is largely free, and hopefully soon, self-sustaining.

GayTies staff wants to thank those many members for their long term support. If you would also like to help, please buy an upgraded membership, and/or give a donation, or help promote GayTies.com on other website and forums and blogs. We need more members to post links back to GayTies.com on such site as Facebook and Twitter, Reddit and whatever other gay-friendly site you come across. Thank you all for your support!

Tomorrow will begin another new Kinksville story, don't miss it. Upgrade today to read the full story sections starting now. Read, view and participant in the many things regular members cannot.

Copyright 2015 GayTies.com. These articles are displayed for only 24 hours, and are reposted only once every two months. So login every day so you don't miss a one of them!