Welcome to GayTies.com where membership is free.
Videos! Videos! Videos! Welcome to the most unique Gay Networking website! It' free to join. Connect with gay men all around the world including your own city. Search 100,000 profiles. Go into live chat! Read gay-oriented articles, stories and gay daily news. Seek out someone to date or just to be your friend. 150,000 sexy male photos and videos. Read & post personal ads. The gay world is wonderful!

No credit card required to join. So click here to join for free
Featured Members
GayTies News for September 20, 2018
One Step Forward: NYC Approves Non-Binary Gender Category

See this story at GayCityNews.com.BY NATHAN RILEYCommunity News GroupWith Letitia James winning the Democratic primary for state attorney general, the question of who will become New York City's next public a... Show more

Fore: Golf Has its First Out Gay Male Pro

See this story at GayCityNews.com.BY ANDY HUMMCommunity News GroupThe New York City Council voted 41-6 on September 12 to add an "x" category to birth certificates for people who are non-binary. The bill was ... Show more

Kim Davis, Kentucky's Lawless County Clerk, Brings Bigotry to Rom...

See this story at GayCityNews.com.BY ANDY HUMMCommunity News GroupProfessional golfer Tadd Fujikawa, 27, came out publicly on World Suicide Prevention Day. "Now I'm standing up for myself and the rest of th... Show more

LGBT Serbs: No Pride in Lesbian Prime Minister

See this story at GayCityNews.com.BY ANDY HUMMCommunity News GroupRomania is set to vote on a referendum to ban same-sex marriage, drawing American anti-gay forces to help push its likely passage of it. B ri... Show more

No Thanksgiving Dinner for these Siblings

See this story at GayCityNews.com.BY ANDY HUMMCommunity News GroupIt was quite a breakthrough when Serbia's conservative Orthodox Christian Party made Ana Brnabic, an out lesbian, prime minister last year. Sh... Show more

"Electoral Earthquake" in State Senate Primaries

See this story at GayCityNews.com.BY ANDY HUMMCommunity News GroupCurtis Ingraham, the gay brother of Fox News host Laura Ingraham called her "a monster" and told the Daily Beast, "We grew up with an abusive,... Show more




Log-in to see all our wonderful content: Great videos and photos, informative news and stories, fun chat and personal ads too.
Article of the Week
Republicans Want to Take Away Our Right to Be Parents
Editorial Note from GayTies.com Staff: We, on the staff, are members of all political groups and interests. But, this November 6th, we encourage our USA members of all political parties, to vote for Democrats. Period. Republicans have gone off the rails to try to reduce and even abolish gay rights, and all LGBT right from our society. Vote Democrat this November.
Article: A proposed bill would hurt not only same-sex couples trying to start a family, but vulnerable children who need homes.
It should be so obvious we don't have to write it: Allowing adoption agencies to ignore millions of potential parents is a terrible idea for our nation's youth in foster care.
Yet here we are. Last month, the House Appropriations Committee advanced an amendment that, if passed, will allow taxpayer-funded adoption agencies to deny services to same-sex couples on the basis of their religious beliefs. The amendment was introduced by Republican Rep. Robert Aderholt of Alabama who, unsurprisingly, is ardently opposed to same-sex marriage.
As two American adoptive dads, we challenge Aderholt to come to our home for dinner. We dare him to sit across from us at our table, break bread with us, meet our family, and tell us that we aren't qualified to be parents.
The process of becoming a family in this way was neither quick or effortless. We were evaluated through training sessions, home studies, home inspections, and interviews -- with basically everyone who has ever known us. During the years-long process, we met a constellation of social workers with whom we shared some of the most intimate details of our lives: our hopes and dreams, our relationships with our parents, our fears and flaws. We were weighed and measured and evaluated by these consummate professionals, and in the end we were officially granted the privilege to become parents to our son, who we love with all of our hearts.
Through it all, we knew that this process exists because the well-being of children in care is the only thing that matters. This is about the children -- not us. Which is exactly why we are so shocked that an amendment like Rep. Aderholt's could be advanced, allowing agencies like the ones we worked with to potentially turn us away from the get go.
If this bill passes, qualified and devoted parents-to-be just like us could be eliminated before ever being considered -- just because of who they are and who they love.
There are currently a staggering 437,500 children in foster care in our country. This number is growing. Of these children in foster homes, over a hundred thousand of them are available for adoption into forever homes. Meanwhile, more than 2 million LGBTQ people say they would be interested in adopting, but many of them live in places where there are barriers to them doing so. We need more parental candidates now, not fewer.
House Minority Leader Nancy Pelosi couldn't have said it better when she called this irrational bill a "sickening new low" for Republicans. "House Republicans chose to sacrifice the well-being of little children to push a bigoted, anti-LGBTQ agenda, potentially denying tens of thousands of vulnerable children the opportunity to find a loving and safe home," Pelosi said in a statement in response to the passing of the amendment. "House Democrats will fight this disgusting, deeply immoral and profoundly offensive effort with all our strength. There is no place for bigotry or discrimination in our foster and adoption systems -- or in any part of our democracy."
For critics out there who still lean on the outdated argument that children thrive in more "traditional" (read:straight) households, we will note that dozens of studies have shown that children of gay or lesbian parents fare no worse than other children. And the American Academy of Pediatrics supports all different kinds of parents that provide children with a stable home.
On the evening of July 11, we went about our usual routine. We played peek-a-boo, walked the dogs, and made dinner while simultaneously trying to bounce our kid to sleep. However, our hearts were heavy, knowing that many hopeful prospective parents in America now faced a serious new threat. Even worse, we considered the consequences this would have for countless children who as a result may not have the chance to experience family dinners and bedtime stories. We looked at our son and thought about all of the children who might be waiting to be adopted and decided to do something about it. So we went online and started a Care2 petition calling on Rep. Aderholt to pull his amendment. We know we are not alone in our fears, as over 28,000 people have already signed on to the cause in just weeks.
One of the primary challenges to placing American children with forever families quicker is the need for more prospective parents. Limiting the pool of prospective parents for no legitimate reason is unconscionable use of precious, hard-earned taxpayer dollars. It's a monstrous move that can and must be stopped.(Pub 9/9)
0 comment(s) posted so far. Add yours.
Special Features of GayTies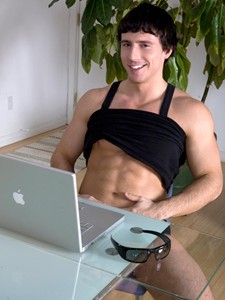 GayTies, A Community Service


GayTies.com, which is a not-for-profit website, is run by disabled Americans. To date, and it has been over 10 years now, no one has gotten paid to work on or manage GayTies.com. In the company plan, no one will ever get paid. In fact, the staff still pays a portion of the expenses to host and operate the site. You might think that is really weird or even untrue. Why would anyone do this you ask, if not for pay?

The creators of this website find a great social value in establishing a sort of web-based, gay community outreach newspaper, some may call it a social network. Like many newspapers, GayTies has an up to the minute gay news section, a featured story, Personal Ads, a game or comic section (including Fun with Captions and dirty word crossword puzzles as well as a unique photos puzzle THEY designed), and an entertainment section. In addition to those common features, GayTies.com has a live chat room, a Video Library of nearly 3,000 gay clips and videos (and growing), a Photo Gallery of 0ver 20,000 naked men's photos (and growing), and some unique features such as daily GAY horoscopes, Lucky Numbers, tons of searchable profiles, and ORIGINAL erotic stories.

AND … here is a biggie, GayTies.com has a real customer support staff that will assist you usually within 12 hours to answer your questions or help you use the website. Wow! That is amazing. All this for free. When they say free, they mean anyone who joins (with a proper email address) has access to 90 percent of the entire website content. They only offer some videos and some photos for a low cost to help pay for the maintenance of the site. GayTies may be free to you, but it is not free to those who run it and manage it and add improvements to it

Why doesn't GayTies get income from ads and re-directs to other paid sites, like every other gay website that features sexy videos?

It's very simple. They hate the way those other sites operate. When you go to a site that says "FREE" and you click on something FREE, it takes you to another site that is pay only. They HATE that, don't you? GayTies.com accepts no advertising. There are no sneaky re-directs to other sites, no re-directs at all, there are no cookies to misuse and abuse their members, there is no selling or exchanging of members' contact info. No tricks.

Let me demonstrate the difference between GayTies and other sites, in another way. Almost all gay website out there are either gay videos or gay porn stories or gay news. BUT as far as I can tell, GayTies is the ONLY website has all 3 of these features. PLUS … live chat rooms, games, personal ads and profiles to search. BTW, the most popular gay videos and photos are guys naked in public. As for our gay porn stories, we have everything from sex and romance to a world of kink and leather. That is another difference, other gay sites are either mainstream gay or all kink. Gayties.com has both.

A lot of our members are shut-ins or guys who are deep in the closet who need community information and some comfort and support. I know this may sound like bullshit, but some people in the world want to provide a service. In this case, an important service that delivers comforting entertainment, up-to-date news, great videos and photos, and a vehicle to meet other gay and bi men in person or just on the internet in chat.

Who are these charitable guys who created and operate this site?

They chose to remain anonymous because they do not want to overshadow their humanitarian outreach to the gay and bisexual community. But I can tell you that these men have worked for decades as volunteers in the gay community, many years assisting people with AIDS, working on improving relationships with police, One of these men is responsible for establishing and operating an anti-gay violence hotline, and in general, working to secure full right to the LGBT community. I know almost all private adult websites are probably big companies that spam everyone, trick them, plaster their sites with misleading advertising as well as awful and annoying re-directs. Gayties.com has it organizational model centered on establishing a valuable service. A service that is safe and private, run by a few guys who want to give back to the community. It's a service that is entertaining and informative; a service that is largely free, and hopefully soon, self-sustaining.

GayTies staff wants to thank those many members for their long-term support. If you would also like to help, please buy an upgraded membership, and/or give a donation, or help promote GayTies.com on other website and forums and blogs. We need more members to post links back to GayTies.com on such site as Facebook and Twitter, Reddit and whatever other gay sites you come across. Thank you all for your support!

Tomorrow will begin another new Kinksville story, don't miss it. Upgrade today to read the full story sections starting now. Read, view and participant in the many things regular members cannot.

Copyright 2015 GayTies.com. These articles are displayed for only 24 hours, and are reposted only once every two months. So login every day so you don't miss a one of them!