Welcome to GayTies.com where membership is free.
Videos! Videos! Videos! Welcome to the most unique Gay Networking website! It' free to join. Connect with gay men all around the world including your own city. Search 100,000 profiles. Go into live chat! Read gay-oriented articles, stories and gay daily news. Seek out someone to date or just to be your friend. 150,000 sexy male photos and videos. Read & post personal ads. The gay world is wonderful!

No credit card required to join. So click here to join for free
Featured Members
GayTies News for October 22, 2018
Kavanaugh Tacks to Right of Gorsuch

The Trump administration has opened up its broadest assault on transgender people yet, moving to adopt a legal definition of gender as never-changing and determined at birth by external genitalia. Led by the Department of H... Show more

Extraordinary People

At oral arguments at the US Supreme Court on October 10, the justices took up the issue of whether ICE must detain immigrants guilty of even minor crimes committed long ago. Justice Brett Kavanaugh said a 1996 law passed b... Show more

Marriage Updates from Around the Globe

With the smooth precision of a perfectly aimed snooker ball dropping into a corner pocket, Richard Bean's adroit and amusing comedy "The Nap" has dropped on Broadway. The British import from the author who brought ... Show more

Anti-Gay Mob Brutally Murdered Iraqi Boy

Taiwan will hold two referenda on gay relationships this fall. Since the Constitutional Court there has mandated that the country give equal rights to gay couples, the right wing has put forth a proposal limiting marriage ... Show more

"Conversion Therapy" Bans Proliferate

Shocking video out of Baghdad that emerged over the past week shows a delicate 14-year-old boy, identified as Hamoudi al-Mutairi, being stabbed to death in the streets near his home because he was perceived to be gay. As h... Show more

Berl Boykin, Pioneering Atlanta Activist, Dies at 74

Eau Claire has become the third city in Wisconsin to ban so-called "conversion therapy" for minors. Joining them this past week were Westchester County, New York, and Lakewood, Ohio. On November 2 "Boy Erased," a searing ... Show more




Log-in to see all our wonderful content: Great videos and photos, informative news and stories, fun chat and personal ads too.
Article of the Week
How to Flirt
From the Editor of GayTies.com
I have had so many mishaps in my attempts to charm guys. Poet Matthew Dickman calls it the "slow dance" — the bizarre and confounding ritual of meeting new people, figuring them out, and constructing this polite world of casual conversation and discreet sexual cues, pulled over our primal animal instincts like a blanket. We call this "flirting."

Sometimes the mishaps work. Sometimes saying the wrong thing leads to the right thing. And sometimes a perfectly executed flirty conversation sends you home alone. There is no formula, no surefire way to make sparks fly. Chemistry depends on the strange alchemy of place and chance.

Although there are no hard rules for success, there are some important things to keep in mind. Here's my guide to flirting — enjoy the dance.

1. Being brave enough to introduce yourself is never a failure. Every time you talk to someone, it's a win — even if they're not interested. Consider it a practice run. It's not easy to talk to strangers and everyone needs practice. Every time you build up the courage to introduce yourself and make small talk, you successfully complete a trial run for the times you do this and it clicks — the times when you start flirting and they flirt back. You never know who they'll be.

2. You have one chance to be polite. In our fast-paced world, rude people don't get second chances. Most of us create snap opinions from interactions that last only a few seconds. No one knows that you're having a bad day — if you're rude, they likely won't try to talk to you again.

3. Make eye contact. Every level of social interaction, from casual flirting to long-term romance, depends on gaze. It's one of the most primal and intimate things humans do, which is why so many of us avoid it.

Meet their gaze and hold it for a second so you both acknowledge that you're looking at each other. That "I was just scanning across the room" routine where you casually look elsewhere doesn't work. If you start chatting, look them in the eye when you're talking to them.

4. Humor is our universal ice-breaker. If you can make someone crack a smile, you're off to a good start. Cracking a joke calms nerves, eases tension, and makes people feel comfortable. You don't have to be a comedian. A funny observation about the place or about yourself is all you need.

5. Put your – FUCKING! - phone away. There's a queer dance venue in Brooklyn called Sutherland that requires attendees to check their phones at the door. It's refreshing to be there — you have to talk to people (they have paper and pens at the bar in case you want someone's number). Ever go to a family event where the host gathers up the phone and puts them in a basket until guests are ready to leave? No? Try it at special occasions. When a host I so forward thinking, it would be proper to let attendees know in advance that the phones will be collected. Don't let your phone be a crutch or inhibit you in a place where you're supposed to be sociable and meet people.

6. In the real world, instantaneous connections are rare. Life isn't a romantic comedy. It's rare to click with someone the first time you meet them. In the real world, flirting happens easier over multiple interactions. It's easier to flirt with guys you see at the bar every weekend or that person who comes to the gym at the same time you do. Build up your confidence, say hello, strike up a light conversation, ask a question or two, and let that be it. Too much, too fast, feels uncomfortable.

7. Ask questions. Get the conversation going — ask a question. Questions can be as simple as, "Do you have the time?" or "Wow, I like your shirt, where did you find it? Ask open-ended questions. One of my favorites is, after you introduce yourself, "Do you like your name?" or, "What brings you here this evening?"


Read this full article now
Special Features of GayTies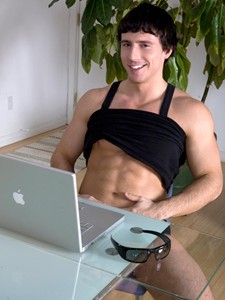 GayTies, A Community Service


GayTies.com, which is a not-for-profit website, is run by disabled Americans. To date, and it has been over 10 years now, no one has gotten paid to work on or manage GayTies.com. In the company plan, no one will ever get paid. In fact, the staff still pays a portion of the expenses to host and operate the site. You might think that is really weird or even untrue. Why would anyone do this you ask, if not for pay?

The creators of this website find a great social value in establishing a sort of web-based, gay community outreach newspaper, some may call it a social network. Like many newspapers, GayTies has an up to the minute gay news section, a featured story, Personal Ads, a game or comic section (including Fun with Captions and dirty word crossword puzzles as well as a unique photos puzzle THEY designed), and an entertainment section. In addition to those common features, GayTies.com has a live chat room, a Video Library of nearly 3,000 gay clips and videos (and growing), a Photo Gallery of 0ver 20,000 naked men's photos (and growing), and some unique features such as daily GAY horoscopes, Lucky Numbers, tons of searchable profiles, and ORIGINAL erotic stories.

AND … here is a biggie, GayTies.com has a real customer support staff that will assist you usually within 12 hours to answer your questions or help you use the website. Wow! That is amazing. All this for free. When they say free, they mean anyone who joins (with a proper email address) has access to 90 percent of the entire website content. They only offer some videos and some photos for a low cost to help pay for the maintenance of the site. GayTies may be free to you, but it is not free to those who run it and manage it and add improvements to it

Why doesn't GayTies get income from ads and re-directs to other paid sites, like every other gay website that features sexy videos?

It's very simple. They hate the way those other sites operate. When you go to a site that says "FREE" and you click on something FREE, it takes you to another site that is pay only. They HATE that, don't you? GayTies.com accepts no advertising. There are no sneaky re-directs to other sites, no re-directs at all, there are no cookies to misuse and abuse their members, there is no selling or exchanging of members' contact info. No tricks.

Let me demonstrate the difference between GayTies and other sites, in another way. Almost all gay website out there are either gay videos or gay porn stories or gay news. BUT as far as I can tell, GayTies is the ONLY website has all 3 of these features. PLUS … live chat rooms, games, personal ads and profiles to search. BTW, the most popular gay videos and photos are guys naked in public. As for our gay porn stories, we have everything from sex and romance to a world of kink and leather. That is another difference, other gay sites are either mainstream gay or all kink. Gayties.com has both.

A lot of our members are shut-ins or guys who are deep in the closet who need community information and some comfort and support. I know this may sound like bullshit, but some people in the world want to provide a service. In this case, an important service that delivers comforting entertainment, up-to-date news, great videos and photos, and a vehicle to meet other gay and bi men in person or just on the internet in chat.

Who are these charitable guys who created and operate this site?

They chose to remain anonymous because they do not want to overshadow their humanitarian outreach to the gay and bisexual community. But I can tell you that these men have worked for decades as volunteers in the gay community, many years assisting people with AIDS, working on improving relationships with police, One of these men is responsible for establishing and operating an anti-gay violence hotline, and in general, working to secure full right to the LGBT community. I know almost all private adult websites are probably big companies that spam everyone, trick them, plaster their sites with misleading advertising as well as awful and annoying re-directs. Gayties.com has it organizational model centered on establishing a valuable service. A service that is safe and private, run by a few guys who want to give back to the community. It's a service that is entertaining and informative; a service that is largely free, and hopefully soon, self-sustaining.

GayTies staff wants to thank those many members for their long-term support. If you would also like to help, please buy an upgraded membership, and/or give a donation, or help promote GayTies.com on other website and forums and blogs. We need more members to post links back to GayTies.com on such site as Facebook and Twitter, Reddit and whatever other gay sites you come across. Thank you all for your support!

Tomorrow will begin another new Kinksville story, don't miss it. Upgrade today to read the full story sections starting now. Read, view and participant in the many things regular members cannot.

Copyright 2015 GayTies.com. These articles are displayed for only 24 hours, and are reposted only once every two months. So login every day so you don't miss a one of them!