Welcome to GayTies.com where membership is free.
Videos! Videos! Videos! – BUT NO annoying re-directs, NO silly female images, NO junk videos of ugly, silly guys. NO tricks that divert you to pay sites! Yes, welcome to the most unique SAFE USA-based, curated Gay Networking website! It' free to join. And FREE videos, FREE photos. FREE Profile search. FREE erotic stories, games, news, and articles. Join 100,000 people and have a blast.
No credit card required to join. So click here to join for free
Featured Members
GayTies News for January 15, 2021
LGBTQ Representation Dips on Television

LGBTQ representation on television has dipped for the first time in five years, according to GLAAD's annual "Where We Are on TV" report for 2020-21. Queer characters represented 9.1 per... Show more

Trans Man Killed in Puerto Rico; Trans Woman Found Dead in Detroi...

Just days after a transgender woman was killed in Chicago, a transgender man was killed in Puerto Rico and a transgender woman was found dead in Detroit. Samuel Edmund Damián Valentín w... Show more

Gay City News Weekender: 7 Things to Do in Queer NYC Jan. 15-17

Although in-person events are scarce due to the coronavirus pandemic, there are plenty of queer options to consider as you plan your weekend. Gay City News has curated a list of options... Show more

Overwhelmed LGBTQ Health Centers Scramble to Vaccinate New Yorker...

Workers at community health centers serving LGBTQ populations in the city are feeling overburdened as they scramble to vaccinate New Yorkers and simultaneously care for other patients, ... Show more

Gay City News: January 14, 2020

The post Gay City News: January 14, 2020 appeared first on Gay City News. Show more

Schneps Media Interviews Brooklyn Borough President Eric Adams

Schneps Connects host Joshua Schneps will be introducing the leading candidates running to be the next Mayor of New York City. The first in this series is with Eric Adams, who is the cu... Show more




Log-in to see all our wonderful content: Great videos and photos, informative news and stories, fun chat and personal ads too.
Article of the Week
The Chartreuse Garden: The Horrific Murders of Innocents that Compelled Me to Fight Social Injustice and Hate
Book review by GayTies Editorial Staff
What a remarkable story by author Jack Castiglione. Shocking. Disturbing. TRUE. Such awful treatment of gay people. It would be unbelievable except that the author, Jack Castiglione, takes us on his long and winding journey of self-discovery of his sexuality. He writes about visiting both female and male prostitutes to learn his true identity. He tells us how he developed great empathy for the most vulnerable people in our communities who are frequently subjected to hate crimes. His difficult childhood and his life as a young adult caused him to realize that life is precious and that the equality of justice is essential.
But wait until you read how he turns tragedy into action to stop gay-bashing. Yes, he struggled. He was a victim of childhood bullying and abuse by his mother and beaten by his older brothers and others. As a teenager and adult, he faced discrimination and rejection. But instead of feeling helpless and bitter, he became a gay hero!
Yes, you will wonder where this story is going, but hold onto your socks, you are in for one hell of a gut-twisting, reality-exposing ride. It's not for minors because he describes his early sexual encounters as a way to discover his own sexuality, but he does it tastefully.
A great and important book for members of the gay community, their families, and friends. Anyone seeking to understand the pain and harm of social injustice must read this book. Plus, you will learn what to do about it!
I highly recommend this book! Look, many of us are stuck home and bored. Lighten up your life and celebrate our gay equality achievements and the life of this role model.
To check it out on Amazon and reads the reviews, click the Amazon link at the upper right.(pub 1/8)
Special Features of GayTies
About GayTies.com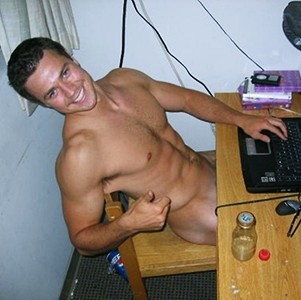 We are a not-for-profit organization of a few gay seniors with disabilities who want to create a social-interactive website that benefits gay and bi men around the world. We have established this (mostly) free website to offer gay and bi men a kind of gay newsletter. We strongly support the interaction of gay men and the normal, inner quest that each of us has to become informed about the broader gay community, as well as participate in it. Participation in gay life includes all points on the spectrum of publicly being out, to having discreet private sexual activities. We pass no judgments here. Our mission is not only to support and encourage adult gay and bi men to connect to their community, but also to connect individually with each other, in any consenting way they choose.

Also interesting about GayTies is, we are a curated website. That mean that there is at least one staff member overseeing the site at all timers. No other adult website is curated. We look after our content, fix issues nearly as soon as they show themselves, and ban scammers, and other bad people. We NEVER give or sell your information to ANYONE. And we have the most secure site of anyone, protecting you form viruses and all other bad things. HERE ... YOU ARE SAFE! One very important additional theme of GayTies is to have features that can also be used by members to seek those nurturing, one-to-one, personal relationships that are non-sexual in nature as well. In other words, we encourage true friendships in addition to caring sexual ones. As they say, (whoever "they" is,) "lovers can come and go, but a good friendship can be shared for a lifetime." Sexual relationships are great, fabulous, but they should not overshadow the importance of true friends who can be there for you every day.

Almost every other "gay" website we know is either purely sexual or completely political. GayTies.com includes those two aspects of life but adds some other dimensions that are important as well. These other dimensions include live chat, humorous horoscopes, "Fun with Captions," photo and word puzzles, polls, and intellectual matters such as shown in the weekly articles and hourly news, as well as videos and photos.

GayTies is a free website. It's free to join and over 80 percent of its content is free to participate in. Yes, a few items are reserved for those who pay a small fee and we appreciate those members who purchase a paid membership. Paid members include Premium Paid, Sponsoring and Gold members. However free members (which include Basic and Regular members and temporary Premium members) can use and enjoy all the basic features of GayTies. The Premium Membership is a short-term free membership, such as when you upload an approved profile photo for the first time or become a new Twitter follower, or are rewarded for being helpful to promote this website.

Why do we charge for some content when we are an organization that is "not-for-profit?" Obviously, we have bills to pay. While no one, not even our administrator, gets paid, we do need to pay for website maintenance, the development of new features and programs, and the cost of hosting this site on a server.

So you may join GayTies.com, pay nothing, and see 75% of the videos, and nearly 100% of all other content. Other features that free members get are free live chat (for free premium members), free games and puzzles, free gay news and horoscopes, free member messaging (writing and responding), free profile search, free date match, free sex match, and a biggy, free 24 hour support from our USA staff.

Tomorrow we will have the beginning of a fantastic Kinksville story.

Copyright 2018 GayTies.com. These articles are displayed for only 24 hours, and are reposted only about once a year. So log-in every day so you don't miss a one of them!