Welcome to GayTies.com where membership is free.
Videos! Videos! Videos! Welcome to the most unique Gay Networking website! It' free to join. Connect with gay men all around the world including your own city. Search 100,000 profiles. Go into live chat! Read gay-oriented articles, stories and gay daily news. Seek out someone to date or just to be your friend. 150,000 sexy male photos and videos. Read & post personal ads. The gay world is wonderful!

No credit card required to join. So click here to join for free
Featured Members
GayTies News for June 26, 2017
Australia's Transgender "Forced Divorce" Laws Are Likely To Stay,...

Johannes Simon / Getty ImagesState governments are being forced to grapple with a law that requires transgender people to divorce before changing their birth certificates, following a landmark UN ruling revea... Show more

Tumblr's New Update Accidentally Blocked LGBT Content And People ...

Oh boy. Last week, Tumblr released a new update called "Safe Mode." staff.tumblr.com The update allows users to mark content and blogs as sensitive, as well as block sensitive content from their feeds. Users u... Show more

The Supreme Court Just Took A Major Same-Sex Wedding Cake Case

Brennan Linsley / APThe Supreme Court announced on Monday that it would hear the case of a Christian baker in Colorado who refused to make a wedding cake for a gay couple, teeing up the country's highest ... Show more

Shane And Alice From "The L Word" Are Literally Best Friend Goals...

*Sings, "girls in tight dresses, who drag in mustaches" at the top of my lungs.* It's been eight years since one of TV's greatest duos, Shane (Kate Moennig) and Alice (Leisha Hailey), left us. Show... Show more

15 Penis Facts Urologists Want You To Know

Straight from the mouths of people who know penises best. If you have a penis, then chances are you've had some ~questions~ about it from time to time. I mean, where TF are all these random boners coming from?... Show more

It's Pride. It's Ramadan. And It Still Isn't Easy To Be An ...

LGBT Muslims and friends pray behind a woman, one of the many unconventional features of an LGBT iftar this month in Minneapolis. Hannah Allam for BuzzFeed NewsJust before sunset one Friday this month, a few ... Show more




Log-in to see all our wonderful content: Great videos and photos, informative news and stories, fun chat and personal ads too.
Article of the Week
Forget The 'Perfect' Pride Body. Let's Celebrate All Shapes And Sizes
by Frank Colosimo

It's that time of year again -- Pride Month! And YES, we all like to see hunky, nearly naked, male bodies on display. But it is also time to reflect on the journeys queer people have made to get where we are today. There is a still a long way to go, but there is also a lot to celebrate. As a Torontonian, I've seen Pride grow year after year to become the huge international event we know today. I remember when I started going to Pride years ago when we used to call it "Gay Pride."

Fortunately, the name has changed to become more inclusive, but there are some things that stay the same year after year. As far back as I can remember, there has been a lot of talk about the "Pride body."

"I gotta work on my Pride body."

"I gotta get my body ready for Pride."

"I gotta hit the gym all month if I want that Pride body!"

However you put it, it positions a particular body as acceptable for Pride celebrations, while other bodies (those not deemed ready) are unacceptable. Back then I didn't know exactly what a Pride body was, but I knew I didn't have it. As a young, queer man, I knew it wasn't a fat body.

It's rooted in shame and negativity around one's current body.

So, what is a Pride body? You've probably heard of a beach body or bikini body -- similarly, a Pride body is a goal body type, unachievable by most. Commonly, it's based on the desire to change the way one's body looks in order to make it more desirable to others. It's rooted in shame and negativity around one's current body. It's often based on a comparison of one's body to an ideal body which is typically (over) represented in media and popular gay and queer culture.

A Pride body is the one we see in all the advertisements for Pride parties, or on a float in a Speedo, dancing with a water gun. It's the body in the poster for the circuit party, wearing a leather harness and army-themed short-shorts. It's the body tagged with a bright green Speedo, representing a major sponsor's commitment to celebrate diversity (or generate pink dollars).

These bodies are used to advertise Pride events and to lure in spectators and participants (clients). A Pride body takes effort and time, diet and exercise, and it is best dressed in new clothes -- of course, because it's all tied to capitalism. We couldn't have it any other way.

It's perpetuated by a popular discourse around fitness and health that is toxic, fat-phobic, ableist, ageist, classist, racist, queer and trans antagonistic, sexist and misogynist, as it is often framed within normative expectations of fitting bodies neatly within a gender binary. Gay, bi, queer and trans men are expected to be lean and muscular, have a big package, a beard and have new outfits to show it all off.

It is a shame that we can't all just feel happy about our bodies the way that they are. It is a shame that some people go to great lengths to change their body, perhaps employing means that may not be the healthiest or safest.

It is a shame that we don't celebrate all bodies at Pride, to shift the gaze onto diverse representations.

It is a shame we feel the need to change ourselves for an event which should be a celebration of ourselves.

We need to stop working on our Pride body and start working on our body pride.(6/26)
0 comment(s) posted so far. Add yours.
Special Features of GayTies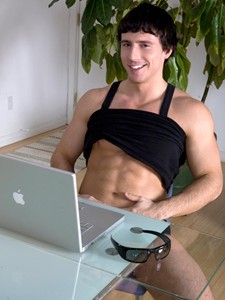 GayTies, A Community Service


GayTies.com, which is a not-for-profit website, is run by disabled Americans. To date, and it has been over 10 years now, no one has gotten paid to work on or manage GayTies.com. In the company plan, no one will ever get paid. In fact, the staff still pays a portion of the expenses to host and operate the site. You might think that is really weird or even untrue. Why would anyone do this you ask, if not for pay?

The creators of this website find a great social value in establishing a sort of web-based, gay community outreach newspaper, some may call it a social network. . Like many newspapers, GayTies has an up to the minute gay news section, a featured story, Personal Ads, a game or comic section (including Fun with Captions and dirty word crossword puzzles as well as a unique photos puzzle THEY designed), and an entertainment section. In addition to those common features, GayTies.com has a live chat room, a Video Library of nearly 3,000 gay clips and videos (and growing), a Photo Gallery of 0ver 20,000 naked mens photos (and growing), and some unique features such as daily GAY horoscopes, Lucky Numbers, tons of searchable profiles, and ORIGINAL erotic stories.

AND … here is a biggie, GayTies.com has a real customer support staff that will assist you usually within 12 hours to answer your questions or help you use the website. Wow! That is amazing. All this for free. When they say free, they mean anyone who joins (with a proper email address) has access to 90 percent of the entire website content. They only offer some videos and some photos for a low cost to help pay for the maintenance of the site. GayTies may be free to you, but it is not free to those who run it and manage it and add improvements to it

Why doesn't GayTies get income from ads and re-directs to other paid sites, like every other gay website that features sexy videos?

It's very simple. They hate the way those other sites operate. When you go to a site that says "FREE" and you click on something FREE, it takes you to another site that is pay only. They HATE that, don't you? GayTies.com accepts no advertising. There are no sneaky re-directs to other sites, no re-directs at all, there are no cookies to misuse and abuse their members, there is no selling or exchanging of members' contact info. No tricks.

Let me demonstrate the difference with GayTies and other site, in another way. Almost all gay website out there are either gay videos, or gay porn stories or gay news. BUT as far as I can tell, GayTies is the ONLY website has all 3 of these features. PLUS … live chat rooms, games, personal ads and profiles to search. BTW, the most popular gay videos and photos are guys naked in public. As for our gay porn stories, we have everything form sex and romance to a world of kink and leather,. That is another difference, other gay site are either main stream gay or all kink. Gayties.com has both.

A lot of our members are shut-ins or guys who are deep in the closet who need community information and some comfort and support. I know this may sound like bullshit, but some people in the world want to provide a service. In this case, an important service that delivers comforting entertainment, up-to-date news, great videos and photos, and a vehicle to meet other gay and bi men in person or just on the internet in chat.

Who are these charitable guys who created and operate this site?

They chose to remain anonymous because they do not want to over showdown their humanitarian outreach to the gay and bisexual community. But I can tell you that these men have worked for decades as volunteers in the gay community, many years assisting people with AIDS, working on improving relationships with police, One of these men is responsible for establishing and operating an anti-gay violence hot line, and in general, working to secure full right to the LGBT community. I know almost all private adult websites are probably big companies that spam everyone, trick them, plaster their sites with misleading advertising as well as awful and annoying re-directs. Gayties.com has it organizational model centered on establishing a valuable service. A service that is safe and private, run by a few guys who want to give back to the community. It's a service that is entertaining and informative; a service that is largely free, and hopefully soon, self-sustaining.

GayTies staff wants to thank those many members for their long term support. If you would also like to help, please buy an upgraded membership, and/or give a donation, or help promote GayTies.com on other website and forums and blogs. We need more members to post links back to GayTies.com on such site as Facebook and Twitter, Reddit and whatever other gay-friendly site you come across. Thank you all for your support!

Tomorrow will begin another new Kinksville story, don't miss it. Upgrade today to read the full story sections starting now. Read, view and participant in the many things regular members cannot.

Copyright 2015 GayTies.com. These articles are displayed for only 24 hours, and are reposted only once every two months. So login every day so you don't miss a one of them!