Welcome to GayTies.com where membership is free.
Videos! Videos! Videos! Welcome to the most unique Gay Networking website! It' free to join. Connect with gay men all around the world including your own city. Search 100,000 profiles. Go into live chat! Read gay-oriented articles, stories and gay daily news. Seek out someone to date or just to be your friend. 150,000 sexy male photos and videos. Read & post personal ads. The gay world is wonderful!

No credit card required to join. So click here to join for free
GayTies News for July 20, 2017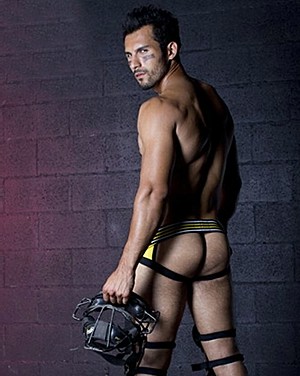 Log-in to see all our wonderful content: Great videos and photos, informative news and stories, fun chat and personal ads too.
Article of the Week
Rethinking Masculinity
By: Jordan Browne, Artist

My series encourages viewers to reflect on commonly held definitions and depictions of "manliness" and its relevance in present-day society.

Through photography, one of my aims is to reflect on and respond to my experiences as a queer individual. Sweet Dreams, Francis seeks to do just this. On view from July 12 to August 13, 2017 at the Ryerson Image Centre in Toronto, the exhibition explores themes of masculinity in relation to the body and its portrayal in the nude genre. By focusing on individuals who do not subscribe to heteronormative values, Sweet Dreams, Francis ultimately encourages viewers to reflect on commonly held definitions and depictions of "manliness" and its relevance in present-day society.

The photographs of various gay and queer men are intended to evoke a sense of calm and quiet – a proposition that contrasts with images of male bodies in photography and visual media in general. Fabrics are employed throughout as a means of softening the imagery and gently disrupting traditional notions of masculinity.

In a vitrine in the corner of the exhibition space are a collection of vintage snapshots from the 1940's – 60's that I purchased on eBay. The postures in these photographs, which hold a homoerotic charge, were an inspiration for my own images. At that time, these images were made and viewed outside of the mainstream gaze. In a direct response to these snapshots, I created images that extend this gaze and offer a place for the gay male body within the canonical history of the nude.

I am influenced by the work of Minor White, whose raw and vulnerable photographs of nude men are commonly interpreted as a direct expression of his homosexual desire. I also looked to Collier Schorr's bookwork, Jens F. where she photographed an adolescent male over a period of years, mimicking portraits of Helga by the painter Andrew Wyeth. She too explores notions of masculinity and identity by juxtaposing Wyeth's imagery with her own. Both White and Schorr's use of light work to draw emotion or sentimentality from the viewer. To that effect, I used natural light to create a sense of calm and tranquility that paralleled the subtle and languid poses of my models. The domestic spaces are rendered ambiguous, grounding the body, though not overpowering its presence and creating an intimacy between me, the subject and the audience.

I also studied ideas of desire in relation to historical portrayals of Saint Sebastian. The body of Sebastian is idealized in form, with a likeness to ancient Greek sculpture, as well as to gay pornographic imagery. Sebastian's portrayal is often affiliated with that of lust and homosexual desire. He is in pain but appears to be reveling in a state of ecstasy. While not explicitly illustrated in this exhibition, these images of Saint Sebastian provided a framework with which to understand the nuances of gay imagery and its legacy in contemporary gay culture.

The exhibition also includes photographs of textiles, in an attempt to draw connections between the smoothness of the skin and the softness of the fabric. These specific fabrics were selected because of they are commonly associated with femininity, which too, serves to disrupt traditional notions of masculinity when exhibited alongside images of nude men.

It is my hope that visitors to the exhibition will consider how our understanding of masculinity is shaped by social norms and culture. When reframing masculinity within a non-heteronormative space, our understanding of these images may, or may not change. That is for the viewer, and the reader of this piece, to determine.

About the artist- Jordan Browne is a photo-based artist located in Toronto whose work focuses on the nude form and the ways in which body language and gesture can communicate underlying emotions. Browne obtained his BFA in Photography at the School of Image Arts, Ryerson University, in Spring 2016. He has participated in group exhibitions and auctions within the Toronto community. Sweet Dreams, Francis is his first solo exhibition. (7/16)
1 comment(s) posted so far. Add yours.
Special Features of GayTies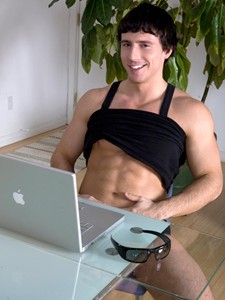 GayTies, A Community Service


GayTies.com, which is a not-for-profit website, is run by disabled Americans. To date, and it has been over 10 years now, no one has gotten paid to work on or manage GayTies.com. In the company plan, no one will ever get paid. In fact, the staff still pays a portion of the expenses to host and operate the site. You might think that is really weird or even untrue. Why would anyone do this you ask, if not for pay?

The creators of this website find a great social value in establishing a sort of web-based, gay community outreach newspaper, some may call it a social network. . Like many newspapers, GayTies has an up to the minute gay news section, a featured story, Personal Ads, a game or comic section (including Fun with Captions and dirty word crossword puzzles as well as a unique photos puzzle THEY designed), and an entertainment section. In addition to those common features, GayTies.com has a live chat room, a Video Library of nearly 3,000 gay clips and videos (and growing), a Photo Gallery of 0ver 20,000 naked mens photos (and growing), and some unique features such as daily GAY horoscopes, Lucky Numbers, tons of searchable profiles, and ORIGINAL erotic stories.

AND … here is a biggie, GayTies.com has a real customer support staff that will assist you usually within 12 hours to answer your questions or help you use the website. Wow! That is amazing. All this for free. When they say free, they mean anyone who joins (with a proper email address) has access to 90 percent of the entire website content. They only offer some videos and some photos for a low cost to help pay for the maintenance of the site. GayTies may be free to you, but it is not free to those who run it and manage it and add improvements to it

Why doesn't GayTies get income from ads and re-directs to other paid sites, like every other gay website that features sexy videos?

It's very simple. They hate the way those other sites operate. When you go to a site that says "FREE" and you click on something FREE, it takes you to another site that is pay only. They HATE that, don't you? GayTies.com accepts no advertising. There are no sneaky re-directs to other sites, no re-directs at all, there are no cookies to misuse and abuse their members, there is no selling or exchanging of members' contact info. No tricks.

Let me demonstrate the difference with GayTies and other site, in another way. Almost all gay website out there are either gay videos, or gay porn stories or gay news. BUT as far as I can tell, GayTies is the ONLY website has all 3 of these features. PLUS … live chat rooms, games, personal ads and profiles to search. BTW, the most popular gay videos and photos are guys naked in public. As for our gay porn stories, we have everything form sex and romance to a world of kink and leather,. That is another difference, other gay site are either main stream gay or all kink. Gayties.com has both.

A lot of our members are shut-ins or guys who are deep in the closet who need community information and some comfort and support. I know this may sound like bullshit, but some people in the world want to provide a service. In this case, an important service that delivers comforting entertainment, up-to-date news, great videos and photos, and a vehicle to meet other gay and bi men in person or just on the internet in chat.

Who are these charitable guys who created and operate this site?

They chose to remain anonymous because they do not want to over showdown their humanitarian outreach to the gay and bisexual community. But I can tell you that these men have worked for decades as volunteers in the gay community, many years assisting people with AIDS, working on improving relationships with police, One of these men is responsible for establishing and operating an anti-gay violence hot line, and in general, working to secure full right to the LGBT community. I know almost all private adult websites are probably big companies that spam everyone, trick them, plaster their sites with misleading advertising as well as awful and annoying re-directs. Gayties.com has it organizational model centered on establishing a valuable service. A service that is safe and private, run by a few guys who want to give back to the community. It's a service that is entertaining and informative; a service that is largely free, and hopefully soon, self-sustaining.

GayTies staff wants to thank those many members for their long term support. If you would also like to help, please buy an upgraded membership, and/or give a donation, or help promote GayTies.com on other website and forums and blogs. We need more members to post links back to GayTies.com on such site as Facebook and Twitter, Reddit and whatever other gay-friendly site you come across. Thank you all for your support!

Tomorrow will begin another new Kinksville story, don't miss it. Upgrade today to read the full story sections starting now. Read, view and participant in the many things regular members cannot.

Copyright 2015 GayTies.com. These articles are displayed for only 24 hours, and are reposted only once every two months. So login every day so you don't miss a one of them!