Welcome to GayTies.com where membership is free.
Videos! Videos! Videos! Welcome to the most unique Gay Networking website! It' free to join. Connect with gay men all around the world including your own city. Search 100,000 profiles. Go into live chat! Read gay-oriented articles, stories and gay daily news. Seek out someone to date or just to be your friend. 150,000 sexy male photos and videos. Read & post personal ads. The gay world is wonderful!

No credit card required to join. So click here to join for free
GayTies News for July 17, 2018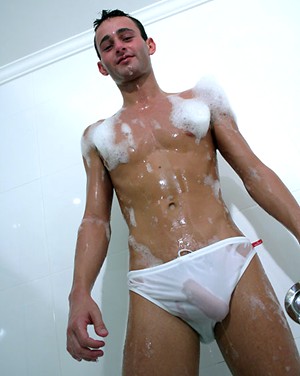 Log-in to see all our wonderful content: Great videos and photos, informative news and stories, fun chat and personal ads too.
Article of the Week
Scottish Leader Makes History by Heading Up Pride Parade
Scottish First Minister Ncola Sturgeon – the head of government for Scotland – led Glasgow's Pride parade Saturday, becoming the first serving prime minister or first minister in the U.K. to lead any Pride event.
Sturgeon, who heads the Scottish National Party, is an outspoken supporter of LGBT equality and a major critic of Donald Trump, who was visiting her country this weekend. She had no plans to meet with him.
As honorary grand marshal of the parade, she dressed in a T-shirt bearing the words "Choose Love" in rainbow colors and marched alongside Suki Wan, leader of the Scottish Youth Parliament, The Guardian reports. She addressed participants after the march made its way through Glasgow's streets, getting in a jab at Trump.
"I find it hard to believe that the president of the United States, with all the big, important issues that he has to deal with on a daily basis, finds the time to rant about me on the telephone to [U.K. Prime Minister] Theresa May," she said, according to The Guardian. "If it is true, I suppose I should take it as a compliment. I certainly don't spend that much time talking about him." She also said she is a "wee bit tickled" that Trump complains about her.
Several members of the Scottish Parliament joined in the parade as well, including representatives of the Green, Liberal Democratic, and Conservative parties as well as her own, the paper reports. With an estimated attendance of 8,000, it is the largest Pride event in Scotland.
Sturgeon called it "a real honor" to be asked to lead the event, Scotland's Daily Record reports. "Pride marches are all about celebrating and affirming values that I think are important to many people across the country," she added. "Values like tolerance and respect and diversity and love, and I think it's an appropriate thing for me as first minister to be part of today and I'm proud to do so. … In many parts of the world these principles are under threat, more so now than they have been in my entire lifetime. So as first minister of Scotland it's important for me to stand up for these principles and values."
In her previous position as health minister, Sturgeon helped bring marriage equality to Scotland. As first minister, she plans to introduce legislation to assure equal rights for transgender people.
Nicola Sturgeon has become the only serving prime minister or first minister in the UK to have led a Pride event.
The Scottish first minister led Scotland's largest ever LGBT event in Glasgow on Saturday.
She was named honorary grand marshal for the event, at which 8,000 people were expected, owing to her support for LGBT issues. She was not scheduled to meet the US president, Donald Trump, who is visiting Scotland this weekend.
Wearing a T-shirt with a rainbow-colored "choose love" logo, she led the march alongside Suki Wan, the chair of the Scottish youth parliament. They were joined by a number of MSPs, including Patrick Harvie of the Green party, Alex Cole-Hamilton of the Liberal Democrats and Conservative Jamie Greene.
Speaking at the march, Sturgeon said she had been a "wee bit tickled" by reports that Trump hates her and has been "bitching" about her to Theresa May.
"I find it hard to believe that the president of the United States, with all the big, important issues that he has to deal with on a daily basis, finds the time to rant about me on the telephone to Theresa May," she said. "If it is true, I suppose I should take it as a compliment. I certainly don't spend that much time talking about him."
The Pride march started in Clyde Place and went through the city center to Kelvingrove Park. It came as thousands more took to the streets of Scotland to protest against Trump's visit to Scotland for meetings "and some golf".
Sturgeon has been an outspoken critic of Trump's policies. As health secretary, she led on the initial development of equal marriage in Scotland, and as first minister has promised to introduce legislation to ensure equality for transgender people.(Pub 7/15)
0 comment(s) posted so far. Add yours.
Special Features of GayTies
Our Wonderful Videos
There are sites that show standard gay videos. Those gay clips, on those sites can be very repetitive and boring. But on GayTies we specialize in all the international amateur videos we can find that catch guys naked in public or in a locker room or shower room when a team is celebrating a big win. We love all the videos that are caught on private cell phones and planted hidden cams where naked men are caught in public or private events, especially doing some very silly stuff.

Some of the topics you will see are nude men pranked to run around the block naked or run through the campus quad nude. Guys naked in public is a very favorite topic on GayTies.com. Some of these hunky guys had to get drunk to expose themselves. And of course, we have vids on naturally nude guys, nude massages, doctors' examine, sports videos where uniforms get actually ripped off and are shown on broadcast TV. Many times there is a streaker who strips naked and runs around the field. When they show this on TV news, (if they show it) they blur out the guys private parts. WE NEVER BLUR OUT PRIVATE PARTS on gay videos.

Oh yes, we also have kink videos. OK, it's not for everyone, but we have guys in bondage, leather masters and slaves are popular subjects, muscle men posing in G-strings, nude surfers and swimmers, practical jokes that leave the "victim" stripped naked, and we can't forget the popular streakers who surprisingly show up everywhere.

Do you know GayTies.com has nearly 3,000 of these types of videos running from short clips to full length videos. (Just to sneak this in, we have over 20,000 naked mens photos too.)

Nearly 80 percent are free with the basic membership. And the basic membership is free also. We don't even ask for a credit card because you don't need one. You just need to be a legal adult and complete a short sign-up form, … AND … THAT IS TI!