Welcome to GayTies.com where membership is free.
Videos! Videos! Videos! Welcome to the most unique Gay Networking website! It' free to join. Connect with gay men all around the world including your own city. Search 100,000 profiles. Go into live chat! Read gay-oriented articles, stories and gay daily news. Seek out someone to date or just to be your friend. 150,000 sexy male photos and videos. Read & post personal ads. The gay world is wonderful!

No credit card required to join. So click here to join for free
GayTies News for December 14, 2017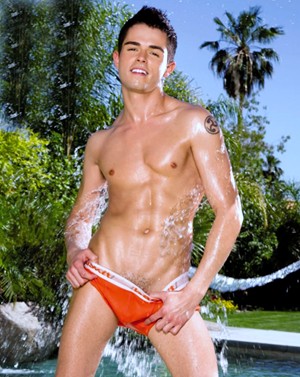 Log-in to see all our wonderful content: Great videos and photos, informative news and stories, fun chat and personal ads too.
Article of the Week
Growing Up Black And Gay In The South
By: Rayvon Owen, Musician and Activist

I thought there was literally a demon or evil spirit causing me to be gay and I wanted to do everything I could to get rid of it.

I remember my first solo in the Sunbeam Children's Choir at Antioch Baptist Church: a beautiful, southern, predominantly African-American congregation nestled in the countryside outskirts of Richmond, Virginia. "Yes, there is hope," I belted at the top of my five-year-old lungs, watching as the congregation applauded and shouted words of praise and worship. In that moment, I remember feeling so alive and almost magical, as if the microphone was a wand that caused the audience to get emotional and feel moved. I instantly fell in love with singing, and the stage became a sacred space.

Growing up in Virginia was overall a beautiful experience and is still a big part of who I am. It was good eating, good manners, and a whole lot of love. My community was filled with warmth, hospitality, and spirit. My family always helped and embraced others and instilled those values in me from an early age. My mother worked two, sometimes three jobs simultaneously to provide for me and my sister.

My parents divorced when I was baby, so I did not really have much of a father figure growing up (which, unfortunately, seemed to be a common theme amongst of lot of the black students I knew). Since my dad was not around much, I had no consistent model of "masculinity." Black men are raised to be tough and vigilant. Many people saw femininity as a sign of weakness. I felt a lot of pressure to be "manly" and I did not want people to see me otherwise. I was intimidated by some of my friends' fathers, and was never really into a lot of the things that most guys my age liked. I was a confident kid in many ways, but I still made sure I never seemed too effeminate. It was an ever-present burden I carried. I knew I was different.

In school, students knew me as the "nice guy who sang and performed and in church." I was consistently told that I was blessed—anointed by God. I felt pressured at an early age to be perfect, and to be a young leader in my church, school, and community. On the outside I was seemingly well put together and everyone accepted the person they thought I was; on the inside, however, I struggled with accepting myself. I felt hopeless and confused.

From an early age, I remember feeling ashamed of my attraction to other boys in church and school. The thoughts in my head tormented me at times and I tried to do everything I could to fit in and force myself not to think about it. It wasn't always easy. I hated when someone would bring anything up about homosexuality. At the mention of the word "gay," my heart would drop. Sunday school lessons and sermons were often about how God created man to find a wife and for women to submit themselves to their husbands. I tried to date girls in order to force myself to be straight. I convinced myself that I needed to be "delivered" from the "spirit of homosexuality." I thought there was literally a demon or evil spirit causing me to be gay and I wanted to do everything I could to get rid of it. I felt so much shame for sneakily touching or kissing another boy behind closed doors. I felt dirty and worthless and I would always promise God—and myself—that I wouldn't do it again.

The stage was, oddly enough, a place to hide in plain sight. Singing was a way to distract myself and others from the internal struggle with which I was dealing. I didn't want people to know I was gay or that I was even questioning my sexuality. I was raised in a family and community where homosexuality was practically the ultimate sin.

As a kid, I spent many tear-filled nights praying and pleading that God would take my attraction to other boys away. As I got a little older, I became close with two other young black guys who were also struggling with the same thing. We bonded over our similar battles with being gay and even made a pact with one another that we would stop fooling around with other guys by the time we reached 16. Then 16 became 18. It was a failed attempt to suppress something that was natural to us just because we were told by our church, family and society that being gay was wrong. We had no healthy and safe place to learn, grow, and express ourselves. We felt pressured to be people we were not.

It took me many years, and many tears, to learn and accept myself. I loved, honored, and respected my faith and culture so much that it was terrifying to fully accept who I was and share that piece of me with others. For a long time, I thought I could never be a voice of hope again. I thought no one would accept me or listen to me because I was gay; because I was damaged. Little did I know that the person I would grow to be would continue to be the same beam of light as that kid who belted out his first note in church. I have that same voice and same gift, regardless of whom I love.

When I co-wrote "Volume," I was in a place of feeling let down by myself and feeling strained by the pressures by the music industry. Sometimes you have to remind yourself that there is always hope and you always have a voice to encourage yourself and others. We cannot be afraid to speak up and speak out about things we believe in. You never know who may need to hear "your testimony," as we called it back in Virginia. Your testimony can have a huge impact on someone else. Life is too short not to be proud of who you are or to learn from and share your past experiences. Don't let fear of rejection keep you from speaking or singing out—loudly and proudly. Keep hope alive, and never let anyone turn your volume down. (Pub 12/10)
0 comment(s) posted so far. Add yours.
Special Features of GayTies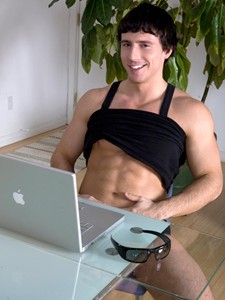 GayTies, A Community Service


GayTies.com, which is a not-for-profit website, is run by disabled Americans. To date, and it has been over 10 years now, no one has gotten paid to work on or manage GayTies.com. In the company plan, no one will ever get paid. In fact, the staff still pays a portion of the expenses to host and operate the site. You might think that is really weird or even untrue. Why would anyone do this you ask, if not for pay?

The creators of this website find a great social value in establishing a sort of web-based, gay community outreach newspaper, some may call it a social network. . Like many newspapers, GayTies has an up to the minute gay news section, a featured story, Personal Ads, a game or comic section (including Fun with Captions and dirty word crossword puzzles as well as a unique photos puzzle THEY designed), and an entertainment section. In addition to those common features, GayTies.com has a live chat room, a Video Library of nearly 3,000 gay clips and videos (and growing), a Photo Gallery of 0ver 20,000 naked mens photos (and growing), and some unique features such as daily GAY horoscopes, Lucky Numbers, tons of searchable profiles, and ORIGINAL erotic stories.

AND … here is a biggie, GayTies.com has a real customer support staff that will assist you usually within 12 hours to answer your questions or help you use the website. Wow! That is amazing. All this for free. When they say free, they mean anyone who joins (with a proper email address) has access to 90 percent of the entire website content. They only offer some videos and some photos for a low cost to help pay for the maintenance of the site. GayTies may be free to you, but it is not free to those who run it and manage it and add improvements to it

Why doesn't GayTies get income from ads and re-directs to other paid sites, like every other gay website that features sexy videos?

It's very simple. They hate the way those other sites operate. When you go to a site that says "FREE" and you click on something FREE, it takes you to another site that is pay only. They HATE that, don't you? GayTies.com accepts no advertising. There are no sneaky re-directs to other sites, no re-directs at all, there are no cookies to misuse and abuse their members, there is no selling or exchanging of members' contact info. No tricks.

Let me demonstrate the difference with GayTies and other site, in another way. Almost all gay website out there are either gay videos, or gay porn stories or gay news. BUT as far as I can tell, GayTies is the ONLY website has all 3 of these features. PLUS … live chat rooms, games, personal ads and profiles to search. BTW, the most popular gay videos and photos are guys naked in public. As for our gay porn stories, we have everything form sex and romance to a world of kink and leather,. That is another difference, other gay site are either main stream gay or all kink. Gayties.com has both.

A lot of our members are shut-ins or guys who are deep in the closet who need community information and some comfort and support. I know this may sound like bullshit, but some people in the world want to provide a service. In this case, an important service that delivers comforting entertainment, up-to-date news, great videos and photos, and a vehicle to meet other gay and bi men in person or just on the internet in chat.

Who are these charitable guys who created and operate this site?

They chose to remain anonymous because they do not want to over showdown their humanitarian outreach to the gay and bisexual community. But I can tell you that these men have worked for decades as volunteers in the gay community, many years assisting people with AIDS, working on improving relationships with police, One of these men is responsible for establishing and operating an anti-gay violence hot line, and in general, working to secure full right to the LGBT community. I know almost all private adult websites are probably big companies that spam everyone, trick them, plaster their sites with misleading advertising as well as awful and annoying re-directs. Gayties.com has it organizational model centered on establishing a valuable service. A service that is safe and private, run by a few guys who want to give back to the community. It's a service that is entertaining and informative; a service that is largely free, and hopefully soon, self-sustaining.

GayTies staff wants to thank those many members for their long term support. If you would also like to help, please buy an upgraded membership, and/or give a donation, or help promote GayTies.com on other website and forums and blogs. We need more members to post links back to GayTies.com on such site as Facebook and Twitter, Reddit and whatever other gay-friendly site you come across. Thank you all for your support!

Tomorrow will begin another new Kinksville story, don't miss it. Upgrade today to read the full story sections starting now. Read, view and participant in the many things regular members cannot.

Copyright 2015 GayTies.com. These articles are displayed for only 24 hours, and are reposted only once every two months. So login every day so you don't miss a one of them!