Welcome to GayTies.com where membership is free.
Videos! Videos! Videos! Welcome to the most unique Gay Networking website! It' free to join. Connect with gay men all around the world including your own city. Search 100,000 profiles. Go into live chat! Read gay-oriented articles, stories and gay daily news. Seek out someone to date or just to be your friend. 150,000 sexy male photos and videos. Read & post personal ads. The gay world is wonderful!

No credit card required to join. So click here to join for free
GayTies News for September 26, 2017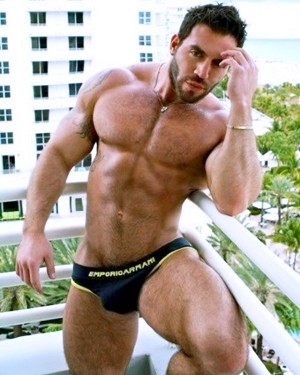 Log-in to see all our wonderful content: Great videos and photos, informative news and stories, fun chat and personal ads too.
Article of the Week
This Bluegrass Concert Is Amplifying Queer And Diverse Artists

Sam Gleaves wants audiences to see one of America's most traditional music genres in a colorful and contemporary light. On Sept. 26, the singer-songwriter will be among a host of performers at "Shout & Shine: A Celebration of Diversity in Bluegrass." Now in its second year, the evening aims to "amplify diverse and underrepresented voices," and will play The Pour House in Raleigh, North Carolina.

Gleaves, who is openly gay, performs with Tyler Hughes (on the left), has previously sought to challenge preconceived notions of bluegrass music. In 2015, the Virginia native released his album, "Ain't We Brothers," which embraced LGBTQ themes. The title track of the album was inspired by Sam Williams, a real-life West Virginia coal miner who was harassed for being gay.

"As a songwriter, I want to tell contemporary stories from Appalachia that show that our place, our people and our culture are complex," he told GayTies. "I will be who I am, openly and honestly, and do my best to support musicians who bring diversity to our community."

Gleaves also hopes the show, which will also feature performances by The Ebony Hillbillies, The Tyler Williams Band and Alice Gerrard, will demonstrate how much diversity can be found outside of America's urban areas. "I think there is a misconception that if you're queer and from a rural place, you must move to an urban place to be accepted and have a good life," he said. "That's not true for everyone."

"Shout & Shine" was created last year as a way for artists to speak out against North Carolina's House Bill 2, the since-repealed "bathroom bill" that barred transgender people from using public restrooms and facilities that corresponded with their gender identity. This year's incarnation will be a similar "call to action" and, if all goes according to plan, "a catalyst for dialogue and growth," according to the show's producer, Justin Hiltner. As such, attendees will be encouraged to get involved with the show's "advocacy organization partners," including Equality NC, Triangle Friends of African American Arts and North Carolina Asian Americans Together.

"Bluegrass festivals, concerts and albums have been my entire life ― I never doubted my place in the music or my claim to it until I came out of the closet. Even in situations without overt discrimination, it's all too easy to feel 'othered' and set apart from such a tight knit community as bluegrass," Hiltner said. "If I can prevent any other person from feeling excluded, from feeling like they need to hide who they are, from feeling like any other place is a better fit for them, I want to accomplish that."

He added that "Shout & Shine" does not intend to "fix a problem" facing the bluegrass community, but is "the beginning of the search for a solution, a search for the people who will stand up and acknowledge the often uncomfortable and problematic past of our music while investing in and shaping its future."

Executive Vice President of the Greater Raleigh Convention and Visitors Bureau Loren Gold echoed those sentiments, telling GayTies, "Raleigh is a thriving Southern capital city that's shaped by the passionate minds of its inclusive and welcoming residents. The mission of this showcase could not align more with that core value of our community."

"Shout & Shine: A Celebration of Diversity on Sept 26, in Bluegrass" plays The Pour House in Raleigh, North Carolina. (Pub 9/24)
0 comment(s) posted so far. Add yours.
Special Features of GayTies
Our Wonderful Videos
There are sites that show standard gay videos. Those gay clips, on those sites can be very repetitive and boring. But on GayTies we specialize in all the international amateur videos we can find that catch guys naked in public or in a locker room or shower room when a team is celebrating a big win. We love all the videos that are caught on private cell phones and planted hidden cams where naked men are caught in public or private events, especially doing some very silly stuff.

Some of the topics you will see are nude men pranked to run around the block naked or run through the campus quad nude. Guys naked in public is a very favorite topic on GayTies.com. Some of these hunky guys had to get drunk to expose themselves. And of course, we have vids on naturally nude guys, nude massages, doctors' examine, sports videos where uniforms get actually ripped off and are shown on broadcast TV. Many times there is a streaker who strips naked and runs around the field. When they show this on TV news, (if they show it) they blur out the guys private parts. WE NEVER BLUR OUT PRIVATE PARTS on gay videos.

Oh yes, we also have kink videos. OK, it's not for everyone, but we have guys in bondage, leather masters and slaves are popular subjects, muscle men posing in G-strings, nude surfers and swimmers, practical jokes that leave the "victim" stripped naked, and we can't forget the popular streakers who surprisingly show up everywhere.

Do you know GayTies.com has nearly 3,000 of these types of videos running from short clips to full length videos. (Just to sneak this in, we have over 20,000 naked mens photos too.)

Nearly 80 percent are free with the basic membership. And the basic membership is free also. We don't even ask for a credit card because you don't need one. You just need to be a legal adult and complete a short sign-up form, … AND … THAT IS TI!