Welcome to GayTies.com where membership is free.
Videos! Videos! Videos! Welcome to the most unique Gay Networking website! It' free to join. Video chat! Connect with gay men all around the world including your own city. Search 100,000 profiles. Go into live chat! Read gay-oriented articles, stories and gay daily news. Seek out someone to date, fuck, or just to be your friend. 150,000 sexy male photos and videos. The gay world is wonderful!

No credit card required to join. So click here to join for free
GayTies News for July 17, 2019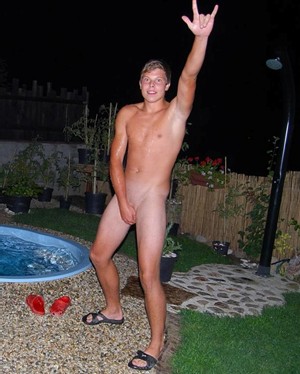 Log-in to see all our wonderful content: Great videos and photos, informative news and stories, fun chat and personal ads too.
Article of the Week
A Great Big World's 'This Is Magic' Is A Summery Celebration Of Young Queer Love
Chad King of A Great Big World has said one of his childhood crushes on another boy inspired the pop-rock duo's new summer single, "This Is Magic." So it's only fitting that the song would become the soundtrack for a heartwarming short film showcasing queer love.
King's interest in "shedding a light on love for love itself, beyond gender or sexuality or the color of your skin" inspired the film, titled simply "A Queer Love Story Featuring 'This Is Magic' by A Great Big World" and viewable above. In it, two young queer people (played by Oslo Grace, a nonbinary transgender model, and actor Justice Jamal Jones) have a chance encounter on the New York subway. Soon, the pair is enjoying a dreamy date in the city that culminates in a sunset kiss on a Brooklyn rooftop.
Director Zen Zadih Pace, who identifies as nonbinary queer and uses the pronouns "they" and "them," told HuffPost they instantly connected to "This Is Magic" after hearing the song for the first time. "I pretty much jumped out of my seat and started pacing around. It spoke to my inner queer child who didn't get a chance to fully embrace themself in their early youth," Pace said.
Like King, the director had plenty of real-life experience to draw from as far as crafting a visual for the song was concerned. "I moved [to New York] nine years ago from Flint, Michigan, because I fell in love with a boy," Pace said. "That love made everything taste like cotton candy."
Fortunately, getting King on board wasn't an issue. "Both Chad and I are hopeful romantics who just really love love," Pace quipped. "So we ran with that." As far as casting Grace and Jones as the film's central couple, Pace said, "I was inspired by both of them being so grounded in their identity, online and offline. I also didn't want to see a love story about two cis white people. If I have an opportunity to put anyone who's marginalized in front of the screen and make a powerful video, that's exactly what I'm going to do."
King and his A Great Big World bandmate, Ian Axel, who identifies as straight, have made a distinct effort over the years to make their music as inclusive as possible. Their 2015 hit, "Hold Each Other," included King using male pronouns in verses featuring his vocals, while Axel switched to female pronouns for his parts.
With "This Is Magic," however, the Grammy-winning duo wanted to go even further. "There just isn't enough queer representation in music and the media, and I wanted to give us more of a voice and something we could relate to," King said. "As a queer person of the '90s, I grew up being constantly shown straight couples' love being celebrated."
Ultimately, both King and Pace want viewers to come away from "This Is Magic" with the feeling that "there is a place, a person, who will hear and see them the way they deserve," regardless of their sexuality and gender identity.
"We queers rarely get to see ourselves represented in pure joy," Pace said. "I believe we have a responsibility as queer artists to show young queers possibilities. We wanted to show them that, yes, you can have that cotton-candy love just like your cisgender, straight peers." (Pub. 7/14)
Special Features of GayTies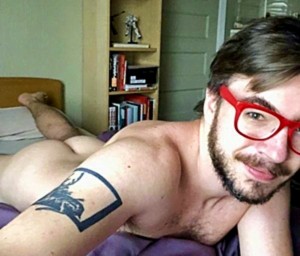 322
The Purpose of GayTies.com


GayTies.com, which is a not-for-profit website, is run by disabled Americans. Since its creation in 2006, no staff has gotten paid to work on or manage GayTies.com. In the company plan, no one will ever get paid. In fact, the staff still pays a portion of the expenses to host and operate the site. Money is needed to paid the contracted costs such as hosting, advertising, improvements, and repairs. This is why we have a few BONUS features, to help meet this costs. You might think that is really weird or even untrue. Why would anyone do this you ask, if not for pay?

The creators of this website find a great social value in establishing a sort of web-based, gay community outreach newspaper. Like many newspapers, GayTies has an up to the minute news section, a featured story, Personal Ads, a game or comic section (including Fun with Captions and dirty word crossword puzzles as well as a unique photos puzzle THEY designed), and an entertainment section. In addition to those common features, GayTies.com has a live chat room, a Video Library of over 5,000 videos (and growing), a Photo Gallery of 0ver 30,000 male photos (and growing), and some unique features such as daily GAY horoscopes, Lucky Numbers, tons of searchable profiles, and ORIGINAL erotic stories.

AND … here is a biggie, GayTies.com has a real customer support staff that will assist you usually within 12 hours to answer your questions or help you use the website. Wow! That is amazing. All this for free. When they say free, they mean anyone who joins (with a proper email address) has access to 90 percent of the entire website content. They only offer some videos and some photos for a low cost to help pay for the maintenance of the site. GayTies may be free to you, but it is not free to those who run it and manage it and add improvements to it

Why doesn't GayTies get income from ads and re-directs to other paid sites, like every other gay website that features sexy videos?

It's very simple. They hate the way those other sites operate. When you go to a site that says "FREE" and you click on something FREE, it takes you to another site that is for pay only. They HATE that, don't you? GayTies.com accepts no advertising. There are no sneaky re-directs to other sites, no re-directs at all, there are no cookies to misuse and abuse their members, there is no selling or exchanging of members' contact info. No tricks.

A lot of our members are shut-ins or guys who are deep in the closet who need community information and some comfort and support. I know this may sound like bullshit, but some people in the world want to provide a service. In this case, an important service that delivers comforting entertainment, up-to-date news, great videos and photos, and a vehicle to meet other gay and bi men in person or just on the internet in chat.

Who are these charitable guys who created and operate this site?

They chose to remain anonymous because they do not want to over showdown their humanitarian outreach to the gay and bisexual community. But I can tell you that these men have worked for decades as volunteers in the gay community, many years assisting people with AIDS, working on improving relationships with police, One of these men is responsible for establishing and operating an anti-gay violence hotline, and in general, working to secure full right to the LGBT community. I know almost all private adult websites are probably big companies that spam everyone, trick them, plaster their sites with misleading advertising as well as awful and annoying re-directs. Gayties.com has it organizational model centered on establishing a valuable service. A service that is safe and private, run by a few guys who want to give back to the community. It's a service that is entertaining and informative; a service that is largely free, and hopefully soon, self-sustaining.

GayTies staff wants to thank those many members for their long-term support. If you would also like to help, please buy an upgraded membership, and/or give a donation, or help promote GayTies.com on other website and forums and blogs. We need more members to post links back to GayTies.com on such site as Facebook and Twitter, Reddit and whatever other gay-friendly sites you come across. Thank you all for your support!

Tomorrow will begin another new Kinksville story, don't miss it. Upgrade today to read the full story sections starting now. Read, view and participant in the many things regular members cannot.