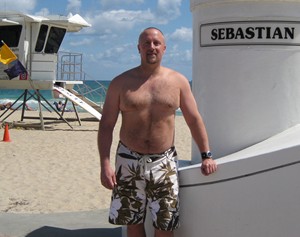 31
Come to My Room
Part 1 of 4

I was on Sebastian Beach in Fort Lauderdale this sunny March day. The beach scene has changed quite a bit over the last decade. When I first discovered the pleasures of Fort Lauderdale back in the mid 90's, the strip along Route A1A that follows the Atlantic Ocean was filled with interesting young people. They included college students on their Spring Break, young drifters and hustlers, and an assortment of other young people out to party and have fun.

The famous Marlin Beach Hotel used to be in the middle of the busy strip. So I tried to stay there. Hustler boys could also be found on the beach and on the nearby streets. Boys seemed to be available night and day. A gay beach has emerged near Sebastian Street and that is where the gay crowd hangs out. I tend to put myself down where I at least see young straight couples who don't know it's a gay beach. I want to see straight hunks. And although the city fathers have pretty much eliminated the wild Spring Break events, there are still a number of college students, gay and straight, that choose to spend their break in Lauderdale.

I should explain. I'm no prize. I'm not well-built; actually, I'm a bit flabby. And, to be brutally honest, I'm kind of queeny. I know who I am and I fully accept it. Call me a queen, a fairy or a fagot, and I'm not offended; my self-image is good. The benefit of being fem is that you don't have to come out to anyone. They all know I'm gay, and so do I. You might think it makes it harder to cruise these gay areas, to pick up a handsome young man and suck his cock. But not really. If a guy, gay or straight, was looking to have his cock sucked, I stand out as the guy who is willing to do it. The boy wanting a suck job can approach me and feel fairly confident he will not be refused. He knows why I am there. So in that sense, it's easier to find a good studly dick to suck.

I had just turned 50 but I still love to be around the young males on the beach. I usually awaken early in the morning, have a good breakfast, and then smoke a nice fat joint to start my vacation days. I am then ready to go to the "straight" beach to check out the young semi-naked bodies on display. I rent a lounge chair which I try to position in an area that has a nice young crowd. I have discovered that the young females tend to arrive on the beach earlier than their male counterparts. And a blanket full of young bikini girls is a good place to park my lounge chair. I know that when the young college guys arrive on the beach they will arrange themselves very close nearby.

It is not my intention to actually pick up any of these straight young males. Rather, I come here to lose myself in the sea of young bodies and to look, listen and enjoy the sights and the sounds of young people playing in their swimsuits. I love to watch the guys sunning, swimming or playing catch with footballs or Frisbees and showing off their tight athletic young bodies for the girls. I lay back buzzed on marijuana, watching the flesh parade of the day. I thoroughly enjoy the show.

So far today, I had not made any sexual contacts yet on this trip and was feeling very horny. I was still rubbing suntan lotion on my body as I noticed two young dudes pass my chair, and walk to the shoreline carrying a football. They began to toss the ball to each other. One of them was built like a college football player. He was tall, about 6' 2" and had short dark hair, muscular with a moderately hairy chest. I noticed a stylish fade haircut and a gold chain around his neck with the medallion turned around and hanging on his back. He had a nicely tanned muscular body and looked like he might actually be a quarterback on his college team. I could only guess what was inside his shorts. His buddy was a surfer type, a tall thin blonde with a smooth but defined body. The dark-haired more muscular guy started zipping the ball to the blonde, and he was always able to catch it. Then he threw some high deep passes and I watched as the blonde ran back and leaped into the air to make some fine receptions. I could also see that the blonde was not wearing a jock as his cock flopped around as he was jumping for the ball.

I was watching these two play catch rather intently when I noticed that a guy and a girl couple was approaching the area that was empty to the right of my lounge chair. The girl must have been about twenty and the guy a few years older. He was a handsome young jock type, about six feet with a muscular smooth body. He had a loose fitting red tank top on, as he was carrying one folding beach chairs and a cooler. The pretty young blonde girl was in a two-piece bathing suit and carrying a beach bag in one hand, and a large rolled up towel in the other. I could see the muscles in the guy's biceps flex as he lowered his cargo to the sand. I watched as he set up the one chair and then he removed his tank top and stretched. He had very nicely formed calves and thighs. His legs were lightly covered in dark hair, but his upper body was very smooth, except for a line going down from his navel into the waist of his black nylon boxer style swimsuit.

He assisted his girl in placing the over-sized towel on the sand, next to the chair. Maybe one preferred to sit and the other to lay down. As it turned out, initially, the girl sat in the chair and the guy sat on the towel, removed his shoes and then laid out flat on his back. It was not long after they settle down, she began to express something about his skin might burn. I did notice that she was fairly tanned and he was more light-skinned, so concern would be in order. She rummaged through her bag and pulled out a hefty tube of suntan lotion and got up and went to kneel over her nicely built young man. She proceeded to rub lotion all over his arms, chest, and belly.

He just lay there allowing her to do as she wished. It was like he was into being body-worshipped. Wow! She actually tweaked his nipples as she massaged the cream into his chest. I was so jealous. To only be able to caress that smooth hard body as she was doing, was a hot fantasy for me. She went to his flared out legs and began with his feet, rubbing the cream until the white color disappeared. Then, she went to his strong legs and to his mighty thighs. She applied several squirts of lotion and rubbed it all in. She moved her hands up to the top of his thighs toward his crotch. What was she doing right here on a public beach? Her fingers disappeared under the edge of the material! I thought that I saw his cock twitch under the fabric of his shorts …

She said something and he rolled over onto his belly. Then she attacked his back, shoulders, neck and then the back of his legs. Odd, in a way, he did not put lotion on her. Was it because she did not want it or need it, or because he just did not want to? Strange.

Soon, she was in her chair and he was sitting up on the blanket, both were sipping beers from their cooler. I decided that it was time to close my eyes and take in some sun, and think about what I had already seen this morning. My cock was stirring in my shorts as I put on my headphones and fell asleep for a little while, surrounded by all these hot young guys and their uninteresting female companions. When I awoke, maybe 20 minutes later, I opened my eyes and noticed that the football tossing guys had disappeared from my sight and I glanced over to the couple to my right. I saw that two new young guys had put their towels between me and the couple. And these two guys were hot too. Very hot.

They were too close to me to really check out discreetly, so I stood up and moved my chair back, acting as if I was trying to adjust to the change in direction of the sunlight. I moved back a few feet so as to be able to view my new neighbors. One was blonde in his late teens. He had a striking resemblance to Leonardo DiCaprio. His friend was slightly older, early twenties, and had a hard masculine edge to him. He had a tight hard, mostly smooth body. I loved his very short dark hair that was in an almost military style. He had a five o clock shadow on his face and I noticed white teeth and a very cute smile with dimples showing as he joked with his blonde buddy. I turned off the sound on my headphones and decided to try to listen to the conversation of these two young studs, rather than my music.

I hoped that my dark sunglasses hid the direction that my eyes were focusing on. I thought that I heard the blonde kid call his dark-haired friend Joe. I could not make out much of their words but I was now intently watching these two guys. They were looking over to a blanket that had three young women with large breasts wearing bright neon bikinis. The guys were laughing and I could not take my eyes off of Joe, as he was smiling and laughing with his infectious grin and bright white teeth contrasting with his tan skin. Joe was a very hairy man. Lots of chest hair. I usually prefer my men more hairless, just my thing. But even being furry, I liked the manliness I saw. The two boys then got up off their towels and both ran into the ocean, where they dove into the waves. I couldn't take my eyes off of this handsome pair as they frolicked in the ocean.

They returned to the towels, right next to my chair and then dried themselves off. I noticed that the blonde boy had a red translucent bathing suit on and I could see his cock flopping against the thin material. The rest of his body was smooth and mostly firm, with just a hint of a tummy, but very cute. But, dark-haired Joe really captured my fancy. He was such a masculine young guy who moved with grace and confidence. I longed to remove his black shorts and see his thick pubic hair that led to his bulging meat. I was sure that I could learn to love to service that stud. After drying off, the guys sat back down on their towels and chatted.

The guy who was sitting with the girl to his left asked the blonde boy if he knew where a certain place was. It was an obvious conversation starter and it worked. They engaged in a conversation which I tried to over-hear. The blonde boy's name was Kevin and the other guy commented on how he looked like Leonardo DiCaprio. So I was not the only one to think that. Kevin laughed and brushed the blonde hair out of his eyes and said that everyone told him that. I also learned that the dark-haired Joe was, in fact, a military man who had been in the air force and had recently been discharged and was looking for a job. The girl then offered Kevin and Joe a beer, which they gladly accepted.

I continued to silently observe the young crowd around me and I took a walk down to the water when Kevin and Joe went back for a swim. They did not seem to notice the fact that I was checking them out. After another hour or so the guy with his girlfriend packed up their stuff and left the beach, saying goodbye to Kevin and Joe. I heard Kevin then say that he was going to the store across the street for some more beer. He put on his shirt and left Joe alone on his towel to my left, slightly in front of me. Joe stood up. He was checking out the beach scene, but then when he turned in my direction and saw me staring directly at him. Instead of averting my eyes as I would normally do, I continued to look right at him and smiled. He looked at me in a questioning way and finally asked me what I was looking at.

My heart was pounding with excitement and fear, as I usually do not actually make contact with the straight boys on the beach, but decided to go for it, as I didn't think that he would hit me or anything right on the beach and so I told him, "I think that you are very good looking."

He wrinkled his eyebrows in surprise and disgust, and said, "Dude, I am not used to having a guy tell me that."

I tried to remain calm and continued smiling as I told him that I meant no offense and was just admiring how handsome that he was. He asked me if I was a queer. I told him that it is not the term that I normally use, but that I was gay. He was still standing, looking down at me with a quizzical expression on his handsome young face as if trying to figure out what I was all about. And the whole time that he was looking at me, my eyes were examining his face and body. He was so masculine with a killer body and a very sexy face. He could see that I was harmless and he now looked over at me with an amused smile.

"Dude. I'm no fag, so don't expect anything of me." His voice was so macho, like a tough Italian kid. I told him that I realized that he was straight and I was just admiring him and that was it. He kept looking around to be sure that Kevin was not yet on his way back to the beach. Satisfied that his high school buddy would not catch him talking with a fag, we began a conversation. He told me that he was just out of the air force and was hanging out with his old friend Kevin for the day. He said that he was living at home with his parents and really needed a job, so he could find a place of his own. I decided that if I had gone this far, I might as well try my luck a little further. I continued looking at him and said, "I could help you out with some money."

He smiled at me and asked sarcastically, "And what would I have to do?"

Suck your dick?" I told him. He wrinkled his nose in disgust but kept smiling. "No way dude. I'm no fag."

"No, no," I said. "Nothing like that. I know that you're straight, but I wouldn't mind sucking on yours. All manly guys like their dicks sucked."

Macho, furry Joe had been standing in front of my chair and kind of leaning over to talk to me, so that no one else on the beach could hear our perverse conversation. But he backed off when I mentioned sucking his cock and told me to forget about it, as it was totally not his scene and he had no interest in having a guy do that to him. I asked him if he would agree to just come to my motel room to talk with me, drink some beer, or smoke a joint together. He told me that he liked to get high, but was not having any gay sex with me. I convinced him that I would pay him to just hang out with me and get high. Nothing else. He thought about it and said, "Dude. I could really use some money. How much will you pay me to just hang out? And no fag stuff though," he warned me.

"We can discuss that and work out a fair amount," I replied. Joe, who was constantly on the lookout for his buddy Kevin's return, noticed that Kevin was crossing the street and heading back toward us. Joe then sat back down on his towel and turned to me.

"Listen, I need some cash and as long as you don't expect me to do nothing queer with you, I am willing to talk. Kev has to go to work in a couple of hours. Take my cell number and let me know if you are serious about paying me to just chill with you." I quickly opened my bag and grabbed a pen and paper and jotted down his number, and told him that I would text him later that afternoon.

"My buddy is coming back. Shut up now. Text me later." He said, ending any further conversation. I liked the way Joe was giving me orders. Something about the whole straight boy trip that I get into involves an element of my playing the part of a submissive faggot to a superior young straight stud. I do not wish to be physically harmed, but I love the physiological angle of being totally submissive to a young guy such as Joe. I know that it is not politically correct, or even logical to think that way, but that is the scenario that makes my heart pound and makes my cock get hard, and turns me into a gay man who wants to serve hot straight young guys like Joe to give them money to humiliate myself in their presence.

Kevin returned with a couple of beers. The boys drank and later went back into the ocean for another swim. They also talked to some girls but left the beach before I did. Joe never made eye contact with me again until they were both leaving when he looked over at me and gave me a sexy grin as he brushed sand off his tight ripped tummy, and then pulled a tee shirt over his head. I watched him from behind as he and Kevin walked away from the sand. I admired the tight calf muscles on Joe's legs. I noted that his tight ass looked cute in his surfer shorts as the cheeks bounced rhythmically as he walked on the sand. I was so horny and couldn't wait to see if anything would come of my bold proposition.

I headed back to my room a short time after Kevin and Joe had left. My mind was racing. Should I text him? He probably would never agree to be alone with me in my room. And would he let me suck him off for enough money? I also wondered if he was setting me up and would bring some friends to beat and rob me. My mind was in a tailspin, but I was so horny, and Joe looked so good. I only spoke to him for a few minutes, but I got the impression that he was curious to explore something new and he did say that he could use some cash. And I thought that if I had gone this far, I might as well text him, as this kind of opportunity does not usually come my way. I showered and cleaned up and it was now 4:00 PM. I reached for the phone and dialed his number. I entered the motel switchboard number and my room extension, and hung up the phone and waited.

Five minutes later, the phone rang in my room. I was startled. I was expecting to be disappointed. I cleared my throat and answered, "Hello."

"Hey, it's Joe, you texted me?"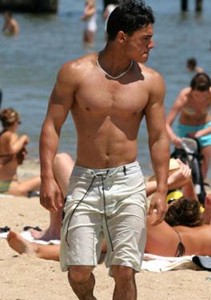 32 Come to My Room
Part 2 of 4

To my surprise, it was Joe. I reflected briefly on the virile former army guy and how he looked at the beach. Those knee-length soaked, clinging shorts looked more like cargo pants than a swimsuit. Every time he went into the water and came out again, my eyes were glued to his physique. Now that he actually called me, I was reflecting on our brief conversation. If Joe was to come to my room and … just "visit" … I had to pay him AND, promise that no sex would take place. I confirmed that I was gay and said I just love to have a handsome man like him as company. He was not sure but gave me his number anyway.

And, Bingo! - here he is on the phone. "Hey, it's Joe, you texted me?" There was silence and then he started to speak in a quiet voice. "So, you really did call me," he said.

"Yeah man," I answered. "I would really like for you to hang out with me for a while."

"How long?" he asked.

"I don't know. I told you I have cold beer and some outrageous smoke. Can you hang out for an hour or so?" There were a few seconds of silence.

"And how much will you give me to hang out with you?"

"If you just want to hang out and get high, I will pay you $100," I answered.

"What do you mean, if I just want to hang out? I told you I wasn't into any kinky shit dude," he told me rather forcefully. I tried to calm him down.

"Then that is just fine, Joe. If you want to come over and relax for an hour I will pay you $100."

"I don't have an hour dude," he replied. "Maybe twenty minutes or a half hour tops." I really wanted Joe in my room, so I reluctantly agreed. I hoped that I could persuade him to do a little more if I offered him more money. I do not usually spend a lot of money on hustlers, but I had spent very little on the trip so far, and Joe seemed different. Not a hustler, but a true straight boy. I gave him the address and room number, and he said he would be over in twenty minutes.

I rolled a couple of joints and waited for Joe's arrival. In what seemed like only a few minutes, there was a knock at the door. I opened it and saw Joe standing there. I could see his hairy chest through his opened shirt. He quickly walked into my room and closed the door behind him.

"You didn't tell me this was a fag hotel. I've heard the Marlin Beach whore house was for fags only. Those guys around the pool were checking me out like I was a fucking chick, man. Weirded me out," he said. But he was smiling and did not really seem that pissed off. That was a good sign, I thought. (BTW, the Marlin Beach Hotel was a very nice, upscale, 91 room, gay resort, at least it was in 1985, which was before it became run down and later replaced by a Marriott.)

I looked him over now that he was in my room. He was about six feet tall, toned and really handsome. He had put some kind of gel in his short black hair so that it glistened. He was very tan and had shaved since we met on the beach. Joe was wearing baggy black shorts that came down half way to his knees and I could see his Calvin Klein boxers above the waist. He had thrown a shirt on but did not button it, allowing his chest and tan smooth abs to be visible to me. He wore white sneakers with no socks.

Joe broke my silent stare, "Well, can I sit down dude? Or are you just going to stand there and stare at me for twenty minutes?" I remembered that he had only promised me a brief visit, so I asked quickly him to have a seat on the small couch in the room and then went to the refrigerator to retrieve and opened two beers. He took one and I toasted to a nice visit. He opened his beer and chugged the whole can in a few gulps and smiled at me.

"How about another?" He asked and then let out a loud belch. He grinned at me like a little kid waiting for my reaction. Joe really turned me on and I told him to do whatever he feels like. I handed him a second beer which he drank more slowly and I lit a joint. We toked back and forth and he was talking about this red-headed girl that he was going to see. Manly Joe told me that he was going to get his dick sucked and then he was going to "fuck her pussy." I told him that I would pay him more money if he let ME suck his cock.

"Listen faggot, this cock is for females, not faggots..." and then he burst out laughing. He then grabbed his dick through his shorts. It looked like a nice bulge. I licked my lips and he laughed out loud again.

"You are a hungry faggot, aren't you?" he taunted.

Joe continued to laugh at me for being so turned on by his presence in my hotel room. He toked on the joint with his left hand and rubbed his smooth tummy with his right hand. I really wanted to touch this boy and maybe even taste his flesh. I had to ask; I'd beg him if I had to. "Could you please take your shirt off?" I asked timidly.

"No way faggot. It wasn't part of the deal. I am just going to sit here and drink your beer and smoke your weed for twenty minutes and you are giving me $100. That's the deal faggot."

I knew he was right, but I tried one more time before offering him more money. I told him, "I already saw you with your shirt off on the beach, man. So why not here?"

"Cause I said so, fag," he answered with that ever-present smirk on his confident handsome young face.

"Okay man. Can I pay you more money to have you do more?" I asked in a pleading voice.

"Yeah fag. Another $50 for the shirt." That was a rather steep price.

"Come on Joe. I really want to see more of you, but I can't pay that kind of money for your shirt."

"Okay fag. How about $20 if I take off my sneaker?" He was laughing and giggling like a teenager at my predicament. I was so horny that I was willing to humiliate myself for this straight young guy. I do not have an intense foot fetish, but I enjoy every part of a good-looking young guy and so the idea of seeing his naked foot was a turn on. I don't think that Joe expected me to accept but I said.

"Okay. Twenty if you remove your sneaker." After a quick thought, I corrected myself, "I mean if you let me remove your sneaker."

Joe did look a bit shocked, but as he was finishing his third beer, he leaned back on the couch. "Go ahead homo. Take my sneaker off."

He then placed the empty beer can on the table to his left and put his hands behind his head, in a classic position to get sucked off in, I thought. But I was not about to blow him, at least not yet, I did get down into a cocksucker's position on the carpeted floor of my room and looked up at my straight young god, with his open shirt showing a tanned washboard tummy and a smooth swimmer's chest. I could also see a bit of his black armpit hair showing through the gap where his open shirt was resting against his flexed bicep muscle.

As I positioned myself on the floor before his legs, he spread his legs out further and flexed his biceps. He was clearly teasing me and flaunting the fabulous attributes of his gorgeous body. He was not supposed to be enjoying this; it was something he hated and was doing only for money. "C'mon dude. Time's a wasting. Take my sneaker off."

I reached down and lovingly caressed the sneaker on his right foot and lightly touched the hair on his leg. He did not object. I opened the laces and loosened them so I could slip the shoe off. I noted that it did not have a strong odor as Joe had showered and shaved after the beach. I removed the shoe and then noted a lingering smell from the inside of his sneaker in the hot Florida sun, but the smell was a turn on. I started to caress his naked foot, but this was too much for Joe, who gently kicked my hand away.

"My shoe is off. I didn't say anything about playing with my feet, fag. Shit, you are really pathetic, wanting to make love to my feet." He paused, then added as an afterthought, "How much would you pay me to lick my feet, fag?"

"Another $20," I offered. That really shocked him. He was obviously expecting me to reject his offer.

"Make it $30, so you can owe me $150 all together." Then again, he added something interesting, "… so far." What was the "so far?" Was he manipulating me by offering little favors to me to gradually raise his pay? I wondered what he might offer for additional money. I didn't want to blow the whole vacation budget on this punk, handsome and sexy as he was, but he sure did turn me on. I took his barefoot in my mouth and started to lick his toes. This was not the first time that I had licked a hot young dude's foot and it was much like sucking his cock. I worked my tongue between his big toe and the next one and began to tease it with my tongue. He moaned. I'm sure he did not want to give me any sign that he was enjoying my tonguing, and likely his moan escaped without his awareness.

"Whoa, you faggot. What the fuck are you doing? Trying to make my toe cum? You are one sick faggot motherfucker." But despite his protests, he never withdrew his foot, he let me continue servicing it. And with his foot still in my mouth, I used my thumbs to lightly massage the sole of his foot. He closed his eyes. I tease his foot gently with tongue and thumbs. Another moan involuntary escaped his throat. I noticed him move his hand down to adjust his crotch. I stopped sucking his toes and looked at his crotch and noticed movement. His eyes opened and he saw me staring at his bulging crotch.

"I can't believe it, but my dick is getting hard. Smoking dope always gets me horny, and the way you were sucking on my big toe, my fucking brain thought there was a chick sucking my joint." He reached down with both hands and grabbed my head. He looked right into my eyes.

"I have to pick up Linda in fifteen minutes, and if I blow a load here I can hold out longer with the bitch. Tell you what faggot. Today is your lucky day and I really need the cash. Make it an even $200, and I let you blow me. But you have to move fast. I gotta be out of here in five minutes. Go faggot. Suck me."

I nodded yes, and I felt his hands place my face on the crotch of his shorts. His hands moved off my head as he let me do my thing. I reached up to open his cargo shorts. I pulled them down along with his underwear to his ankles and saw that his cock was already hard. A nice thick seven inch cut cock was sticking out above a thick patch of black pubic hair. He then got up to pull his shorts and underwear completely off. He also shrugged his shirt off and was now naked save for his left sneaker which I never removed. He sat back down and again assumed the position with his hands behind his head as he thrust his now naked body out towards my waiting mouth, and I swallowed his seven inches to the hilt on the first swallow. He moaned in ecstasy.

"Oh fuck, you faggot, suck my dick. Oh man that feels good, you fucking cocksucker."

I kept his dick in the back of my throat as I contracted my throat muscles to give him the blowjob of his young life. I could feel his bloated cock pulsating against my tongue and I finally let it out to only quickly swallow it again so as his hairy pubic bush was pushed right up to my nose. I could smell the soapy clean scent of his bush and taste the sweet taste of his fat cock in my mouth along with the bittersweet taste of his precum leaking out into my mouth. I loved to have this straight kid burying his cock deep in my face. He then stood up and once again grabbed the back of my head. This time he thrust his cock hard down my throat and grabbed the back of my head.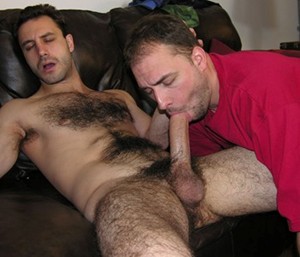 Come to My Room
Part 3 of 4

"Suck me you motherfucker. Suck my dick faggot! Oh fuck. It feels so fuckin' good, you faggot." Joe was thrusting his cock down my throat hard and fast while he was verbally telling me what to do and what he thought of me. He body was so hairy, it was an usual experience for me since I preferred guys more body-bare. Nevertheless, I was in pig heaven. Soon I started to choke on Joe's cock and I started to cough and pull back. He laughed at me but told me to keep busy and lick his balls. I stopped coughing and put my tongue out to lick Joe's nuts.

"Lick my balls! Now motherfucker!" Joe ordered. I obeyed and got down even lower to taste his tight balls that were very close to his toned, tan, young body, but they tasted manly like him and I detected a stronger odor from his nuts than from his cock as he was sweating and working his way to an intense orgasm. As I licked his hairy balls I worked my way lower and behind to the hairy entrance to his ass. I rubbed his furry legs at the same time. Then I took my tongue off his balls and darted it to the very edge of his puckered asshole. As my tongue touched the rim of his ass, he shuddered and grabbed my head.

"I'm going to cum you faggot. You filthy mother-fuckin' faggot. You fucking licked my shitty ass hole. I'm going to cum now." He gaspingly moaned out as he pulled me back to his cock. As my mouth was about to close over his throbbing young dick, the first shot of cum couldn't wait and hit me on the cheek and on my lips but I quickly swallowed the exploding cock in my hungry mouth and got to swallow the rest of his thick pungent load. I let the still throbbing cock rest in my mouth, with my heads between his hairy legs. I heard him breathing heavily and I could see his chest rising and falling above my mouth. He had stopped cursing once he started to cum. After a minute, he pulled out of my mouth, and said, "It's getting late dude. Got to go," still breathing heavy.

And he quickly put his clothes on and was sitting on the couch putting his right sneaker back on. I went to my wallet and removed $200, and handed it to him. He slipped the cash into his pocket. He reached to the table and picked up the other joint that I had rolled but not smoked. "Okay if I bring this to my chick?" he asked.

But he did not wait for an answer and put it in his shirt pocket. He pulled himself together, walked to the door and said, "Later."

I was still on the floor as he let himself out and closed the door behind him. I was covered in Joe's cum, both on my face and in my mouth. I could still smell his balls in my nose. I thought how a few hours earlier, I was on the beach like every other day watching the football players, and the hot guys with their girlfriends, and all the other hot straight guys. And now I actually got one to come to my room and let me suck him off, even if it cost me a chunk of my vacation money. I then pulled my shorts down, and lay on the floor and jerked off. It was heavenly having the taste of straight Joe's cock, balls, ass and cum still fresh on my face and in my mouth.

I had been in Fort Lauderdale three of my seven-night stay this spring, and I was already complete. It cost me $200, but it was worth it. The next two days were pleasant, mostly as I stayed in the afterglow of that delicious, straight boy, Joe.

But this afternoon, just two days after servicing Joe, my hotel phone rang. "Hello?" and there was a click. Five minutes later, it rang again, "Hello?"

"Hey, faggot, it's Joe."

What in hell was … I mean … why in the fuck would HE be calling ME? I needed to think fast so I could be inviting and not scare him away. I decided to play it cool, pleasant but not overly excited to hear from him. I certainly was not going to "blow" (pun intended) any more money on him. I did not have it. I calmly said, "Yes, Joe." I wanted him to do the talking this time.

He must have been caught off guard because there was silence as if he did not know what to say. "I can sure use some cash right now. My friend Kevin already left to go home, and I just discovered I lost my plane ticket and now I am stuck here."

"Gee, sorry Joe. That's very unfortunate." I said calmly; I did not want to say more. I wanted him to lead the conversation. Obviously, he was going to ask me for money.

"Well dude, I know you fagots got to have some dick to suck, and I was wondering if we could have the same arrangement as last time, $200. A fag like you should find me well worth it." He said hesitatingly. "I really need it tonight." Tonight? He needed it tonight? What in the fuck did he mean by "it?" Money? Or … sex? This was getting interesting.

"Joe, I don't think I could spare that much money just now." I have a few days left on my budget. However, if you want to come by, we can talk about what you 'need.'"

"OK, I can be at your door by five." He said with some excitement in his voice. But I still wondered if the excitement was that he was counting on getting money, or sex. I was dying to find out. I told him that would be fine.

I was surprised when there was a knock on my door at a quarter to five. My, he was anxious. I answered it, "Hello, Joe." He responded with a "hi faggot." I did not really mind. Somehow I knew I'd get what I wanted. "So what about the money? You OK with that?" Boy that was blunt.

"Well, before we talk about money, why don't you sit down and have a drink." He said OK and asked for a beer. "Oh, sorry, I don't have any beer. I'm drinking a cocktail, would you like one?"

"Naw, I only drink beer." Then he paused and asked, "What are you drinking?"

"Its coke and the hard stuff. But you'd probably not handle it well. It's a more manly drink." I could tell he didn't like the way I said that.

"Hey, that's fine. I can sure handle it better than any faggot can." Joe laughed. "It's just that beer goes down so smooth. I don't really do woosy cocktails at all."

"Well okay, I'll make you one." I went over to a side counter in the bathroom where these hotel rooms keep their glasses and ice and poured in one third White Lightning and two-thirds coke. I reflected briefly on the first time I had this drink. It went right to my head. "White Lightning" is so aptly named. At 100 proof, it is really the hard stuff.

I stepped toward him and handed him his drink and then sat down to chat as we drank. Of course, I made my drink much weaker than his. I like a pleasant buzz but I don't want the room to spin. He sipped his.

"Not bad. It tastes just like coke." He said as I smiled to myself. "So are we cool on the cash?"

I wanted him to relax and have his drink, and then another. I wanted to see a much less self-assured boy this time, as well as one less interested in money. "Let me think about that, Joe. I said we'd talk about it and we will, but can't we just have a nice drink and chat a bit." He nodded yes, and he seemed to relax more into the soft chair he was sitting on like he had resigned himself to my pace. He drank his drink faster; maybe he thought this would get over sooner. "Oops, let me get you another." Without waiting for his response, I got up, snatched his empty glass and made him a second one. This one had half White Lightning and half coke. I wanted to get him thinking about sex, and not money.

"Here you go, Joe. I'll bet you've been with a lot of women since I saw you two days ago. Wow. You are a stud and a half. I'll bet you got them to suck your big dick and really work it good. Slowly, up and down, up and down, just like you like it. Just like any man likes it".

As I handed him the second drink, I noticed some of his body hair was missing around his neck. Then I noticed it gone from his bare lower legs. How odd, but also a pleasant surprise for me. But I said nothing to him. My comment caught him at a loss for words. "Um … yah, I have a couple girls that swing on my dick. Sure I do. And they're really good at it."

"Oh? How did they do it, Joe? What was good about it?" I asked but I did not want him to answer. I wanted to answer for him. "I'll bet you stripped naked and stood up and posed and flexed your muscles and bragged big time about how great your body was. Right?"

"Oh yeah, exactly." That drink must have started working on him because it sounded like he said, "eggs-zack-y." His eyes were a bit glossy, but not bad. So I continued.

"No shit. Prove it, stand up and pose and flex, just as you did for the girls." Again, I did not wait for his response. I went to my CD player and put on some disco music. He got up and just began to flex his biceps.

He was laughing at himself because he was a bit wobbly on his feet, and then continued to flex more. I coaxed him along, "Oh, I see, then you took your shirt off and flung it around and helicoptered it over your head." And he unbuttoned his short sleeve shirt and did exactly that, bearing his chest, his smooth shaved chest! Wow! That was so great. Then I offered, "Of course, and then you dazzled them with the way you removed your belt." He undid his belt and tried to keep in step to the music, but he was a little sloppy from the booze. And he tossed it over his head.

"I guess the girls liked it when you took your shoes off too. So show me how you did it." Joe bent over and lost his balance and fell into the over-stuffed chair, and then got up again. I was gawking at him. Not a very smooth transitioning in the dance. He clumsily lifted one foot to remove that shoe and then the other. Since he wore no socks, he was barefoot. Then he could freely stand again to more fully dance rather than continue to flex, but that was fine with me. He was wiggling his hip in those same baggy cargo shorts.

"I suppose the girls like it when you do that kind of dance, do they? Go ahead and wiggle those hips and move just like you did it for them." Joe was really into this, I don't know if it was because he was a little tipsy or because he just liked showing off his body, though he obviously never admitted to it. I can see this time he was wearing different black underwear. Yes, I am an expert on men's underwear, love them all. "Go ahead Joe, shuck those pants. Try to do it without stopping your dancing; I want to see how you did it for the sexy girls. You muscle guys certainly seem to have the best coordination."

Joe then began to peel down his cargo shorts as he wiggled his hips to slide them down his slender waist. It was a little awkward since he continued to dance at the same time. But he got them below his knees and then walked them off his feet. Finally, I got to see his cotton briefs and … his shaved legs. At some point, rather soon, I was going to inquire about the body shaving, but for now, I loved the way his bulging pouch jiggled as he half danced. So far everything was going as planned … for me. His lower belly was exposed because his underwear slipped down some, and I was surprised that his pubic hair was gone. I just saw him a few days ago and he was hairy around his dick and balls. Interesting. I assumed he shaved all around his crotch area. At least, that was going to be my next verbal play. I did not want to rush it. I need to get him back to talking and thinking about being horny. So I turned the music way down low so it was barely audible, and had him just stand in front of me. He was so handsome and so cute the way he wobbled slightly to the beat.

"You know Joe, you are an attractive man, I told you that before. And I know you like the girls and I'm not putting that down. But I'm just curious, I see your body hair gone; I assumed your entire dick and balls were just shaved since they were hairy only a couple of days ago when you were here." He just sort of looked at me a little bit embarrassed. "Well, you do have a nice set of dick and balls there as I remember, but why are you now shaved all over?" I'm just making assumptions.

"Well dude, I … I … Well … I …" He stammered. I wanted him to feel awkward; it was working.

"Joe, are you trying to tell me something? What did the girls do to you, shave your chest and legs?" Joe just sort of stared at me awkwardly, obviously not knowing how he should answer that question. "You mean they shaved your dick and your balls too?" His face turned red. I hit upon something embarrassing for him to discuss. Great!

"Well, it's like this, one girl told me on the phone that if I shaved my body hair off she would give me the best blowjob I've ever had in my life. So when I arrived there, I had shaved all over, well, everywhere I thought was appropriate for a man to shave. But when I got there and undressed, the girls were disappointed. They pointed to all the hair around my dick and told me that, that will not do.

So the one girl got out a disposable razor and handed it to me. I went into the bathroom and shaved all around my dick. But … Well … After I did that, she thought my balls looked funny because they were still hairy. Then she told me what a great cock sucker she was and how she would love to suck my cock and lick my balls all night long. But she wanted my balls shaved too." I could see his dick expanding in the crotch of his underwear.

"So you shaved around your dick and your balls to please this woman and then she, or they would suck your dick," I told him, knowing that it did not seem true.

"Well … I… may I sit down?" I did not answer, just stared at him as he nervously pulled at the Jockey material over his crotch.

"Joe, you need to just stand there so I can understand exactly what these girls did to you, or had you do. OK? Don't fuck around with me, Joe. Just stand there and answer my questions." I was a bit more direct and forceful. I wanted to get him to start complying with my wishes. Getting him to stand when he wanted to sit, was a first step. And it worked, he continued to stand. He began to comply.

"Was this yesterday or the day before?" I just stared at him but he was silent, probably trying to think of what to say. "So was it one girl, or was it, two girls, that you were with, that made you shave your dick and balls."

"Well, sir, it was, I mean, ah … May I sit down now, please?" OMG! Where did the "sir" come from? And the "please?" He definitely now sees me as an authority figure and not as the faggot he saw a few days ago. Again I wonder if it's just the booze or if he's just really horny for sex, sex with anyone, even a faggot.

"So you never answered my question, did the girl then give you a professional cock sucking job?"

"Well, it's a little embarrassing, you see after I shaved my dick and my balls she noticed my ass was hairy. And I really did not want to shave my ass. I have never shaved my ass." Joe spoke with some hesitancy. There was something he was not telling me.

"Joe, I asked you a question, and I want an answer. Did they make you shave your ass?" He was trying to say something but he was just sort of mumbling, I guess this was very embarrassing to discuss with me. All the while his fingers were fidgeting with the hem at the leg holes of his underwear. His dick was as hard as ever, I could see it was like a stiff pole trying to escape his confining underwear.

"Em … well, Sir … I tried to shave my ass but I just could not get the razor and do my crack so I just couldn't do it. She said she would do it for me, and she took the shaving cream and padded it all over my ass cheeks, and down my ass crack all the way to my balls." This was a very erotic moment for him; I could see his precum wetting the front panel of his underwear. "Sir, I really did not want her to do it … I mean … ah … I like my hairy man body. But she kept telling me what a great cock sucker she was and I just could not resist. I really wanted my cock sucked. "

"So, Joe, let me get this straight. She made you shave your dick. Then she made you shave your balls. Then she shaved your ass cheeks, your ass crack from the very top all away to your balls. Then she gave you the greatest blowjob you have ever had in your life. Do I have that right?"

"Well … Sir, not exactly. Em … After she completely shaved all around my ass and right to my ass hole, she told me to bend over. I did not know why until I saw that her friend took pictures of my ass, all shaved smooth. When I saw the surprise flashes go off I twisted my neck around to look and then she took another photo of my ass with my face now showing. I was confused. Then she told me to turn around and she took pictures of my shaved dick. The other girl stepped up, took a hold of my dick to lift it so more photos could be taken of my shaved balls. Fuck, all I wanted was my dick sucked!" Joe paused, "I wanted to tell her to stop, but that would have been rude of me."

Wow. He did not want to be rude and interfere with the girls taking photos of him? My mind was ablaze with new vibes I was now getting from Joe. This was great! Think about it. He now valued his dignity and privacy LESS important than the girls "right" to photograph him and … humiliate him … in any way they wished. So now there is a submissive side to Joe; a very strong willingness or – need? – to be submissive. He was cocky with me a few days ago and considered me as a mere money source. But now, he was seeing me as someone superior. He did call me "sir." He did obey me when he wanted to sit and I told him to stand. Oh my god! Am I going to get to use this handsome, 23-year-old former soldier? My path forward was to be very subtle.

"So then did they both suck your dick or just one of them?" I asked as if I cared.

"Eh … well … Not exactly." He stopped there, but I gestured for him to continue on. "Eh … she said something about 'trophy pics.' So she stood next to me with me naked and shaved and her fully dressed, while the other took a few photos. Our pose was like a formal high school prom photo. Then they switched positions so the other girl could stand next to me and be photographed." He stopped, but this was just getting good. I told him to go on. "I was concerned about the photos and what she might do with them, but I felt I should not ask, I mean … they are her photos, taken with her phone, so what could I do. So after all that, I just wanted to get my blowjob."

"So, finally, you get your well-deserved cock-sucking. That is great. And you were so polite and obedient to them and they must have done a fabulous job on your dick. That's just great! Wasn't it, Joe?"

"Ah … em… actually, after they took all those photos … they … ah … they left." He said flatly."

Now I see why he is here. If he has interest in my money, that would be very secondary. No, he "needed" me for sex. He is seeking that fabulous blowjob from me; he never got from those girls. He spent the last day or two thinking about what he did not get, and where he might, in fact, get it. That certainly puts the shoe on the other foot. Or should I say, a different mouth on a different dick? You think? Just how desperate or straight is this hunky, sexy military fellow.

"Here, let me refresh your drink." I took Joe's empty glass and made him another one. I did not want him totally plastered, but I did want the quality of his judgment reduced and his inhibitions decreased. So I made the drink light just to sustain his current level of impairment, handed it to him and sat down again. Military guys do learn to drink a lot. Later, as I noticed that my hunky solider boy was about as tipsy as I wanted him to be, I took the unfinished drink from him. He again, asked me if he could sit down, but I liked him standing there before me in just his black underwear, so I just shook my head. I think it made him feel vulnerable.

"Well, so you did not get your much needed, well-deserved blowjob. That's too bad. Very few guys ever get a decent one. Well … gay men do because only gay men know how they want their dicks to feel. Women don't have a clue." He was nodding in agreement. Not sure what that meant. "But, on the plus side, at least you got your dick and balls shaved, and your ass too. Right? How did the shaving job turn out?" He was about to explain it to me. "No, show me."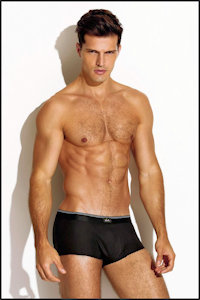 Come to My Room
Part 4 of 4

"Well, so you did not get your much needed, well-deserved blowjob. That's too bad. Very few guys ever get a decent one. Well … gay men do because only gay men know how they want their dicks to feel. Women don't have a clue." He was nodding in agreement. Not sure what that meant. "But, on the plus side, at least you got your dick and balls shaved, and your ass too. Right? How did the shaving job turn out?" He was about to explain it to me. "No, show me."

Joe pulled down the front of his Jockey underwear to show me his shaved groin area just above his dick. God, what a handsome man! Not only that, what a fabulous muscle-tone body. "No, don't just pull the top waistband down. I can't see your dick and balls like that? You want to show me the total humiliating shave job the girls made you undergo. Go ahead, show me the unmanly job they did on you, all of you." Joe just looked at me and hesitated.

"Joe, take those undies off; let me have a good look." I guess the booze had the desired effect. Without further delay, he slipped them off and dropped them on the floor. "No. No. Didn't the air force teach you anything about neatness? Are you trying to make me look bad?" There was a brief moment of a look of embarrassment on his face, like a little boy being scolded. "Pick those undies up. Pick up all your clothes, and do it now. For Pete's sakes." I did not yell it at him. I just used my disgusted-sounding voice. He quickly stooped showing a little bit of unsteadiness in his balance as he scooped up his clothes. I was so pleased his dick was fairly hard. A growing dick is really the only way to tell for sure if a man is becoming increasingly, erotically excited. He looked around as if to ask where to place them. I just put out my hands and he handed them to me. I stood up, took his clothes into my bedroom and tossed them under the bed, then returned.

Oddly, I had no idea how I should direct him, or what exactly I wanted him to do. I did not plan this out. After all, I'm a middle-aged, "cock-sucking faggot" as he put it. And that is true. I just love to be on my knees, working on a dick. And the dick of a handsome former soldier boy was such a plus. But this was unfolding all on its own. Yes, I have been feeling him out verbally to see if he would give me what I wanted, his dick. He seemed so desperate to get that dick sucked by a "professional fag" since the girls rebuffed him. I probably was his only chance to get a suck. His sense of desperation coupled with the inhibitions the booze created, made him very pliable. I guess the term would be, "putty in my hands." This is really a first. I have never been the dominant one before, nor do I really want to be. However, this is special. He is handing his dignity and his obedience over to me. Even a bottom cock sucker like me can't refuse this.

"Come over here and let me see what kind of a shaving job you did on your dick." Joe approached me. I was sitting and he was standing, his almost fully erect dick was inches from my face. He was moving slightly side-to-side which was because of his being tipsy. "No. I can't tell a shaving job unless your dick is hard, pump it up for me, let me see it all stretched out." I wanted two things here. One, to see his dick fully stiff, as huge as it could be. And two, I wanted to see if he would obey me and play with his dick. He did.

"Spread your legs, Joe; let me see how your ball shaving turned out." Again he did not hesitate. I reached in and fondled his big, hanging, freshly shaved balls. I wanted to avoid touching his dick for now because that was obviously the main thing he wanted from me. So he was not getting that, not yet. I felt his balls in their sac, using my fingers to gently move them around as I pretended to examine the closeness of the shave. Yeah, right, like I really cared if his balls were shaved or not. And, since most men find ball fondling erotic, he was not in a mood to pull away or to tell me to stop. He moaned; I pretended to ignore it.

"What the fuck." I told him, "I feel hair stubble all over your ball sack. You call this a shaving job?" Again, I was not raising my voice, just speaking in a made-up, authoritative voice. I was smiling inside; this phony macho thing was so foreign for me, someone who is affectionately known by his gay friends as a "silly queen."

"I did not tell you to stop pulling on your fuck stick, did I?" He shook his head and immediately started to jerk off really hard and fast. "Stop that right now," I yelled, and Joe was shocked. "I wanted you to do it slowly, but … nevermind … just leave it alone for now." I thought that he was ready to shoot, so I had to just stop him altogether. His dick was now really boned up and twitching, but at least he was not stroking it. It was a beautiful sight. My mouth was watering.

Back to his balls, which were really nicely shaved. "You know, Joe, on the one hand, I am very disappointed in you. For god sake. You don't even know how to shave your balls? Or … how to touch your dick properly, or even how to stand with your legs wide apart? You just repositioned yourself with your feet closer together after I just told you how to stand. Geez." Joe's face just flashed in a glowing red color as he jerked his feet wider apart. He must be feeling quite embarrassed in the way I was humiliating him. But his dick did not retreat. In fact, there was an oozing string of precum leaving his dick and slowly stretching to the floor.

"Now, look at you. I've just rented this room here and you are my guest, and look at you." Joe had a puzzled look on his face. Oh god! This was so precious. Here was the most handsome, hunky, cleanly shaved guy I have seen in a long time, totally naked, in a little boozed-mind haze, with a boned-up dick … dripping. And he is straight, a straight guy, early 20's, who just out of the military. There is no doubt in my mind he was straight, but he is out of his element here because he wanted something from a gay man. This was new to him and to me.

"Straighten up, man. Wipe the goo off your dick. Do it now." Joe looked down and realized he was leaking precum. Without thinking, he used his fingers to wipe it off. Then seemed to look for a towel or tissue to wipe his fingers clean. "Just lick it off your hand, hurry up." And he immediately sucked his fingers clean.

"As I was saying, on one hand, you seem to have no real talent in doing the macho things." He tried to interrupt, but I continued. "But on the other hand, you have no gay mentor to teach you. No wonder the women won't suck your dick. No wonder you are such a fucked up mess. I was just about to toss you out that door, as naked as you are, for being so ignorant about manly things. But … I guess … it's not your fault. You have no boss-figure to train you. No one to tell you what to do. No wonder you seem so hopeless and helpless." Yea, right. Like I was really going to push him out the door. Not on your fucking life! He looked like he was going to cry. A big hunky soldier boy, ready to sob like a wuss.

After a pause, I forced an exhaustive sound, as if thoroughly frustrated, "Alright … turn around and bend over. At least I can do you the favor and check out your ass-shaving job. Is that what you want me to do?" He nodded as if to plead, "Oh yes. Oh please. Please check out my ass. Oh please…"So I pretended to be disinterested and as he presented his ass to me, for "inspection." (Oh my!) "Let me see how the ladies shaved your asshole. It can't be any worse than the way you shaved your balls." He was bent over exactly right, but, of course, I need him to do it better. "No, I can't see anything like that, reach behind you and pull your ass cheeks apart." He did, "And bent over and further." He did that too.

I didn't think that he was cooperating because he was drunk. I made sure not to get him plastered. The booze did lower his guard somewhat, but he was really acting like he needed some sexual gratification. He hadn't gotten "any" since he was here a few days ago, that's an eternity for a horny, young, healthy male. Apparently, he was so desperate for physical contact, that even a queeny fem like me is acceptable to him.

"Stay still, now." I reached over to the lamp table where I had a spoon to stir my cocktail and use the handle end of it as a sort of "tongue depressor." I touched the flat end to his ass lips as if I was examining them. His body shook and trembled as I poked around his asshole. "I said just stay still, geez, can't you at least do that?" I rubbed the cold, smooth steal all around his hole, and then shoved it inside. Now he was moaning. Oh god! How I wanted to shove my tongue up that cute little rosebud ass hole of his. But I felt I should not. After all, I was now being "the top." Or at least trying to act like it. He was responding just fine, so I didn't want to screw it up.

I removed the spoon handle from his hole and had him straighten up and turn around. "Now, let's discuss cock sucking." Just then, Joe looked down at me and saw that I was sitting there with my hard dick sticking out from the opened zipper of my shorts. It was not a masterpiece, but a good 7 inches and cut. I was proud of it.

"Well, I want my dick sucked." Joe told me.

"Of course, every asshole does, but how? You want me to suck your dick, right?" Joe nodded. "But how? Everyone is different. What techniques appeal to you?

"Huh? I … ah …" Joe, who was not talkative this entire visit, was even more at a loss for words, and now seemed confused.

"OK, come here and kneel down between my legs." Joe hesitated but knelt as told. "You are in for quite a treat Joe. I'm not only going to suck your dick, but I am going to do it exactly as you tell me too. I'm here to please you. The trick is to thoroughly communicate it to me.

I placed my index finger on Joe's raging hard-on. It was dripping and he was obviously in need of a good full climax. I lightly traced the crown head of his dick, moving the slippery precum around the top. He moaned and even closed his eyes. "Bring your face down here. Go on, kneel, and see the similarity in our dicks as I lightly touch yours. It should be the same way you'd like to be licked. You think?" Joe nodded his head, but he was lost in the way I was teasing him. He was already on edge. "OK, I need to know if I am doing this correctly for you. Close your eyes. Place the tip of your tongue on the tip of my dick and mimic the motion my finger is doing to your boner. This is the only way you can train me to suck you correctly. Tell me how it feels to you."

Now, I do have to admit, I thought he would resist at this point. I thought he'd need some explanation as to why his mouth needed to be on my dick. But there it was. The tip and it was just the tip, of his protruded tongue, was touching my dick head, just as I was using my finger to move the slime around his own dick head. His tongue was still while my finger was circling the edge of his mushroom.

Keep your eye closed, "I spoke softly, "and copy how my finger is moving in circles. Do that and nod if that feels good to you, and that that is how you want me to tease your dick." Amazing. Straight soldier boy Joe was moving his tongue around the mushroom edge of my dick. Copying what I was doing. All to train me on how he wanted his dick sucked. I think he was just enjoying me fondling his rigid, hair-trigger dick. He certainly did not want my finger to stop.

"Now, Joe, let see if you'd like me to lick your piss slit." Again, all my words at this point were subdued and calming; at the same time, my teasing finger was edging his erotically charged mind. "Ok, feel the way my finger is teasing your piss slit gently. Do you like it a little rough like this?" I used my fingernail lightly, "Or softly like now? I use the pad of my finger over the piss hole. Show me how you want me to do it to you, exactly how." His tongue went gently over my piss hole and seemingly poked it as if he was trying to put the tip in my tiny pee hole. "Oh. OK, I'm learning. So you want me to do it like this," I tickled is winking piss eye, "and molested the little pee-pee hole itself. OK, dude. Keep teaching me. I'm learning. You're in charge.

"How about the underside of your dick? Which would feel better to you? Should I lick it from the base up to the tip? Or from the tip down to the base? Let's try it both ways, so I'll know what you like." This time I did not make any touches on the underside of his dick. I wanted him to lick my dick first. Not surprisingly, he licked my dick from the hairy root slowly up the dick and I immediately copied his tongue movement with my fingertip on his dick. He repeatedly licked my dick in that one direction. And I copied what he was doing to my dick, with my fingers on his dick. But he had to stroke me first. He was covertly learning to lick my dick in the way he wanted me to touch his dick. Now my dick was bobbing and dripping. Though his eyes were barely open, they were open. He was looking at what he was doing.

"Now, you're still in charge, Joe, you are the trainer and I am just the fag student, so take charge of my dick and show me how you want to be sucked." As I spoke, I placed my fist very lightly but fully around his twitching dick. I kept my fist motionless; I did not move it up and down his dick as he obviously wanted me to. It must have driven him crazy. His dick was pleading and demanding some firm contact with the fist that was encircling it, but I kept my hand so it only barely touched it. My dick was fully in his mouth. But his mouth was not moving up and down, either. So I moved my fist the tiniest bit downward on his dick, just a short movement. That caused him to plunge his mouth downward on my dick and then up again. My fist remained still again. He slipped his mouth off my dick and I thought he was going to stop sucking me altogether. So I made a small movement with my fist, and again, he was fully over it. At this point, if he wanted me to pump his dick to climax, he was going to suck my dick, in effect, "to show me" what he wanted to be done to him.

And he did. He moved his mouth up and down on my dick and I copied his movements on his dick with my fist. He was sucking me harder, apparently to signal that he wanted me to fist him harder, but I would move my hand easier and not as much as his mouth moved on my dick. As expected, as desired, this greatly agitated his horny disposition which caused him to suck me up and down more wildly as I ONLY lightly, very lightly, fisted his dick.

"You really want that dick, don't you dude." He nodded. I'm sure he was only caught up in the erotic moment. "You control my dick. You're the master of my dick." He nodded again and sucked harder. Now you might think having a straight, naked sexy, soldier boy sucking my dick would quickly drive me over the edge and I would cum immediately. Actually, I'm a fairly quick comer. But I liked to be sucked gently. That's what triggers my climax. A nice gently sucking. I cannot hold back from that. Joe, here, was sucking me like a wild man with a vacuum cleaner. Yes, it was erotic, but that hard sucking allowed me to hold off for a while. So what he was doing was perfect. His technique was holding off my climax and allowing me to enjoy him longer.

My hand was still making gentle love to his wonderful dick. "Yeah, Joe, you're not going to let some faggot queen tell you what to do. I'm just putty in your hands. You know I have to do whatever you show me how to do. I have no choice." That was funny. I was laughing on the inside because I somehow figured out how to manipulate him without his being aware of it. "Yeah, Joe, show me how you like it. Show me how all the soldier boys do it in boot camp." He surely was not hearing a word; he was too focused on sucking my dick so I would cause him to climax.

I was so fucking close to shooting I knew he had me. "Yeah. And I'll bet you want me to suck your load down my throat. Don't you, Joe. You want his faggot soldier to swallow every bit of this faggot load. You earned it. You're the boss. You're the man. You're the cock sucking soldier." He was sweating profusely. "A straight soldier boy like you needs a lot of faggot cock to suck and faggot cum to swallow." I was now calling him the fagot cuck sucker. Maybe he heard it on a subconscious level, I'm not sure. But it was working. He continued to suck for all he was worth. I did a couple of things in succession. First, I finally brought him to the point of no return with my one fist. And immediately following, I cupped my free hand around the back of his head to jam my dick down into his throat. I felt my dick squeeze into his virgin throat. He would have gagged and jolted, except for the fact that he was shooting a gallon of his juice all over my leg, including my shoe and all-around floor. Damn, was he a gusher! I shot several blasts of cum down his throat. My dick was so shoved into his mouth canal; I don't think he even tasted it.

I stopped pumping his mighty soldier dick as soon as he came, but I held his mouth fully on my dick for a minute longer. I just wanted to relish the power I had over my handsome stud soldier boy. Being a natural born cock sucker, this was a fluke for me. Not really something I wanted to repeat. In truth, I would have preferred to be the one on my knees sucking him off, as I did a few days ago. But, this was a very pleasant diversion. Or is that … perversion. I did enjoy it.

I gently let him off my dick and hugged his sweating head in my lap as he kneeled before me. We were both silent for a while. Then I placed my hands on his head and pointed his face to mine. I calmly told him, "Next time, I get to suck you off." He was clearly shaken. I offered him a shower, but he shook his head no. He was not really upset, just confused. I got up, went into the bedroom to retrieve his clothes and handed them to him. Joe took his underwear and hurriedly pulled them on. He silently scooped up the rest of his clothes and scurried out the door. Yes, he was confused and quite embarrassed.

I enjoyed the last few days of my vacation, as uneventful as they were, by just relaxing on the beach. What happened with Joe was never again repeated there, or anywhere. It was one moment in time. As I was leaving my room to check out, the phone on the side table rang. I fantasied that it must be Joe calling me to beg me to come to my room, so he could plead with me to suck my dick. I smiled at that thought. I didn't pick up that call since I was already running a bit late to catch my flight home.

This was my most memorable trip to Fort Lauderdale … so far.

The End

Copyright 2015 GayTies.com.