Welcome to GayTies.com where membership is free.
Videos! Videos! Videos! Welcome to the most unique Gay Networking website! It' free to join. Connect with gay men all around the world including your own city. Search 100,000 profiles. Go into live chat! Read gay oriented articles, stories and gay daily news. Seek out some one to date, or just to be your friend. 30,000 sexy male photos and videos. Read & post personal ads. The gay world is wonderful!

No credit card required to join. So click here to join for free
Featured Members
GayTies News for July 29, 2016
So You're A Straight Guy Who Wants To Try Butt Stuff

"Your anus does not have a sexual orientation." Welcome to BuzzFeed Sex Q&A, where you can ask us your awkward, confusing, gross, embarrassing, or thought-provoking questions, and we'll provide ... Show more

Karl Stefanovic Just Threw Around Anti-Trans Slurs Like It's No B...

On Thursday morning,Today discussed an attempted robbery of Australian reporters in Rio de Janeiro – and found the gender identity of the people involved hilarious. Channel 9Over a soundtrack of Gloria ... Show more

Justice Department, Allies Back Transgender Protections In Federa...

Attorney General Loretta Lynch Jonathan Ernst / ReutersWASHINGTON — The Justice Department strongly defended the Obama administration's pro-transgender policies in federal court in Texas on Wednesda... Show more

Which Summer Butt Is Your Soulmate?

Everyone needs somebutt-y to love. Everybody knows that this is the summer of the Butt. Jenny Chang / Taylor Miller / BuzzFeed View Entire List › Show more

The Letter "Q" Was Kept Off Democratic Party's LGBT Platform

Connecticut Gov. Dannel Malloy, co-chair of the Democratic Party's platform committee. AP / Matt RourkeBefore Donald Trump stunned TV viewers last week by not only mentioning LGBT people in his Republican... Show more

Kristen Stewart Opens Up About Her Girlfriend In Elle UK

"To hide this provides the implication that I'm not down with it or I'm ashamed of it, so I had to alter how I approached being in public. It opened my life up and I'm so much happier." Kristen ... Show more




Be open in your profile; tell people who you are and what you like. If you're secretive, no one will warm up to you.
Article of the Week
A Beautiful Famly

The first time Steve and Mark (now both in their 50's) met it was clear that they had so much in common and, within seven months, they bought a house and were living together. The two were very active in the community and became involved in the fight against Prop 8, making trips to Washington DC and Sacramento to voice their opinions. "We both felt strongly about wanting to have equal rights as any other couple," Mark said, "and once that was achieved, we realized that also meant we could have equal rights as a family ― something we never really thought about until that was achieved."

Steve and Mark discussed it and agreed that they were interested in creating a family through the foster-adopt system. Steve explained, "we had the conversation, and neither of us had to convince the other one. We were in total agreement. I began by doing online research and came across the RaiseAChild website. On the site there was a button that read, 'Take The Next Step to Parenthood,' so we clicked on it and our new adventure began."

There were the classes, the training, the licensing, and the paperwork ― all seemed to be daunting, but they made it through and got the call from the Los Angeles County Department of Children and Family Services for an emergency placement. They both felt that it made more sense for them to have an older child, but instead they received Jeremiah, a 19-month old baby that needed a foster family. Steve acknowledged, "it was much more work than we initially thought, but we learned that people can handle much more than they think they can."

It was clear to them that the best interest of the child was always the main priority, and during the 18 months they had Jeremiah, they worked closely with the social workers and Jeremiah's biological mother to facilitate a reunification. According to the social worker, she had never seen any couple, same-sex or opposite sex couple, do as much as Steve and Mark to get mother and son back together.

Once they were united, Jeremiah's mother knew what these two had done for her and her son, and was very appreciative. She asked if they would be willing to remain a part of Jeremiah's life and watch him from time to time. They remain very close and have Jeremiah at least once a week as his mother continues to work and create a life for her and her son.

"While we had Jeremiah in our care, we met the two brothers that would become our sons, Adrian and Matthew," Steve said. "They are typical kids, funny, athletic, full of energy and the occasional attitude. They had no boundaries or routines before they came to our home, so it has been a learning experience for everyone, but they seem to be thriving with their new rules and structure."

Adrian and Matthew were fostered by Steve and Mark for six months, and the adoption became official on St. Patrick's Day, a point they find ironic since the brothers are considered "Irish twins"― siblings that are born within twelve months of each other.

Mark had worked for a medical billing company for years, and admits it wasn't a hard decision to leave that behind to become a stay-at-home dad. "I know this is cliché, but it is the hardest job I have ever had. I believe it was an advantage for me to come home from school and have my mother at home, and we wanted to give that to our kids. There are so many times they arrive home from school and have something that they want to share or vent, and it is important to us that they come home to their dad, and not a nanny or babysitter."

Having a family changes everything, and they stress that you really need to educate yourself about the process and how it will affect every aspect of your life. As older gay men, there was lots of hesitation about whether they could handle all of the situations that arise from having a family, and friends were not always supportive. Steve sums it up, "as an adult you can get stuck in your routine and expectations, but at any age you can open yourself up to your full potential, and you will find energy that you never thought you had!"

"What is most amazing," Steve says, "is that you get to explore life again with your kids and you get the joy of adding those experiences to your own life."

In addition, their own views changed on their definition of a family. When they first met Adrian and Matthew, there was also a third, younger brother, Rudy. Because of Rudy's special needs and situation, he was placed with another couple, who were looking for one child. It was a perfect fit and everyone agreed to have the brothers spend as much time together as possible.

"Our definition of family went out the window," explained Steve, "as we realized there is not one right family, the family you have is the best family. We started out wanting to create one family, but with Jeremiah and his mother, and Rudy and his parents, we got three families!" (7/24)
Special Features of GayTies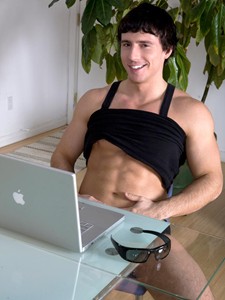 GayTies, A Community Service


GayTies.com, which is a not-for-profit website, is run by disabled Americans. To date, and it has been over 10 years now, no one has gotten paid to work on or manage GayTies.com. In the company plan, no one will ever get paid. In fact, the staff still pays a portion of the expenses to host and operate the site. You might think that is really weird or even untrue. Why would anyone do this you ask, if not for pay?

The creators of this website find a great social value in establishing a sort of web-based, gay community outreach newspaper, some may call it a social network. . Like many newspapers, GayTies has an up to the minute gay news section, a featured story, Personal Ads, a game or comic section (including Fun with Captions and dirty word crossword puzzles as well as a unique photos puzzle THEY designed), and an entertainment section. In addition to those common features, GayTies.com has a live chat room, a Video Library of nearly 3,000 gay clips and videos (and growing), a Photo Gallery of 0ver 20,000 naked mens photos (and growing), and some unique features such as daily GAY horoscopes, Lucky Numbers, tons of searchable profiles, and ORIGINAL erotic stories.

AND … here is a biggie, GayTies.com has a real customer support staff that will assist you usually within 12 hours to answer your questions or help you use the website. Wow! That is amazing. All this for free. When they say free, they mean anyone who joins (with a proper email address) has access to 90 percent of the entire website content. They only offer some videos and some photos for a low cost to help pay for the maintenance of the site. GayTies may be free to you, but it is not free to those who run it and manage it and add improvements to it

Why doesn't GayTies get income from ads and re-directs to other paid sites, like every other gay website that features sexy videos?

It's very simple. They hate the way those other sites operate. When you go to a site that says "FREE" and you click on something FREE, it takes you to another site that is pay only. They HATE that, don't you? GayTies.com accepts no advertising. There are no sneaky re-directs to other sites, no re-directs at all, there are no cookies to misuse and abuse their members, there is no selling or exchanging of members' contact info. No tricks.

Let me demonstrate the difference with GayTies and other site, in another way. Almost all gay website out there are either gay videos, or gay porn stories or gay news. BUT as far as I can tell, GayTies is the ONLY website has all 3 of these features. PLUS … live chat rooms, games, personal ads and profiles to search. BTW, the most popular gay videos and photos are guys naked in public. As for our gay porn stories, we have everything form sex and romance to a world of kink and leather,. That is another difference, other gay site are either main stream gay or all kink. Gayties.com has both.

A lot of our members are shut-ins or guys who are deep in the closet who need community information and some comfort and support. I know this may sound like bullshit, but some people in the world want to provide a service. In this case, an important service that delivers comforting entertainment, up-to-date news, great videos and photos, and a vehicle to meet other gay and bi men in person or just on the internet in chat.

Who are these charitable guys who created and operate this site?

They chose to remain anonymous because they do not want to over showdown their humanitarian outreach to the gay and bisexual community. But I can tell you that these men have worked for decades as volunteers in the gay community, many years assisting people with AIDS, working on improving relationships with police, One of these men is responsible for establishing and operating an anti-gay violence hot line, and in general, working to secure full right to the LGBT community. I know almost all private adult websites are probably big companies that spam everyone, trick them, plaster their sites with misleading advertising as well as awful and annoying re-directs. Gayties.com has it organizational model centered on establishing a valuable service. A service that is safe and private, run by a few guys who want to give back to the community. It's a service that is entertaining and informative; a service that is largely free, and hopefully soon, self-sustaining.

GayTies staff wants to thank those many members for their long term support. If you would also like to help, please buy an upgraded membership, and/or give a donation, or help promote GayTies.com on other website and forums and blogs. We need more members to post links back to GayTies.com on such site as Facebook and Twitter, Reddit and whatever other gay-friendly site you come across. Thank you all for your support!

Tomorrow will begin another new Kinksville story, don't miss it. Upgrade today to read the full story sections starting now. Read, view and participant in the many things regular members cannot.

Copyright 2015 GayTies.com. These articles are displayed for only 24 hours, and are reposted only once every two months. So login every day so you don't miss a one of them!