Welcome to GayTies.com where membership is free.
Videos! Videos! Videos! Welcome to the most unique Gay Networking website! It' free to join. Connect with gay men all around the world including your own city. Search 100,000 profiles. Go into live chat! Read gay oriented articles, stories and gay daily news. Seek out some one to date, or just to be your friend. 30,000 sexy male photos and videos. Read & post personal ads. The gay world is wonderful!

No credit card required to join. So click here to join for free
Featured Members
GayTies News for December 10, 2016
20 Of The Most Amazing Trans Moments Of 2016

"Every day matters when it comes to building a world where every person can live their life to the fullest." It was a year for victories, like when Tangerine star Mya Taylor won Best Supporting Female... Show more

17 Times The Marriage Equality Debate Was Too Much For Gay Austra...

What a silly year. We entered 2016 with the government planning to hold a national vote on marriage equality. But things started to go south in, well, January, when government MPs said they wouldn't abide by the ... Show more

The Biggest Mystery On "Westworld" Is Where The Hell Are All The ...

Bojana Novakovic as Marti and James Marden as Teddy in Westworld. HBOIn the pilot episode of HBO's sci-fi Western Westworld, Shannon Woodward's character Elsie does something odd. She's a be... Show more

What It Was Like For Queer Women To Watch Television This Year

There was a lot of heartache this year, but it wasn't all bad. Some serious end-of-year spoilers ahead. There is still a long way to go when it comes to the representation of gay and bisexual women on telev... Show more

11 Life Lessons We Learned From Janet Mock

Writer, filmmaker, trans activist, and beautiful human Janet Mock stopped by BuzzFeed's Another Round podcast to tell us about her skincare routine, why coral is her power color and her new film The Trans L... Show more

Trans Woman To Be Released On Bail After Nine Months In A Men's P...

A transgender woman has been granted bail after spending over nine months in a men's prison in Western Australia. Ian Waldie / Getty ImagesCJ Palmer, a sex worker who worked under the name "Sienna Fox", has b... Show more




Oh God. I haven't had sex for so long, I am so horned up, would you PLEASE just touch me, ... any way you want?
Article of the Week
No Asians, no black people. Why do gay people tolerate blatant racism?
Owen Jones

Racism is a serious problem within the LGBT community and needs to be addressed. Despite the determination of many minority ethnic LGBT people to do just that, it is not happening. "How can I be a bigot when I am myself a member of an oppressed minority?" is a prevailing attitude among some white LGBT people. But another far more pernicious reason is that the LGBT world revolves around white gay men to the exclusion of others. The rainbow flag is whiter than it appears.

"I'm sexualized for my skin tone and never treated as a person," Saif tells me. "The community is trained to accept a white, 'masc', muscled gay man and the rest of us are not really accepted or 'one of their own'." It's not the individual he blames, but being conditioned by a community that venerates the "sexual image of a white gay man". According to research by FS magazine, an astonishing 80% of black men, 79% of Asian men and 75% of south Asian men have experienced racism on the gay scene.

This manifests itself in numerous ways. Some are rejected because of their ethnicity; on the other hand, some are objectified because of it. On dating sites and apps, profiles abound that say "no Asians" or "no black people", casually excluding entire ethnic groups. It's like a "bastardized 'No dogs, no blacks, no Irish' signs", as Anthony Lorenzo puts it.

"On apps like Grindr," writes Matthew Rodriguez, "gay men brandish their racial dating preferences with all the same unapologetic bravado that straight men reserve for their favorite baseball team."

Homi tells me he has Persian ancestry, and is "sometimes mistaken for being Greek, Italian, Spanish, etc." Once, at a nightclub, he was relentlessly pursued by a fellow patron. Eventually, he was asked: "Where are you from?" When Homi answered India, the man was horrified. "I'm so sorry – I don't do Indians! Indians are not my type."

And it is not simply a western phenomenon. Luan, a Brazilian journalist, tells me his country has a "Eurocentric image of beauty" and there is a "cult of the white man, which is absurd, given more than half the population is black or brown". Others speak of their experiences of being rejected by door staff at LGBT venues. Michel, a south Asian man, tells me of being turned away because "you don't look gay", and being called a "dirty Paki". He says it has got worse since the Orlando nightclub massacre, where the gunman was Muslim.

And then there's the other side of the equation: objectification. Malik tells about his experiences of what he describes as the near "fetishisation" of race. The rejection of people based on ethnicity is bad enough, he says, "but it can be just as gross when someone reduces you to your ethnicity, without consent, when dating/hooking up". His Arab heritage was objectified and stereotyped by some would-be lovers, even down to presuming his sexual role.

When the Royal Vauxhall Tavern – a famed London LGBT venue – hosted a "blackface" drag act, Chardine Taylor-Stone launched the Stop Rainbow Racism campaign. The drag act featured "exaggerated neck rolling, finger snapping displays of 'sassiness', bad weaves" and other racial stereotypes, she says. After launching a petition against the event, she received threats of violence. "White LGBTQs who are truly against racism need to step up and take ownership of what is happening in their community," she writes.

LGBT publications are guilty too. Historically, they've been dominated by white men, have neglected issues of race, and have portrayed white men as objects of beauty. Dean stopped buying mainstream gay magazines two years ago. "The only time they would write about people of color is when they had done something homophobic," he says. "The gay media is completely whitewashed."

There has been positive change in recent months, one leading black gay journalist tells me, but only because of the work of ethnic minority LGBT individuals "holding magazines to account, setting up their own nights across the scene" and using social media, blogs, podcasts and boycotts to force change.

While LGBT people are much more likely than heterosexuals to suffer from mental distress, the level is even higher among ethnic minorities. Undoubtedly, racism plays a role. As Rodriguez puts it, seeing dating app profiles rejecting entire ethnic groups causes "internalized racism, decreased self-esteem and psychological distress."

Many of the rights and freedoms that all LGBT people won were down to the struggles of black and minority ethnic people: at the Stonewall riots, for example, non-white protesters. The least that white LGBT people can do is to reciprocate and confront racism within their own ranks. Shangela, an actor, tells me that racism from the LGBT community "hurts more because it's coming from people that I'm meant to share a kinship with".

The far-right movements on the march across the western world are consciously trying to co-opt the LGBT rights campaign for their own agenda. Muslims are portrayed as an existential threat to gay people, particularly after Orlando. There are those who only talk about LGBT rights if it is to bash Muslims or migrants as a whole. American white nationalist websites now sell LGBT pride flags along with the Confederate flag. This week, Milo Yiannopolous – a gay attention-seeker who has become an icon of the US far right – was at the center of a media storm because a platform to speak at his old school was withdrawn. In the Netherlands, the anti-immigrant right was led by a gay man, Pim Fortuyn, until his assassination. In France, reportedly a third of married gay couples support the far-right National Front.

The struggle against racism has, of course, to be led by people of color who suffer the consequences – such as Black Out UK, which fights for a platform for black gay men, and Media Diversified, which campaigns for minority representation in the media. But unless white LGBT people – who the official gay scene venerates – listen to the voices of those who are sidelined, little will change.

Being oppressed yourself does not mean you are incapable of oppressing others: far from it. LGBT people have had to struggle against bigotry and oppression for generations. It is tragic that they inflict and ignore injustice in their own ranks.(12/3)
Special Features of GayTies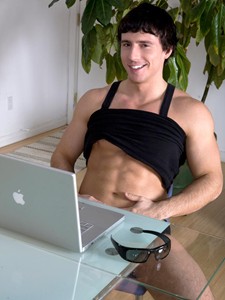 GayTies, A Community Service


GayTies.com, which is a not-for-profit website, is run by disabled Americans. To date, and it has been over 10 years now, no one has gotten paid to work on or manage GayTies.com. In the company plan, no one will ever get paid. In fact, the staff still pays a portion of the expenses to host and operate the site. You might think that is really weird or even untrue. Why would anyone do this you ask, if not for pay?

The creators of this website find a great social value in establishing a sort of web-based, gay community outreach newspaper, some may call it a social network. . Like many newspapers, GayTies has an up to the minute gay news section, a featured story, Personal Ads, a game or comic section (including Fun with Captions and dirty word crossword puzzles as well as a unique photos puzzle THEY designed), and an entertainment section. In addition to those common features, GayTies.com has a live chat room, a Video Library of nearly 3,000 gay clips and videos (and growing), a Photo Gallery of 0ver 20,000 naked mens photos (and growing), and some unique features such as daily GAY horoscopes, Lucky Numbers, tons of searchable profiles, and ORIGINAL erotic stories.

AND … here is a biggie, GayTies.com has a real customer support staff that will assist you usually within 12 hours to answer your questions or help you use the website. Wow! That is amazing. All this for free. When they say free, they mean anyone who joins (with a proper email address) has access to 90 percent of the entire website content. They only offer some videos and some photos for a low cost to help pay for the maintenance of the site. GayTies may be free to you, but it is not free to those who run it and manage it and add improvements to it

Why doesn't GayTies get income from ads and re-directs to other paid sites, like every other gay website that features sexy videos?

It's very simple. They hate the way those other sites operate. When you go to a site that says "FREE" and you click on something FREE, it takes you to another site that is pay only. They HATE that, don't you? GayTies.com accepts no advertising. There are no sneaky re-directs to other sites, no re-directs at all, there are no cookies to misuse and abuse their members, there is no selling or exchanging of members' contact info. No tricks.

Let me demonstrate the difference with GayTies and other site, in another way. Almost all gay website out there are either gay videos, or gay porn stories or gay news. BUT as far as I can tell, GayTies is the ONLY website has all 3 of these features. PLUS … live chat rooms, games, personal ads and profiles to search. BTW, the most popular gay videos and photos are guys naked in public. As for our gay porn stories, we have everything form sex and romance to a world of kink and leather,. That is another difference, other gay site are either main stream gay or all kink. Gayties.com has both.

A lot of our members are shut-ins or guys who are deep in the closet who need community information and some comfort and support. I know this may sound like bullshit, but some people in the world want to provide a service. In this case, an important service that delivers comforting entertainment, up-to-date news, great videos and photos, and a vehicle to meet other gay and bi men in person or just on the internet in chat.

Who are these charitable guys who created and operate this site?

They chose to remain anonymous because they do not want to over showdown their humanitarian outreach to the gay and bisexual community. But I can tell you that these men have worked for decades as volunteers in the gay community, many years assisting people with AIDS, working on improving relationships with police, One of these men is responsible for establishing and operating an anti-gay violence hot line, and in general, working to secure full right to the LGBT community. I know almost all private adult websites are probably big companies that spam everyone, trick them, plaster their sites with misleading advertising as well as awful and annoying re-directs. Gayties.com has it organizational model centered on establishing a valuable service. A service that is safe and private, run by a few guys who want to give back to the community. It's a service that is entertaining and informative; a service that is largely free, and hopefully soon, self-sustaining.

GayTies staff wants to thank those many members for their long term support. If you would also like to help, please buy an upgraded membership, and/or give a donation, or help promote GayTies.com on other website and forums and blogs. We need more members to post links back to GayTies.com on such site as Facebook and Twitter, Reddit and whatever other gay-friendly site you come across. Thank you all for your support!

Tomorrow will begin another new Kinksville story, don't miss it. Upgrade today to read the full story sections starting now. Read, view and participant in the many things regular members cannot.

Copyright 2015 GayTies.com. These articles are displayed for only 24 hours, and are reposted only once every two months. So login every day so you don't miss a one of them!