Welcome to GayTies.com where membership is free.
Videos! Videos! Videos! Welcome to the most unique Gay Networking website! It' free to join. Connect with gay men all around the world including your own city. Search 100,000 profiles. Go into live chat! Read gay oriented articles, stories and gay daily news. Seek out some one to date, or just to be your friend. 30,000 sexy male photos and videos. Read & post personal ads. The gay world is wonderful!

No credit card required to join. So click here to join for free
Featured Members
GayTies News for September 30, 2016
A Toronto Professor Is Facing Criticism For Saying He Won't Recog...

A non-binary professor wants him to know they certainly do exist. A tenured psychology professor at the University of Toronto has drawn criticism after posting a lecture online in which he dismisses the validity ... Show more

DC Comics Writer Confirms Wonder Woman Has Had Relationships With...

"The answer is obviously yes." In an interview with Comicosity on Thursday, Greg Rucka, the current writer of DC Comics' Wonder Woman, confirmed that the Amazon princess plays for both teams. "No... Show more

Chest Binding Is Really Good For LGBT Mental Health According To ...

Groundbreaking research might finally help providers better care for their gender-nonconforming patients. The survey asked participants all about their binding practices. It included questions about binding me... Show more

Can You Guess Who Is Buying The Gay Wedding Cake?

The Australian government might allow bakers to deny service to gay couples if marriage equality is legalised… but how will the bakers know who wants a gay wedding cake? Show more

24 Problems That Are Way Too Real For Femme Queer Girls

Being left out of "the nod" when you see other queer people in public. Dating someone a bit more masculine and getting asked why you just don't date men. Netflix / Via giphy.com Having to deal wi... Show more

23 Times Rory And Paris Were The One True "Gilmore Girls" Couple

The greatest romance of the 21st century. When Paris was mad that Tristin liked Rory. It's apparently because she was into Tristin, like sure, ok. Warner Bros When Paris was always playing hard to get. ... Show more




We are all volunteers here, so if you see a typo or misspelled word, use "contact us" (bottom of page) to report it.
Article of the Week
Singer Kassam Honors A Gay Pal's Struggle

Originally born and raised in the Ivory Coast, Jamil Kassam rapidly discovered the true power of music. From the civil war to the bird flu, whenever there was a significant event happening in the country, the Ivorians would draw inspiration from it and create a new musical current. For example, throughout the years of political war, music was vastly used as mean to exorcise the pain: Violence would cease and people would come together, even if it were only for the duration of a song. That's when he became aware of how powerful music could be. Being bathed in this culture, Kassam aimed to sing and use music as a vehicle to raise awareness.

"As a songwriter, I began writing music to unite people. Artists such as Tiken Jah Fakoly, Emeli Sande or Nneka inspire me. Their songs raised awareness across nations, advocating peace around the world, and sheding light on its ills. Traveling the world gave me the unique opportunity to connect with many different cultures. In every city I have visited, music was always the universal language of the people."

"As a vocalist and composer, my work is meant to explore and combine many different styles and genres of music, in an effort to create a universal message that can be shared with different cultures. Growing up in Ivory Coast, I developed a deep understanding of African rhythms. Coming from an Indian family, I was taught at a young age classical Indian music techniques."

"When I relocated to Dubai following the Civil War, I studied the basics of oriental music. Finally, when I moved to Europe, I spent seven years in Paris and Brussels, where I studied classical and contemporary music in conservatories. My main goal as an artist today is to combine all these influences and create universality in music."

"I urge you try to believe in the world accepting you for who you are," the 27-year-old, Jamil Kassam, sings in the lyric video for "Rise Now," which was released Sept. 16. "So stand up and rise now, baby."

Ultimately, the song is about "affirming your own truth, no matter how hard it is and no matter how afraid you are," Kassam told The Huffington Post. Although he drew on his gay friend's experience in writing "Rise Now," he added, "I decided to make it more universal so that anyone could relate to it."

Noting that his mission is about "world commitment" and "striving for global equality," he told The Huffington Post that the LGBT community has "accepted me for who I am, and I can relate to their struggle."

"Rise Now," he added, has personal resonance, too. "As ironic as it was, I realized this song was also about me coming forward as an artist and owning my music," he said all my partner. My work involves a lot of travel. For the first time I have had someone to come home to." (9/25)
Special Features of GayTies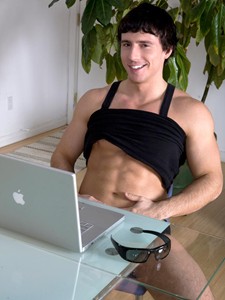 GayTies, A Community Service


GayTies.com, which is a not-for-profit website, is run by disabled Americans. To date, and it has been over 10 years now, no one has gotten paid to work on or manage GayTies.com. In the company plan, no one will ever get paid. In fact, the staff still pays a portion of the expenses to host and operate the site. You might think that is really weird or even untrue. Why would anyone do this you ask, if not for pay?

The creators of this website find a great social value in establishing a sort of web-based, gay community outreach newspaper, some may call it a social network. . Like many newspapers, GayTies has an up to the minute gay news section, a featured story, Personal Ads, a game or comic section (including Fun with Captions and dirty word crossword puzzles as well as a unique photos puzzle THEY designed), and an entertainment section. In addition to those common features, GayTies.com has a live chat room, a Video Library of nearly 3,000 gay clips and videos (and growing), a Photo Gallery of 0ver 20,000 naked mens photos (and growing), and some unique features such as daily GAY horoscopes, Lucky Numbers, tons of searchable profiles, and ORIGINAL erotic stories.

AND … here is a biggie, GayTies.com has a real customer support staff that will assist you usually within 12 hours to answer your questions or help you use the website. Wow! That is amazing. All this for free. When they say free, they mean anyone who joins (with a proper email address) has access to 90 percent of the entire website content. They only offer some videos and some photos for a low cost to help pay for the maintenance of the site. GayTies may be free to you, but it is not free to those who run it and manage it and add improvements to it

Why doesn't GayTies get income from ads and re-directs to other paid sites, like every other gay website that features sexy videos?

It's very simple. They hate the way those other sites operate. When you go to a site that says "FREE" and you click on something FREE, it takes you to another site that is pay only. They HATE that, don't you? GayTies.com accepts no advertising. There are no sneaky re-directs to other sites, no re-directs at all, there are no cookies to misuse and abuse their members, there is no selling or exchanging of members' contact info. No tricks.

Let me demonstrate the difference with GayTies and other site, in another way. Almost all gay website out there are either gay videos, or gay porn stories or gay news. BUT as far as I can tell, GayTies is the ONLY website has all 3 of these features. PLUS … live chat rooms, games, personal ads and profiles to search. BTW, the most popular gay videos and photos are guys naked in public. As for our gay porn stories, we have everything form sex and romance to a world of kink and leather,. That is another difference, other gay site are either main stream gay or all kink. Gayties.com has both.

A lot of our members are shut-ins or guys who are deep in the closet who need community information and some comfort and support. I know this may sound like bullshit, but some people in the world want to provide a service. In this case, an important service that delivers comforting entertainment, up-to-date news, great videos and photos, and a vehicle to meet other gay and bi men in person or just on the internet in chat.

Who are these charitable guys who created and operate this site?

They chose to remain anonymous because they do not want to over showdown their humanitarian outreach to the gay and bisexual community. But I can tell you that these men have worked for decades as volunteers in the gay community, many years assisting people with AIDS, working on improving relationships with police, One of these men is responsible for establishing and operating an anti-gay violence hot line, and in general, working to secure full right to the LGBT community. I know almost all private adult websites are probably big companies that spam everyone, trick them, plaster their sites with misleading advertising as well as awful and annoying re-directs. Gayties.com has it organizational model centered on establishing a valuable service. A service that is safe and private, run by a few guys who want to give back to the community. It's a service that is entertaining and informative; a service that is largely free, and hopefully soon, self-sustaining.

GayTies staff wants to thank those many members for their long term support. If you would also like to help, please buy an upgraded membership, and/or give a donation, or help promote GayTies.com on other website and forums and blogs. We need more members to post links back to GayTies.com on such site as Facebook and Twitter, Reddit and whatever other gay-friendly site you come across. Thank you all for your support!

Tomorrow will begin another new Kinksville story, don't miss it. Upgrade today to read the full story sections starting now. Read, view and participant in the many things regular members cannot.

Copyright 2015 GayTies.com. These articles are displayed for only 24 hours, and are reposted only once every two months. So login every day so you don't miss a one of them!