Welcome to GayTies.com where membership is free.
Videos! Videos! Videos! Welcome to the most unique Gay Networking website! It' free to join. Connect with gay men all around the world including your own city. Search 100,000 profiles. Go into live chat! Read gay oriented articles, stories and gay daily news. Seek out some one to date, or just to be your friend. 30,000 sexy male photos and videos. Read & post personal ads. The gay world is wonderful!

No credit card required to join. So click here to join for free
Featured Members
GayTies News for February 8, 2016
Black Trans Lives Matter, Too

Tragically, 2015 was the deadliest year on record for black trans and gender non conforming women with the total number of murder victims ranging from 21-25. Our average life expectancy is a paltry 35 years, les... Show more

Coming Out to Your Partner as Transgender

"No. You're not leaving me," she said. "I've decided and that's it." I'll never forget those words or the image in my mind of her standing there in the kitchen crying. Pleading with me. You see, I was trying to b... Show more

Not Queer, Just Gay. No, Thanks.

This may be my last contribution to what I will always call "Gay Voices." I am no fan of the decision by office staff to label us all "Queer" in the name of inclusion. I'm in favor of a more inclusionary name. Us... Show more

Proud Women of Africa: Rainbow Girls

Co-authored by Nick Schönfeld. I have a friend called Dagny Warmerdam whom I met during my time in Cape Town. Over the years Dagny has become one of the most important people in my life. We've been through so mu... Show more

In Iowa, Hillary Shows She's Learned Something About Running Whil...

This post originally appeared on The Cut. By Rebecca Traister For all those Democrats who fretted for the past year about the probability of a listless primary, and for any who (inanely) predicted a "coronation" ... Show more

10 Steps to Winning the Transgender Bathroom "Debate"

1. Stop Calling It a Debate - If your argument against allowing transgender people to use the bathrooms associated with their gender identity amounts to repeating a lot of garbage that is patently false, it is no... Show more




If you are concerned about your photo showing up in "Random Recent Logins", just use "Contact us" to have us remove it from there.

Article of the Week
Nearly 1 Million Italians Rally for Civil Unions

Italy is the last Western European country without some form of relationship recognition for same-sex couples. Italians have just sent a strong message to their government in the name of l'amore. Hailing it as "a historic day for our country," the LGBT group Arcigay estimated that 1 million people took to the streets Saturday in nearly 100 cities across Italy, reports The New York Times.

Protestors are urging their lawmakers to pass legislation that would recognize civil unions for same-sex couples. This legislation is also expected to grant custody of children raised by these couples to both partners, not just the biological parent.

The Senate is to begin debate on the civil unions bill Thursday. If it passes the bill, it will go to the other house of Parliament, the Chamber of Deputies. It is expected to pass both houses, but supporters in the largely Catholic country fear it will be weakened in the process.

The opposition has proposed up to 6,000 amendments that would impede it, including one that would punish same-sex couples who use overseas surrogates to become parents. The amendment would require same-sex couples entering into a civil union to prove they had not used the services of a surrogate from another country, Agence France-Presse reports.

"If they cannot, the partner who is not the biological father would not be allowed to adopt the child and a judge would be entitled to have the child placed in care and put up for adoption," the news service notes. The punishment for using an overseas surrogate would be a prison term of up to two years and a fine of up to 1 million euros, whether or not the practice is legal in the surrogate's home country. There are already penalties like this for the use of a surrogate within Italy.

Gay rights activists denounced the proposal. "This is indecent," said Gabriele Piazzoni, the national secretary of Arcigay, according to AFP. "A law intended to recognize rights cannot be transformed into a criminalizing one that talks about prison."

The amendment was introduced by senators from Prime Minister Matteo Renzi's Democratic Party. The nation's interior minister, Angelino Alfano, recently called for even harsher penalties, saying the use of surrogate mothers should be treated like a sex crime.

The Senate is to begin debate on the civil unions bill Thursday. If it passes the bill, it will go to the other house of Parliament, the Chamber of Deputies. It is expected to pass both houses, but supporters fear it will be weakened in the process, AFP reports.

"Opponents meanwhile have threatened a constitutional challenge and a campaign for a ratifying referendum if parliament approves gay unions that they think resemble marriage too closely," the news service notes.

Pope Francis, who famously asked "Who am I to judge?" when it came to gay priests, also made comments ahead of the Thursday debate. "There can be no confusion between the family God wants and any other type of union," he said Friday to a Vatican court, according to The Guardian. "The family, founded on indissoluble matrimony that unites and allows procreation, is part of God's dream and that of his Church for the salvation of humanity," he concluded.
Special Features of GayTies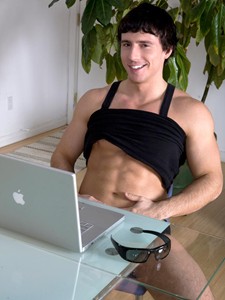 GayTies, A Community Service


GayTies.com, which is a not-for-profit website, is run by disabled Americans. To date, and it has been over 10 years now, no one has gotten paid to work on or manage GayTies.com. In the company plan, no one will ever get paid. In fact, the staff still pays a portion of the expenses to host and operate the site. You might think that is really weird or even untrue. Why would anyone do this you ask, if not for pay?

The creators of this website find a great social value in establishing a sort of web-based, gay community outreach newspaper, some may call it a social network. . Like many newspapers, GayTies has an up to the minute gay news section, a featured story, Personal Ads, a game or comic section (including Fun with Captions and dirty word crossword puzzles as well as a unique photos puzzle THEY designed), and an entertainment section. In addition to those common features, GayTies.com has a live chat room, a Video Library of nearly 3,000 gay clips and videos (and growing), a Photo Gallery of 0ver 20,000 naked mens photos (and growing), and some unique features such as daily GAY horoscopes, Lucky Numbers, tons of searchable profiles, and ORIGINAL erotic stories.

AND … here is a biggie, GayTies.com has a real customer support staff that will assist you usually within 12 hours to answer your questions or help you use the website. Wow! That is amazing. All this for free. When they say free, they mean anyone who joins (with a proper email address) has access to 90 percent of the entire website content. They only offer some videos and some photos for a low cost to help pay for the maintenance of the site. GayTies may be free to you, but it is not free to those who run it and manage it and add improvements to it

Why doesn't GayTies get income from ads and re-directs to other paid sites, like every other gay website that features sexy videos?

It's very simple. They hate the way those other sites operate. When you go to a site that says "FREE" and you click on something FREE, it takes you to another site that is pay only. They HATE that, don't you? GayTies.com accepts no advertising. There are no sneaky re-directs to other sites, no re-directs at all, there are no cookies to misuse and abuse their members, there is no selling or exchanging of members' contact info. No tricks.

Let me demonstrate the difference with GayTies and other site, in another way. Almost all gay website out there are either gay videos, or gay porn stories or gay news. BUT as far as I can tell, GayTies is the ONLY website has all 3 of these features. PLUS … live chat rooms, games, personal ads and profiles to search. BTW, the most popular gay videos and photos are guys naked in public. As for our gay porn stories, we have everything form sex and romance to a world of kink and leather,. That is another difference, other gay site are either main stream gay or all kink. Gayties.com has both.

A lot of our members are shut-ins or guys who are deep in the closet who need community information and some comfort and support. I know this may sound like bullshit, but some people in the world want to provide a service. In this case, an important service that delivers comforting entertainment, up-to-date news, great videos and photos, and a vehicle to meet other gay and bi men in person or just on the internet in chat.

Who are these charitable guys who created and operate this site?

They chose to remain anonymous because they do not want to over showdown their humanitarian outreach to the gay and bisexual community. But I can tell you that these men have worked for decades as volunteers in the gay community, many years assisting people with AIDS, working on improving relationships with police, One of these men is responsible for establishing and operating an anti-gay violence hot line, and in general, working to secure full right to the LGBT community. I know almost all private adult websites are probably big companies that spam everyone, trick them, plaster their sites with misleading advertising as well as awful and annoying re-directs. Gayties.com has it organizational model centered on establishing a valuable service. A service that is safe and private, run by a few guys who want to give back to the community. It's a service that is entertaining and informative; a service that is largely free, and hopefully soon, self-sustaining.

GayTies staff wants to thank those many members for their long term support. If you would also like to help, please buy an upgraded membership, and/or give a donation, or help promote GayTies.com on other website and forums and blogs. We need more members to post links back to GayTies.com on such site as Facebook and Twitter, Reddit and whatever other gay-friendly site you come across. Thank you all for your support!

Tomorrow will begin another new Kinksville story, don't miss it. Upgrade today to read the full story sections starting now. Read, view and participant in the many things regular members cannot.

Copyright 2015 GayTies.com. These articles are displayed for only 24 hours, and are reposted only once every two months. So login every day so you don't miss a one of them!